I've always liked eating at the Todd English Food Hall. This is maybe my 5th or 6th time back here. The last time was over a year ago. Anyhow, I had lunch with my good friends Franco and Mrs. Martinez at Todd English Food Hall a couple of weeks back.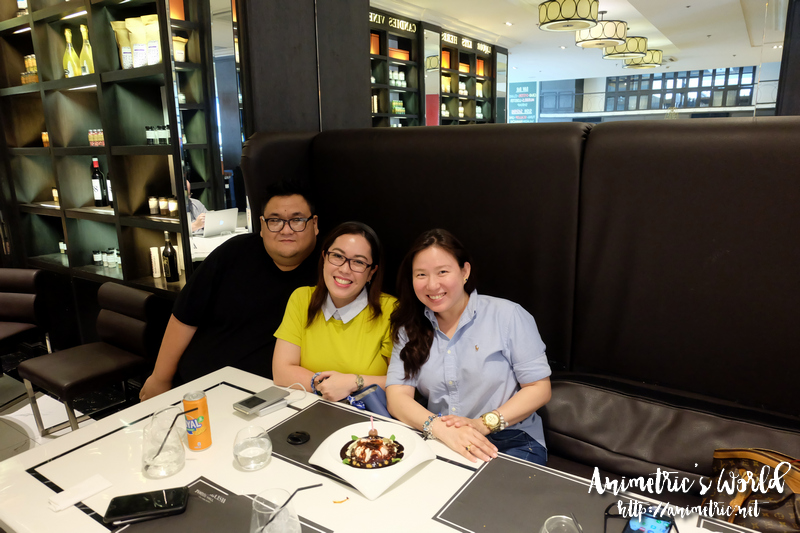 Their air-conditioning was still as cool and comfortable as the day they opened. Aircon is SO IMPORTANT to me these days. It's so freakishly hot I feel like I'm in an oven whenever the aircon is off. So yay for that.
We started with some Curry Shrimp (P330). Beer-battered shrimp, I think 6 pcs of them, is served with some lime mayo on the side. Nice and crispy outside and juicy inside, the batter tasted like curry. It was good but kind of pricey.
I liked the Calamari (P250) better. The squid rings are so crunchy it was kind of like eating onion rings. The chorizo dip is great too. Makes me want to try cooking calamari at home.
We also had Lobster Taco (P420). It's four small tacos. Not a good idea to order this because the lobster is overwhelmed by the batter, guacamole, salsa, and everything else happening. I could've been eating fish fillet and I wouldn't have noticed. Go with their Asada Steak with Pear Salsa Taco instead. It's cheaper and it's still one of the best tacos I've ever had.
We ordered Steak and Marrow (P590) to share. I'm not exaggerating when I say this is one of the best steaks you can get for P500+. They can cook it to your desired doneness no problem. Not really a fan of bone marrow but they go together so we had no choice.
T.E. Pork Chop (P440) is surprisingly lovely. They brine these pork chops for 48 hours. The result? Really tender, juicy, and tasty chops. Yum! It's good for sharing so it's worth the price. It's served with French beans, marbled potatoes, and sweet potato.
Simple yet delicious, the Garlic Mozzarella Bread (P190) is a nice side dish to all the savory mains.
For dessert we shared The Bomb, which is a red velvet ice cream cake with a white chocolate dome and graham crust. They pour hot melted chocolate over it so it sort of implodes on itself.
This is what it looks like afterwards. I didn't taste any red velvet at all. It was all sticky sweet chocolate. I think I prefer their OMG dessert.
The Todd English Food Hall serves really good food but service is really slow. Everything we ordered took a while to materialize. The restaurant wasn't even half full. Prices range from average to expensive depending on what you order. Still I think it's a good place to get together with friends and catch up.
The Todd English Food Hall is located at the 5th Floor Skypark of SM Aura Premier in Taguig City.
Like this post? Subscribe to this blog by clicking HERE.
Let's stay connected: