Our son celebrated his 19th birthday last week. It's customary for us to eat out to celebrate so we asked him where he wanted to go. He said he wanted to eat somewhere he had not yet tried before that wasn't Asian for a change. So we decided to go to Tittos Latin BBQ and Brew in Greenhills.
Tittos Latin BBQ and Brew is located at the ground floor level of O Square.
We started off with a salad called La Lucha (P320). It's comprised of mixed greens, quinoa, sweet corn kernels, cherry tomatoes, oyster mushroom tempura, and crumbled white cheese. It's served with honey balsamic dressing on the side. Really delicious, except my son commented that the leaf was moving. When I checked, there was a tiny translucent worm. I alerted the server and she promptly took away the salad. She asked if we wanted a replacement or if we wanted to cancel. We cancelled. We weren't in the mood to pick on greens anymore lol. Well at least we know their veggies aren't insecticide laden.
Then we ordered what they call a Pizzadilla, also known as tortilla pizzas. Our son picked Garlic Shrimp BBQ (P325). OMG. It's so incredibly crisp and flavorful! The underside was not greasy too, which is how it should be. Tittos' pizzadilla is simply a must-try.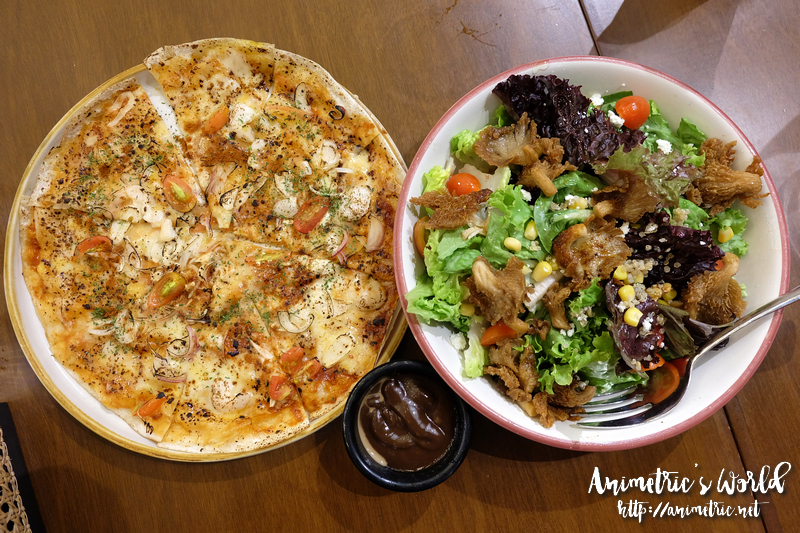 These are the two dishes we really loved, too bad about the worm in the salad.
We also had Nacho El Gigante (P295 for Medio, good for 3 people). Crispy tortilla chips are topped with beef chunks, pico de gallo, jalapeno slices, shredded lettuce, chimichurri salsa, melted cheeses, and Mexican crema. It was really good but after our salad experience we were wary of the lettuce leaves.
This is the 18 Hours Gaucho Steak (P550). It's sous vide hanger steak topped with chimichurri salsa and crispy onions. Served with mixed vegetables on the side, you also get a choice of side. We opted for their Chili Beans. Normally ordering Chili Beans ala carte would set you back P65. Their Chili Beans are amazing. Best chili so far for me. The steak? Well, it was nice and tender but I think requesting medium doneness was a mistake on my part. It was bordering on medium rare which we all don't fancy.
Their paellas are so cheap we just had to order a platter. We had Paella De Carne (P445 for Medio, good for 3-5 pax). Well it was not bad… of course don't expect authentic Spanish paella. They use regular rice, not the arborio rice more expensive places use. Paella De Carne has bacon, chicken, chorizo, smoked paprika, soft-boiled egg, and french beans. The taste is akin to rice cooked in tomato-based sauce.
Overall, we had a good meal at Tittos Latin BBQ and Brew. There are still a lot of interesting things on the menu and we found the prices reasonable. Our total bill amounted to around P1,900. We were all pretty full afterwards. Service is efficient and the staff are accommodating. There was a long line of people waiting to eat when we got out so come in early if you don't want to wait.
Tittos Latin BBQ and Brew
G/F O Square 2
Greenhills Shopping Center, Ortigas Ave., San Juan City
0917-8848867
Like this post? Subscribe to this blog by clicking HERE.
Let's stay connected: