We went to Timberland Sports and Nature Club a few days after Christmas last year. One of our friends is a member and he invited several of us to come along with our kids in tow.
|I was surprised at what a short drive it took to get there. It's approximately about 20 minutes by car from Batasang Pambansa along Commonwealth Avenue.
Christmas decors were still up since it was still December 2010 even if Christmas day had already passed.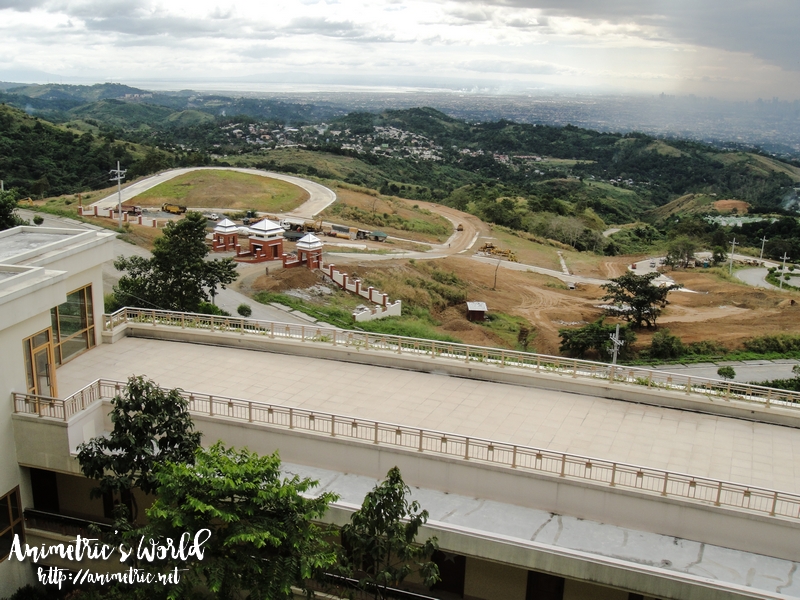 I marvel at how we found ourselves in a mountainous area with a good view at less than an hour's drive.
Timberland Sports and Nature Club is basically a country club, kind of like Tagaytay Highlands but not as far. Our friend toured us around the premises. The room above is actually the library. It's air-conditioned and it has computers you can use plus a free wi-fi connection.
There are badminton courts, a rock-climbing facility (pictured above), playgrounds, and even a day-care center.
Of course, the main highlight is the swimming pool. There are three in all — an adult pool (pictured above) plus two kiddie pools. Since the place is new, it's not crowded at all.
This is the first kiddie pool, it's located above the second kiddie pool. My 6-year old daughter can easily walk around the pool because it's pretty shallow. You can also bring your own pool toys (you can buy from https://www.globosurfer.com/best-pool-toys/) so the experience is more enjoyable for kids.
The second kiddie pool comes with a water slide. It's a bit deeper compared to the first pool but still shallow. My 9-year old son can easily walk around the pool's entire length.
There's also a poolside cafe where you can order food and beverages. I had some freshly brewed coffee. Amazingly, it's only P38 per cup and even comes with a yummy raisin biscotti.
Hubby ordered The Timberland 6 oz. Burger w/ your choice of Cheddar or Swiss cheese (P198). He chose Swiss cheese. It's a pretty big burger and he said the all-beef patty is surprisingly juicy and delicious. It comes with a generous helping of crispy potato wedges and some fresh fruits too.
Locker rooms are very clean. There are separate shower and dressing areas.
Locker keys come with a waterproof rubber bracelet you can fasten on your wrist for convenience.
After swimming, we proceeded to the Pool Hall. Kids and adults alike can enjoy a game of billiards for a little over P100+ per hour.
Timberland Sports and Nature Club comes with a full-service restaurant too. After shooting pool, we proceeded to have dinner. I ordered Texan Pork Riblets (P268). It was pretty average fare, not as fall-off-the-bone tender as the menu describes but not bad either.
My daughter had Fish and Chips (P238).
My hubby had Lechon Kawali (P198).
The kids really enjoyed their day at Timberland Sports and Nature Club. For more information, log on to http://www.timberlandclub.com/.
Timberland Sports and Nature Club
Barangay Malanday, Ampid, San Mateo, Rizal
793-5700
Like this post? Subscribe to this blog by clicking HERE.
Let's stay connected: