Hubby and I have been attempting to eat at Tim Ho Wan SM Megamall for some weeks now. We've never been successful because the line is always too long. I've never tried Tim Ho Wan before but I've been hearing people talk about it for years.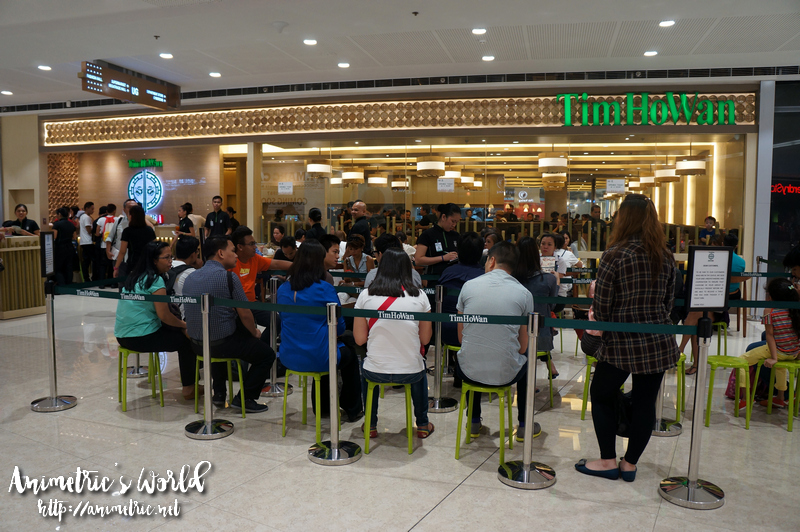 This was the line at Tim Ho Wan Megamall before 7pm.
I like food but I'm not the type who would line up for hours just to eat. Lucky for me, I got invited to Tim Ho Wan's presscon. It was scheduled for 4pm, the time the kids get off school, and I promised hubby I would take home those legendary Baked Pork Buns if he would be the one to fetch them lol! He agreed and so I was able to go to Tim Ho Wan. The thought of not having to line up was enough motivation. Seriously, if they said we had to pay our own way I would still go because the fact that I don't have to suffer through the average 2-hour queuing time was a big deal.
So anyhow, Tim Ho Wan's entire menu is on the paper placemat. I think one of the reasons why people are just dying to eat here is because it's the cheapest Michelin-star restaurant. Everything is either a little under or a little over a hundred bucks.
Oh yes, they started us off with THE Baked Bun with BBQ Pork (P145 for 3 pcs). They were served piping hot and they smelled soooo good I wanted to inhale them all, lol.
I quickly grabbed one and took a bite. OMG. The pastry is crisp, crumbly, and buttery all at the same time. It's filled with lean pieces of really tender barbecued pork (asado) that's the perfect blend of savory and sweet. I washed it down with an order of refreshing Cold Barley Water (P50) which I would've preferred to be much colder… with ice.
As promised, I took home three orders of the famous Tim Ho Wan Baked Pork Buns for hubby and the kids. They all loved 'em.
We were promptly served an order of Prawn Dumpling (P160) right after. They were practically bursting at the seams.
I'm allergic to shrimp but I had one to taste. Wow, I was amazed at how chewy the wrapper was — just the right thickness too. It was stuffed with fresh, plump, and juicy shrimps.
Another shrimp-based dimsum dish followed — Wasabi Salad Prawn Dumpling (P140). It's sort of like empanada except it's filled with shrimp then drizzled with slightly spicy wasabi mayo.
Siomai? Pork Dumpling with Shrimp (P150) is what Tim Ho Wan's version is called. It's probably one of the best I've tasted, even without any sauce. Each table has a set of condiments — chili sauce, soy sauce… and everything is perfect. The chili sauce isn't too spicy while the soy sauce is very light and salty sweet.
Dumpling Teochew Style (P120) is one of my favorite dimsum treats. When I eat at Gloriamaris I always order Chiuchow Dumplings — this is the THW version. It's filled with cubed radish, minced pork, peanuts, corn kernels, and scallions. Each piece is bigger than the average dumpling and it's totally stuffed with filling. Yum, better than Gloriamaris'.
Next up was Pan Fried Carrot Cake (P120), better known here in the Philippines as radish cake. It actually is made of radish, it's just that the Chinese words for radish literally mean white carrot so they just translated it to English. Soft and tasty, it's probably the best radish cake I've tasted, very much like what I have in Hong Kong restaurants.
Glutinous Rice with Lotus Leaf (P190), which reminded me of Machang, was served too.
Unwrapping it reveals a clump of sticky rice, kind of like a giant suman except that it's savory and not sweet.
Slicing through the sticky rice, you'll find that it's filled with pieces of stewed pork, mushroom, and sausage that's reminiscent of adobo. The lotus leaf lends a unique aroma to this dish. Chewy, sticky, and oh-so-tasty, it's another winner.
For dessert, we had Steamed Egg Cake (P85). This is usually called Malay Cake in Chinese restaurants and it's the same yellow cake wrapped in red paper that's served during Chinese New Year. Tim Ho Wan's version is brown and the aroma was just heavenly. Again, it's the best Malay Cake I've tasted. I used to favor Gloriamaris'. I've had this at practically every Chinese restaurant in Binondo and even at Din Tai Fung in Taiwan but Tim Ho Wan literally takes the cake and elevates it to a whole new level. It has this unique hint of flavor which I would describe as caramel-like… *sigh*, you just have to taste to believe.
Tim Ho Wan occupies a rather small space and it's ALWAYS full of people. The mall may open at 10am but Tim Ho Wan opens at 12nn so even if you're there by 10am you will have to wait for two hours before you can eat. Two hours is pretty much the average queuing time based on the experiences and accounts of people I know.
I loved everything I ate and I can say that Tim Ho Wan does have some of the best dimsum in town (maybe even the world) but wow, I'm not willing to line up 2 hours for it. Tim Ho Wan will be opening in Glorietta and SM Mall of Asia soon and so hopefully that will disperse some of the diners. If you want to try Tim Ho Wan, I suggest going during a weird time on a weekday… something like 4:30pm – 5pm so you don't spend 2 hours just lining up. Groups of 2 also get to go in the restaurant faster compared to bigger groups. I'm just thankful I didn't have to fall in line.
Why is everyone dying to eat at Tim Ho Wan? Probably because it's the cheapest Michelin-star restaurant around. Everything is under P200 and for the quality of the food they serve, that's really a steal. They're not very keen on take-out because they can't vouch for the state of the food if you take it away and lug it around. If you want something wrapped, they will give you cardboard boxes and let you do it yourself (that's how it is in other countries anyway).
Tim Ho Wan
G/F Mega Fashion Hall, SM Megamall,
EDSA cor. Julia Vargas Ave., Mandaluyong City
Like this post? Subscribe to this blog by clicking HERE.
Let's stay connected: