Hubby and I love Tim Ho Wan. We go there a lot. When Ippudo opened at the SM Mega Fashion Hall, the crazy line at Tim Ho Wan eased up a bit (although it's still quite long during meal times). This meant we could eat there a lot more conveniently. I still dream of having a Tim Ho Wan at Robinsons Magnolia so it will be a lot closer to us, hahaha!

Last night, hubby and I had dinner at Tim Ho Wan in Glorietta. It was actually a private food-tasting held by the owners for friends and relatives. I think it doubled as one last dry run before opening to the public today — yes, today, 11/11/2014. I actually asked why today and I was told well, it's 11/11!
Anyhow, we decided to order stuff we normally don't order. We go to Tim Ho Wan SM Megamall a lot and we pretty much always order the same things — Pork Buns, Rice with Chicken, Sausage, and Mushroom, Steamed Egg Cake… we've never really ventured beyond our favorites because when we're with the kids, it's always Pork Buns! First off, we tried the Cold Barley Water (P50). I've tried their Iced Tea, I like it because it's brewed and refreshing so this time I decided to go for Cold Barley Water. It's nice and not too sweet but I kinda miss having actual barley to chew on (referring to Wee Nam Kee's barley drink).
We were surprised to find something new on the menu, Pork Ribs Rice (P170). Well, it's not that new because we were told it's been there for a couple of months already but it's the first time we've noticed it. The pork is very tender and a bit spicy but I thought it was very good. I normally don't like this kind of spareribs rice dish offered in other Chinese restaurants but I liked this and it's highly possible I will order it again next time.
We also had Vermicelli Roll with Sweet and Sesame Sauce (P140). I love how it's delightfully chewy and both savory and kind of sweet at the same time.
I tried Congee with Lean Pork, Century Egg, and Salted Egg (P140) for the first time. Wow, I was blown away by how fine and smooth the congee is — Hong Kong-level really. The only possible downside is it's a small serving a child can easily finish. For the same price, other places would already give you a bowl that is at least double the size of this one. This is perfect for me though because I get to eat something incredibly good and not end up overindulging.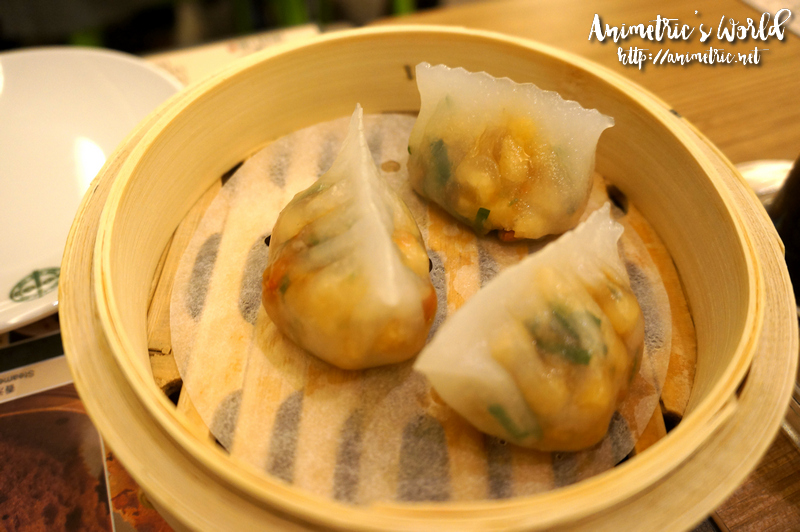 I ordered Dumpling Teochow Style (P120). It's the one that's filled with minced meat, sweet corn kernels, shrimp bits, veggies, and peanuts. I always order this from places like Gloriamaris. Tim Ho Wan's is very good and can be eaten without any sauce (although I dipped it in their chili sauce which I really love).
This is officially now one of my favorites at Tim Ho Wan — Poached Fresh Seasonal Vegetable (P90). They pour their delicious cheong fan sauce on it as soon as it's served. It's sooo good. The veggies are incredibly fresh and crisp. It's a nice accompaniment to all the meat dishes you're bound to have at Tim Ho Wan.
Hubby decided to try the Vermicelli Roll with Pig's Liver (P140) since it's always touted as one of Tim Ho Wan's best offerings. I chickened out and skipped it. I really don't like eating animal innards in any form, lol. He said it was a unique experience eating it but he probably would not order it again, lol.
Another yummy discovery is this Spring Roll with Egg White (P120). Crisp outside and filled with silky egg white and the usual minced meat inside, it's a winner. I think my kids will like this since it's worlds better than the lumpiang shanghai they're always having.
For dessert, we decided to try Mango Pomelo Sago (P90). It was surprisingly creamy and not overly sweet. There were fresh mangoes and pomelo bits with every spoonful. I daresay it's probably the best version of mango sago I've had so far.
Even without having our usual Pork Buns, hubby and I had a very satisfying dinner. What I appreciated most about last night was NOT having to line up to eat here!
Although I wasn't able to take pics of the restaurant's interiors, Tim Ho Wan Glorietta is definitely more spacious than the one in Megamall so it can accommodate more people. They open to the public today so if you're craving for good Chinese food and you're in the Makati area, you can already drop by for lunch today!
Tim Ho Wan Glorietta is located at the Glorietta entrance facing Makati Shangrila Hotel.
Like this post? Subscribe to this blog by clicking HERE.
Let's stay connected: