I love Taiwanese food. I had a blast during our 2011 Taiwan trip because food was delicious and cheap. So I was excited to go try out Tien Mas Taiwanese Cuisine in Quezon City.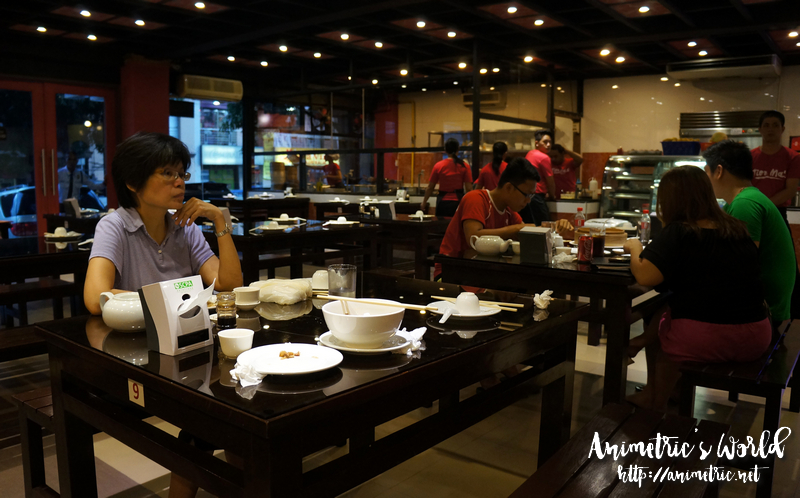 This is actually my second time to eat at Tien Mas Taiwanese Cuisine. My first visit was one weekday lunch with my hubby and our friend. I didn't have my camera with me then though so I wasn't able to blog about it.
Xiao Long Bao (P200)
When in a Taiwanese/Chinese restaurant, we never skip the Xiao Long Bao, also known as soup dumplings. This is actually my daughter's most favorite dimsum of all time. It's a really big, circular, and chewy dumpling filled with ground pork and hot broth. Yes, broth.
It's best eaten while on a Chinese soup spoon like this one. When you take a bite, the overflowing flavorful soup would drip onto the spoon and you can sip it easily. Anyhow, the Xiao Long Bao is delicious! My daughter would love these for sure.
Fresh Fruit Shake (P95)
We also ordered Fresh Fruit Shake, they have fresh fruits in season there so the selection changes. I had pineapple. It's actually more economical to order this by the pitcher, I forgot how much it costs but it comes out much cheaper as opposed to ordering per glass.
Beef Cold Cuts (P80)
For our appetizer we had some Beef Cold Cuts. This is quite similar to the beef you would encounter in a Chinese lauriat's Cold Cuts Platter. Nice and garlicky.
Taiwanese Style Fried Rice (P200)
Then we had some Taiwanese Style Fried Rice. I liked this. It's more flavorful compared to the usual Yang Chow Fried Rice.
Three Cup Chicken (P199)
We also had Three Cup Chicken, a traditional soy sauce-based Taiwanese dish with garlic and ginger. It's kinda like stew, I will be honest and say I didn't like it that much but then I am hard to please when it comes to chicken because I don't really like chicken to start. It's a very flavorful dish though.
Pan Fried Pork & Shrimp Dumplings (P200)
This is a unique take on dumplings. Eight pieces of nice plump pork and shrimp dumplings are pan fried all together. They are connected together by a thin sheet of flour. Everybody liked this.
Hand Made Pork w/ Kutchay Dumplings (P150)
These are yummy! So chewy and delicious. That's all I can say really, but I love them.
Stinky Tofu with Special Sauce (P199)
I was initially afraid to try Stinky Tofu with Special Sauce because of the rumored smell. This is the milder version since it's smothered with special sauce. My experience of it was, I smelled the dish when it was served and there was no foul odor. When I put a morsel in my mouth there was a scent similar to bamboo shoots cooked in sewer water… except not as bad as it sounds, lol. Am I making sense??? Anyway, you get used to the aroma easily and it's actually a pretty nice dish.
Ja Chang Noodles (P120)
Ja Chang Noodles… you can have this either dry or with soup. For me it's better eaten dry with soup on the side. I'd be perfectly happy having just this and maybe dumplings or Xiao Long Bao. The noodles are exceptionally nice and chewy. They're cooked perfectly al dente which is just the way I like them.
Pear in Red Wine
For dessert, we had Pear in Red Wine. It's not in the menu so I don't know how much it costs. It's a whole pear cooked in red wine. Topped with cinnamon, it tasted like cinnamon apple. Surprisingly, I liked it a lot. I wasn't expecting to because it didn't look all that appetizing lol but wow, awesome.
Fried Mantou (P150)
I prefer my mantou steamed. We got the fried version for dessert. It came with a bit of condensed milk for dipping. Nice g and chewy, but I would probably order the steamed version if I had my way.
Overall, I loved Tien Mas Taiwanese Cuisine. No surprise there, I liked it the first time I tried it. I find the food delicious and reasonably priced, and the menu is pretty diverse. There's a lot you can order here, from quick dimsum dishes like dumplings to more elaborate Taiwanese fare like Three Cup Chicken. Tien Mas Taiwanese Cuisine is great for lunch, merienda, or dinner and even breakfast if they are open that early (I'm not sure, I forgot to ask). Highly recommended.
One problem is parking. There are very few slots. I suggest going during non-peak hours as not to stress yourself. For more information and updates, log on to the Tien Mas Taiwanese Cuisine Facebook Page.
Tien Mas Taiwanese Cuisine
168 D. Tuazon cor. N.S. Amoranto Ave.,
Quezon City
897-1331 / 0929-6734283
Like this post? Subscribe to this blog by clicking HERE.
Let's stay connected: