I think most people in my age group remember Tickles as this small store in Virra Mall. It was a paradise full of cute, imported, and unique stuff. It was always fun to go around because you never know what you're going to find.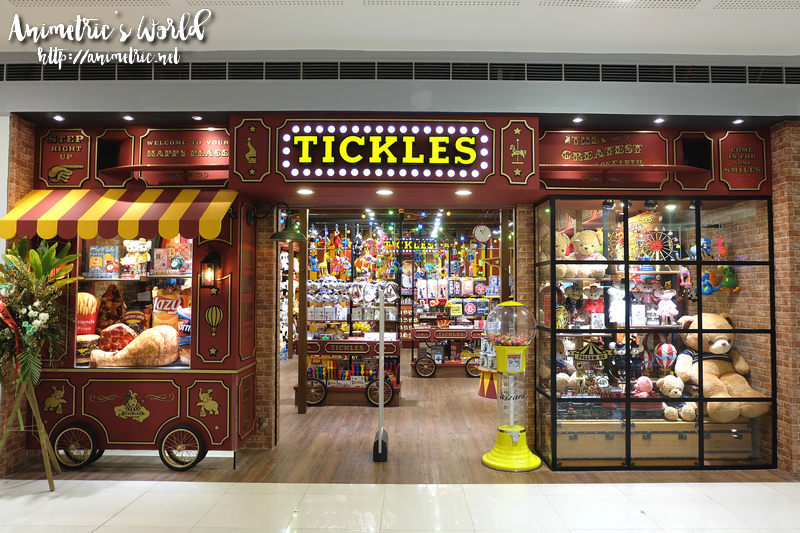 Anyhow Tickles just opened its brand spanking new flagship store at SM Megamall. It sure didn't look anything like the place I frequented in Greenhills back in the 80's and 90's. I loved the bright and cheery circus toy store vibe.
I admit, I haven't been to Tickles in years so I was curious what they had in store for me. Upon entering, I was greeted by cute pillows which resembled food items and a variety of travel organizers.
There are pens in all shapes and sizes. This pizza pen costs P80. Isn't it perfect for the upcoming Kris Kringles this Christmas?
You can take home this burger and fries headband for P195.
Tickles carries a lot of food-themed items aside from headbands, pillow, and pens. They have slippers, purses, pouches, keychains… they're so realistic lol!
I was surprised at their lovely selection of ponytail holders retailing for P50 to P80 per pair. I grabbed a couple for my daughter.
Gag gifts? Tickles has them too! They cost around P70 each.
They have a lot of stationery items too.
Stuffed toys is another thing they have a lot of. From teddy bears to unicorns, you can find them all at Tickles.
These quirky wooden keepsake boxes come in different designs. Price starts at P795 for the smallest size.
This adjustable panda ring costs P95.
These match pens are P95 each too.
Tickles even carries matryoshka dolls!!! I've always wondered where I could buy matryoshka dolls when I was a little girl. If this came in the traditional design (russian doll), I would've grabbed a set.
I don't know if I'll ever have a need for a mustache but it's P50 a pop.
Anyway after spending over an hour browsing through the store, I came home with these Blocks Notebooks. The smaller ones are P200 each, the big one is P400. I plan to give them as Christmas gifts to my daughter's friends. My daughter already got the big one. She was gushing at how cool these Blocks Notebooks were when I got home.
I also got a plastic watermelon fan (P50), a Tsum Tsum utensils set (P165), 2 pairs of ponytail holders (P50 each), and 2 cute cans containing wet wipes (P50 each).
Took home this burger zip pouch (P350) too. I plan to give it to someone (I have no idea who yet) this Christmas.
The newly opened Tickles flagship store is located on the Lower Ground Level of SM Megamall Building A, beside Blue Magic. There's so much stuff there I don't think I featured a third of what's actually available. Go check it out this weekend! 😀
Like this post? Subscribe to this blog by clicking HERE.
Let's stay connected: