I love bracelets. They are akin to watches as far as I'm concerned. I never leave home without wearing either. But I don't like big, flamboyant, and fancy-looking bracelets. I prefer more subtle styles like bangles and charm bracelets.
Anyhow yesterday I got the chance to check out Thomas Sabo in SM Megamall with my neighbor Mrs. Martinez. I already have Pandora, Trollbeads, and Morellato charm bracelets so this is sort of the missing link lol. I was really curious as to what sets Thomas Sabo apart from everyone else.
Thomas Sabo in SM Megamall carries a wide variety of jewelry and timepieces.
To give you a bit of background, Thomas Sabo is a German jewelry brand founded back in 1984. It has since then evolved into one of the most successful jewelry brands with over 300 shops worldwide. The Sterling Silver Collection, the Charm Club, and the exclusive Fine Jewelry Collection characterize the brand.
There's something for everyone at Thomas Sabo. Let's start with these Festival Love Bridge Bracelets which you can personalize with their complimentary engraving service. The gold ones cost around P7,000+.
Here's another version of the Festival Love Bridge Bracelets.
Shown above are the Thomas Sabo Rebel Spirit Chrono Men's Watch (around P17k) and their Buddhist prayer beads-inspired bracelets.
The Glam & Soul Collection features diamonds.
I was however most interested in the Charm Club. I love charm bracelets because they can be customized to suit your personal taste. I'm not a sentimental person so my choices in charms are dictated purely by aesthetics.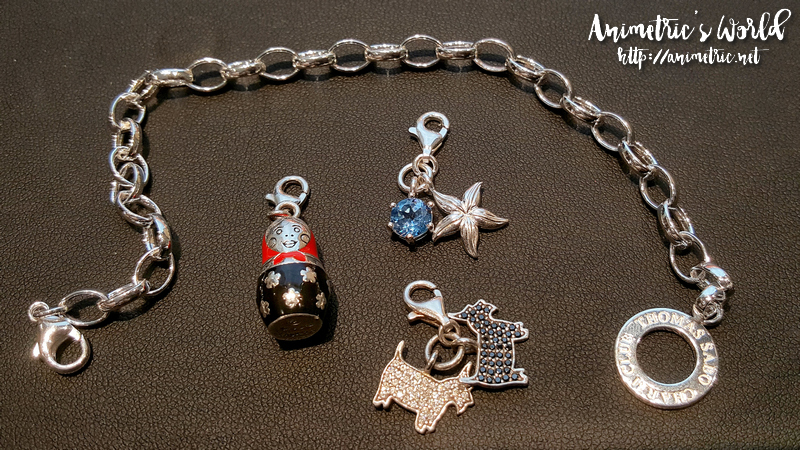 My wrist was fitted. I got a Charm Bracelet "Classic Small" (P2,990 for 17 cm). I picked 3 charms to go with it:  Matryoshka (P4,490), Starfish (P2,990), and Dogs (P6,090).
My bracelet cost a little under P17k and it came in a cute box.
Customers can avail of a Thomas Sabo VIP Card by purchasing P30,000 worth of items within one year. Perks include:
10% off cash and card purchases
15% off cash and card purchases during cardholder's birth month
lifetime membership
Yup, the VIP Card never expires. They also inform cardholders of sales and special events. 🙂
Thank you Thomas Sabo Philippines for the advanced Mother's Day gift. Dads and kiddies, these lovely trinkets are the perfect gift for mom! Especially if mom is a flower-hater like me lol. A charm bracelet costs around P3k and charm pendants start at P1,990.
Like this post? Subscribe to this blog by clicking HERE.
Let's stay connected: