We got up early the next day after a restful night in Seda Nuvali Hotel. Buffet breakfast starts at 6am in Misto Restaurant and we were there a little past 7am.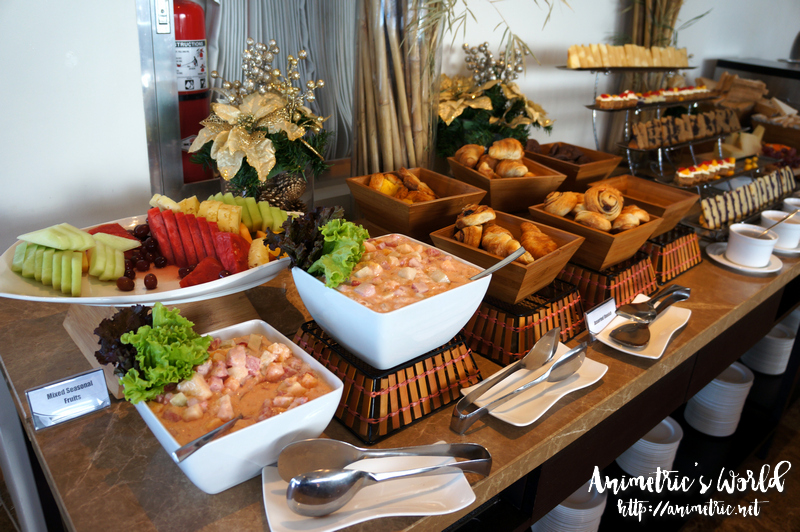 Breakfast is my favorite meal of the day and the buffet did not disappoint. There were all kinds of salads and breads, hot foods like congee. champorado, and miso soup, as well as the usual garlic rice and your choice of viand.
Hash brown, bacon, sausages, eggs…
I had an omelet with everything on it cooked on site.
You can have your fill of juices, coffee, tea, and even hot chocolate.
I liked these pizza breads too.
After breakfast we decided to take a walk at the trail around Nuvali Lake just outside the hotel. There's a dock at the far end of the lake (there's another one at Solenad but it's crowded there). We decided to take a boat ride. It's P30 per person and there should be a minimum of 6 people before the boat will set off. Since there were only 4 of us we opted to pay an additional P60 just so we could have the boat to ourselves.
The boat ride is 8 minutes long. You go around Seda Nuvali and Solenad. It was funny how it got kind of wavy sometime in the middle of the ride.
The view is awesome!
I wish the lake were bigger!
Everybody had fun!
When we got back to shore we got some Fish Food (I think it's around P15 per pack) so we could feed the fish.
The Fish Food are actually pellets.
Fish feeding is a fun and relaxing activity that helps you de-stress.
Watching the fish go at the food is something else.
They gather where the food is thrown.
Can you see the hotel from here?
They're so wild they remind me of people moshing in a concert.
After the boat ride and fish feeding we walked back to the hotel. The kids had another round at the swimming pool.
We checked out 12nn and had lunch at Misto Restaurant.
There was a set Japanese lunch prepared for us, there were several courses. This tuna sashimi wrapped in lettuce is my favorite dish.
We had the usual Tonkatsu, Tempura, Teriyaki Chicken, Miso Soup, etc.
For dessert, we had Leche Flan!
After lunch we set off for Manila. It was Sunday and we didn't want to get caught in traffic — we left Seda Nuvali around 2:30pm and got back home around 4pm.
Thank you Seda Nuvali for having us over for the weekend!
Seda Nuvali
Lakeside Evozone, Nuvali,
Sta. Rosa City, Laguna
http://web.sedanuvali.com/
Like this post? Subscribe to this blog by clicking HERE.
Let's stay connected: