For me, detoxification is an important part of keeping healthy. I personally eat so much junk — chips, pastries, ice cream, processed food (SPAM? Delimondo Corned Beef? Lol!), ice cream…  what can I do, I'm surrounded by all these delicious irresistible treats a lot of the time. I've done juice cleanses like Juju Cleanse and Detox in a Bottle specifically. I was pretty happy with the effects and results.
But I wanted to go the non-juice route this time. I've had my eye on The Sexy Chef Eat Clean Detox Plan for quite some time now. They have sales ever so often but so far, this hasn't been offered. I got a text a couple of weeks ago that finally, The Sexy Chef Eat Clean Detox Plan went on sale for P7,500 for 7 days. It's normally P8,400 for 7 days. YES!!! Finally!!! I went to The Sexy Chef's office right away and paid. Starting last Tuesday, I've been getting 5 detoxifying vegan meals a day — breakfast, mid-morning snack, lunch, mid-afternoon snack, and dinner. This is for 7 days. This plan is designed to give your body a break from flesh foods, preservatives, refined sugars, dairy, wheat, and hydrogenated oils. It's also supposed to promote weight loss and flush out toxins.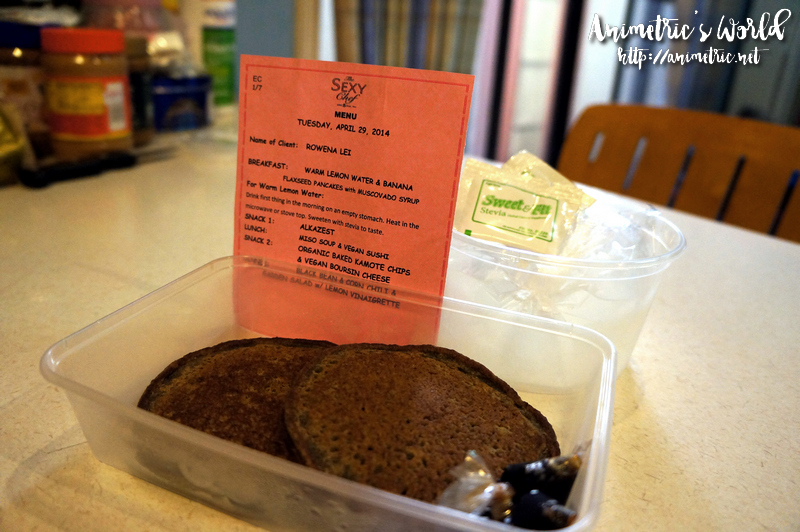 So anyway, I had absolutely no idea what was in store for me. Let's start with Day 1. For breakfast, I got Warm Lemon Water and Banana Flaxseed Pancakes with Muscovado Syrup.
You start each day with Warm Lemon Water sweetened with Stevia on an empty stomach. This is automatically part of breakfast. It's pretty okay, very easy to drink. I liked the Banana Flaxseed Pancakes — they were chewy and filling. The Muscovado Syrup was lighter than the usual Maple Syrup we use on regular pancakes. So yay, happy tummy!
A couple of hours later, it was time for my mid-morning snack: A bottle of Alkazest from Juju Cleanse. It tasted better than my last Alkazest when I had Juju Cleanse, probably because I had the orange juice version this time instead of the usual grapefruit. They replace grapefruit with orange if grapefruit isn't available and I suspect that's what happened.
Another couple of hours later it was time for lunch. I was famished! I had Vegan Sushi. It was made of brown rice wrapped in seaweed and filled with cubes of carrot, radish, and cucumber. I dipped it in the accompanying soy sauce and it was all good. It was accompanied by Miso Soup with Malunggay Leaves and mushrooms. I really liked how the soup warmed my tummy.
I was super hungry two hours later when I had my mid-afternoon snack: Organic Kamote Chips with Vegan Boursin Cheese. It's amazing how they can make Boursin Cheese from veggies. So good. I think I ate every single crumb and every single drop of dip. I was just THAT hungry.
Dinner is the heaviest meal of the day for the Eat Clean Detox Plan and so for dinner I had Garden Salad with Lemon Vinaigrette. Yes, I finished every single leaf and strand of veggie and I was very close to drinking the dressing. O_o
With my salad went the Black Bean & Corn Chili. It was sooooo good. It's made with fresh tomatoes. It was so hearty and filling I couldn't believe you can actually make chili without meat. Even the kids said it smelled good. Dinner was filling enough so I was still okay by 10pm when I forced myself to sleep. I knew I was going to get very hungry if I stayed up late.
I was excited to wake up the next day because every meal is a surprise. For Day 2, breakfast consisted of Warm Lemon Water and Malunggay Asian Fried Rice. Brown rice sauteed with tasty veggies, I finished it all to the last grain.
My mid-morning snack was a bottle of Qcumber Quench from Juju Cleanse. It was very refreshing. I actually enjoyed this green drink!
Lunch was Greek Salad with Tofu Feta and Cherry Tomatoes and a bowl of Curried Roasted Eggplant Soup which isn't shown in the photo. I noticed my lunch usually consists of hot soup and a cold salad. It's a nice contrast anyhow.
My mid-afternoon snack? Rawlicious Mango Trifle. Sweet ripe mango chunks and raw oats are mixed together in muscovado caramel. I ate it in the car. Delicious!
Dinner was Vegetarian Pad Thai. It looks like it's just pasta noodles and some leaves but wow, it's really nice and flavorful. I don't even miss the meat. It's that good.
Okay, so I'm currently on my 3rd day of The Sexy Chef Eat Clean Detox Plan and well, here are my initial um… findings:
Everything is delicious. I feel I've eaten every vegetable imaginable (even cauliflower, which I hate) now that it's day 3 and wow, every single dish is nothing short of scrumptious. I swear, I could turn vegan if I can cook for myself like this.
Portions are smaller than what I usually eat, except for dinner. I find myself counting down to my next meal and fantasizing about food because I get hungry! But this is partly because my times are messed up. I think to get the best balance, you should eat your first meal (breakfast) at 8am. I eat at 7am because I take my kids to swimming class everyday so the time between meals get stretched more. Veggies don't last very long in the hunger satisfaction department so I find that I'm always hungry when it's time for my next meal (even before). I eat every single grain, drop, morsel, etc. of every meal as a result.
As I've said, dinner is the most filling meal of the day. Sleep early though so you don't feel famished throughout the night — that is really torture. The dinner, if eaten at about 6:30pm, can last until about 9:30pm to 10pm. Beyond that, you will feel like you are starving!
Obviously you can't eat or drink anything else except water, oh and tea. Brewed tea without anything that is.
Despite the fact that I'm eating a lot less in terms of portions and calories, I still maintain very regular toilet habits. Guess I'm getting rid of a lot of "leftover stuff" in my system.
I give new meaning to the term clean plate with this program… as in, walang tira, lol! I find myself on the verge of drinking the salad dressing, hahahahaha! I'm just so hungry each meal time.
Will keep you posted as I progress on this detox journey! Meanwhile, if you're interested in this program, log on to http://www.thesexychef.ph/diet-programs/eat-clean/. If you do decide to sign up, please do mention that you were referred by me (Rowena Lei) as they can give me a rebate if I refer people. 🙂
Like this post? Subscribe to this blog by clicking HERE.
Let's stay connected: