Who hasn't heard of BB Gandanghari? Unless you live under a rock or have shunned all forms of mass media, it's virtually impossible to be unaware of BB, the artist formerly known as Rustom Padilla.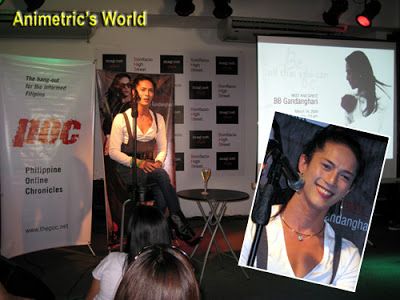 Philippine Online Chronicles, or simply POC, along with premiere Pinay mommy bloggers Noemi Dado and Dine Racoma organized the "Meet and Greet BB Gandanghari" event for bloggers held at Mag:Net Café Bonifacio High Street. I knew invitations were limited, and I consider myself fortunate for being one of those who got to attend. It turned out to be a very interesting, fun, and enlightening afternoon.
All eyes (and cameras) were on BB as her towering but lithe 5'11 frame sauntered into the small café. She boasts of an enviable 36-25-36 figure. BB was the picture of poise and grace, and she radiated so much positive vibes it was hard not to feel happy. Without further ado, Noemi and Dine opened the floor for the blogger's questions — and I was the first person to shoot a couple at BB. As there were several of us interviewing BB, I will refer to questions asked by the others as "Other" — and apart from my own questions they are not in chronological order.
I introduced myself and told BB that I would start with something light.
Me: "How do you feel when people say that you look like Carmina Villaroel?"
BB: (smiles) "Well… Carmina is a very beautiful person so I feel very flattered."
Me: "Thank you BB… now for something more serious. I know that you've said that Rustom is dead, but could you say that BB shares the same values as Rustom with regards to family, religion, and the like?"
BB: "Yes. I would say that BB shares the same values as Rustom because BB was born from Rustom. In terms of belief in God and family values, yes I would say that Rustom and BB are the same. Para yang si Adan at si Eba… si Eba ay hinugot mula sa tadyang ni Adan. Ganun din si BB kay Rustom, si BB ay nanggaling sa tadyang ni Rustom."
Other: "Are you still willing to play male roles in movies?"
BB: "Well if it's a good character and he happens to be male, why not? Yes, I am open to playing male characters. I mean, I've been in this business for 17 years and I think that will really test my versatility as an actor."
Other: "Do you have any plans of going under the knife?"
BB: "You know, I'm actually very comfortable with my body. I've stopped referring to myself as a man or a woman, and I consider myself simply as a human being. I have nothing against those who choose to go under the knife but at the moment I have no plans of doing so. When I was in the US, I realized that I am a lady. That was where it started. From 31 inches (I was slim for a man) my waistline became 25 inches and even I don't really know how that happened. I think it's the power of the mind. It's really all in the mind."
Other: "Has your mom accepted what you are?"
BB: "No, not yet… but we're working it out."
Other: "Who do you talk to the most about this?"
BB: "You know I found that there isn't really anyone I can talk to about this except God. I presented myself to God, that this is who I am — simply a human being."
Other: "Do you have a lovelife?"
BB: "No, I don't at the moment… but like all human beings of course I also long to be with someone."
Other: "Have you ever thought about how things would have been had you had a child? What are your thoughts on having children?"
BB: "That (having children) was actually one of the things I had to give up. It was difficult because I really love children. I myself had a very hard time and I really went through a lot. I don't think I can handle the responsibility of being a father… it wouldn't be fair to the child. I mean, this would all be very difficult to explain. So in that respect, I'm thankful that there wasn't a child."
Other: "Who are your good friends from showbiz?"
BB: "Well I hang out a lot with Pops… Gretchen… Ruffa Mae. Puro girls ano?" (BB laughs)
Other: "Do you have any beauty tips to share with us?"
BB: (laughs again) "Does that mean I'm beautiful? Well… I try my best to sleep early and I always use moisturizer. Of course I don't sleep with my make-up on and all that…"
Other: "Do you eat fruits and vegetables more? Or do you still like meat?"
BB: "I've learned to listen to my body because I believe our body will tell us what we need. Sometimes I crave for fruits and vegetables, so that is what I have. But there are also times I would crave for pork or beef, then that is what I have. Our body knows what it needs."
Other: "Have you ever encountered anyone who made a nasty remark to your face?"
BB: "You know honestly, no. Never. As in never. Everywhere I go, I get a lot of love — from people aged 3 to 88! I'm very thankful. I've even had President Arroyo's apos come up to me for picture-taking, and once I was dining at this restaurant the owner came out of the kitchen and she's around 90 years old na. Ang sabi niya, guapa! Guapa! I'm very thankful for that. Siguro ang pinakagrabe na was at Serendra, when I went to the ladies room. After I went out sinabihan ako na next time hindi na ako pwede pumasok uli. But Greenbelt is very nice to us. Sa Greenbelt okay lang sa kanila… so there are other places we can go aside from Serendra."
Me: "BB, you're undoubtedly one of the most popular celebrities right now and you're a cyberspace hit as well. What made you decide to make yourself so accessible? I mean, you're on Plurk, Twitter, Facebook… normally celebrities maintain a certain distance."
BB: "You know I really look up to Jesus Christ. Jesus Christ really reached out to people so he could share His message. In the same way, I want to reach out to people so I can share my message."
Other: "Do you have a message for those who have not yet come out of the closet?"
BB: "The closet is a very dark place. Mas maganda, at magiging mas masaya ka, pag nagpakatotoo ka."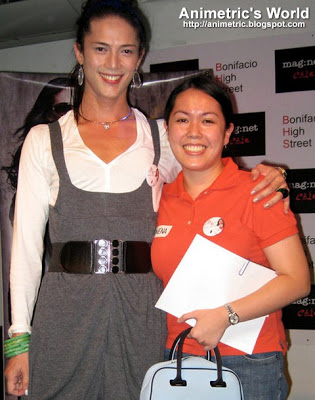 BB. Cordial, candid, and oh-so-accomodating. She's definitely a breath of fresh air in the crowded world of showbiz. She is effervescent, exuding so much warmth and positive vibes that it's impossible not to love her.
BB. Her message is clear. Be all that you can be.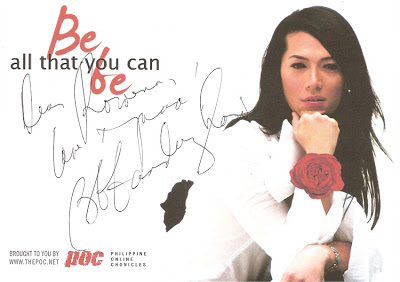 Follow BB on Friendster – http://profiles.friendster.com/bbislove
Follow BB on Plurk – http://www.plurk.com/BBGandanghari
Follow BB on Twitter – http://www.twitter.com/gandanghari
For more photos of BB, click HERE.
Like this post? Subscribe to this blog by clicking
HERE
.