I grew up with Magnolia Gold Label Ice Cream. My grandmother would stock all different flavors in our freezers. My favorite was Double Dutch. Then Magnolia Ice Cream became Magnolia Nestle. Then it disappeared altogether. Now it's back and it's better than ever! It even sports a more stylized version of the gold script logo I remember from my childhood.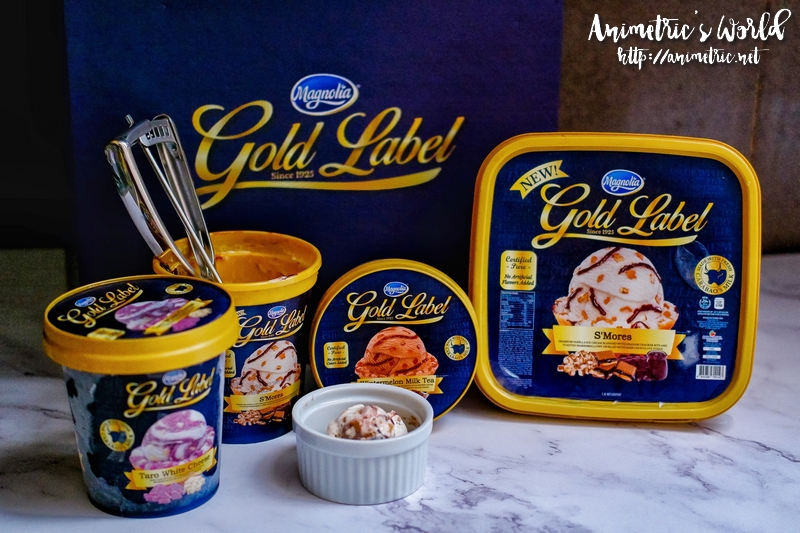 Magnolia Ice Cream has a long history behind it. It's been around since 1925. This time though, it's made with fresh carabao's milk for a creamier texture. It's also certified pure and free from artificial flavors. More than the classic flavors, Magnolia Gold Label now has more adventurous fare like Wintermelon Milk Tea and Taro White Cheese. There are also two new unique flavors — Chocolate Peanut Butter (made with Skippy's Peanut Butter) and S'Mores.
We had a taste of S'Mores and wow! It's incredibly rich and creamy. They certainly don't skimp on ingredients. I could taste the chocolate, the marshmallows, and the graham.
Expectation vs. Reality but in a good way — the actual ice cream looks much better than the photo on the package!
Magnolia Gold Label Ice Cream is available in 1.3L (₱350) and 800ml (₱235) tubs as well as 450ml (₱150) pints. They're surprisingly affordable which is so awesome considering these are really premium quality products. I kinda got used to the ₱400+ per pint artisan ice cream so ₱150 per pint is a frickin' steal. There are so many interesting flavors to boot — I just want to try them all!
You can order Magnolia products from the San Miguel Foods Frozen & Chilled Flagship Store on Lazada.
Like this post? Subscribe to this blog by clicking HERE.
Let's stay connected: