The Halal Guys, an American-Mediterranean restaurant chain from New York, is finally in the Philippines! But before I go on, what exactly is halal? If we're talking about food, halal means it's food items that are sourced and prepared following strict Islamic dietary guidelines… they're permissible for Muslims to eat or drink.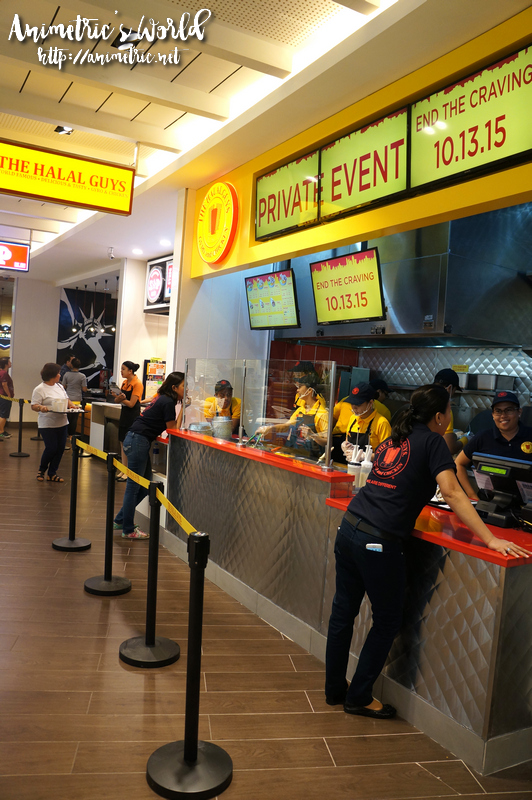 Anyhow, I was invited to an advanced preview of The Halal Guys' first store in the Philippines located at the SM Megamall Mega Fashion Hall. It's my first time to try eating at The Halal Guys.
The menu is pretty simple and straightforward — there are three main food items: Falafel, Chicken, and Gyro (beef). The cheapest item on the menu is a small Falafel Sandwich at P175.
They told me I could order anything I wanted, yay!
Gyro & Chicken Combo Over Rice (P269 Small / P369 Regular / P469 New York Size)
I decided to order 2 things which I thought would give me a pretty good idea of what The Halal Guys was all about — a rice combo and a sandwich. I was ordering small portions but they suggested that I "New York Size" my orders so they would look better in photos. Anyhow I had a Gyro & Chicken Combo Over Rice. It's kind of like a cross between shawarma, taco salad, and deconstructed burrito in that there's shredded lettuce, tomatoes, beef, chicken, and soft tortilla-like bread. The beef and chicken are very flavorful without being greasy and they're topped with The Halal Guys White Sauce which is like a creamy yogurt-based dressing. My New York Size Gyro & Chicken Combo was so big I took it home so I could share it with my kids.
Gyro Sandwich (P225 Small / P369 New York Size)
A New York Size Gyro Sandwich was what I ate while I was at the preview. I was amazed by how I was able to finish the entire thing and NOT feel heavy or bloated afterwards. It all goes down so easy! I ordered Add-Ons — a packet of White Sauce (P25) and a packet of Hot Sauce (P15). I suggest taking it easy on the hot sauce because it's really really spicy. It has a unique taste and it imbibes a Persian flavor to whatever you pour it on. Worth trying!
Falafel Sandwich (P175 Small / P249 New York Size)
I borrowed my seatmate's New York Size Falafel Sandwich for a photo. Falafel is a crunchy patty made of chickpeas (also known as garbanzos). Unfortunately I was unable to taste the falafel, so I'll make sure to order some next time I'm in the area.
Thank you for having us over for a sneak peek!
The Halal Guys at the 5th level of the SM Megamall Fashion Hall will open to the public on Oct. 13, 2015. The first 100 customers in line will all get a FREE Combo Platter! I highly recommend anything with Gyros, lol. I'll be going back for some Falafel! 😀
The Halal Guys
5/F SM Mega Fashion Hall
SM Megamall, EDSA,
Mandaluyong City
Like this post? Subscribe to this blog by clicking HERE.
Let's stay connected: