On the exact day of my birthday last month, I decided to go support my friends Richie Zamora and Rina Zamora of The Pickiest Eater and Rina's Rainbow on their new venture, The Grill Boy at Spark Place. Well it was either that or the office hahahaha! But no, kidding aside, I was only too happy to join them because they're really great people. I'm not really senti and stuff so doing what I usually do on other days on my birthday is normal for me. 🙂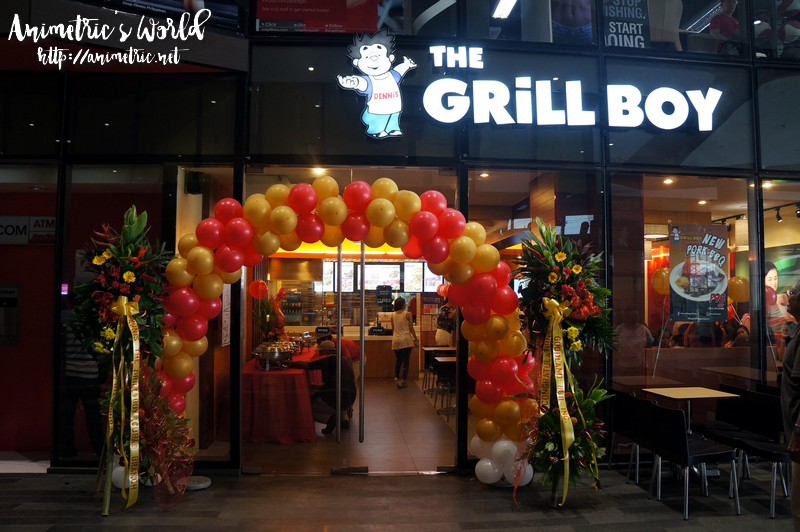 So anyway, Richie and Rina recently franchised The Grill Boy in Cubao. Even if I live near Cubao I don't frequent it that much because I'm not very familiar with the area. Thank goodness for Waze! I actually enjoyed my time in Cubao because like I said, it's super near and Spark Place, the complex that houses The Grill Boy, has a really nice and spacious basement parking area so it's very convenient to go to.
Like most fast food places (this isn't exactly fast food but you get my drift), you order at the counter, pay, and wait for your food to be served.
Crispy Pork and Mango Salad (P66)
To start off our sinful meal, we had some Crispy Pork and Mango Salad! I liked the combination of crunchy pork, tart green mangoes, and juicy tomatoes. This goes very very well as a side dish with all the meals at Grill Boy.
Crispy Pork Sisig in Sizzling Plate (P165)
Crispy Pork Sisig was up next! I wanted to order a Sisig Meal but Richie told me everyone was getting ala carte sisig and so we did yay! Yummy, this is the way I like my sisig — super crunchy like chicharon and on the dry side, reminiscent of my favorite Dencio's sisig. I learned later on that The Grill Boy and Dencio's are related… no wonder! But wow, check out the price of The Grill Boy's sisig — winner!
Dennis Grilled Liempo Meal with Special Garlic White Sauce (P99)
Since I don't like chicken, I opted for a Grilled Liempo Meal with Special Garlic White Sauce. Love the combination of java rice, tasty pork, atchara (pickled veggies), and Grill Boy's special sauce which I can't quite describe — you just have to taste for yourself! 🙂
Pork BBQ On Stick Meal (P98)
On days I want just lean meat I have the Pork BBQ on Stick Meal. It's actually easier to eat compared to the liempo (and just as flavorful!) because I'm the type who cuts off the fat from the lean meat. Hubby had the Boneless Chicken and was all praises for it.
The Grill Boy at Spark Place is highly recommended if you want a quick, tasty, filling, and affordable meal. Definitely an option next time our cook takes the day off (which she does a lot lol) since it's so close to us and convenient. 😀
Congratulations Richie and Rina!
Like this post? Subscribe to this blog by clicking HERE.
Let's stay connected: