I've been cooking for a month now. Our cook and helper of over 10 years decided not to come back after her mom passed away. We tried to survive on food delivery and dining out, but after about 3 weeks of that we all started to feel sick. I knew then that I had to do something I swore off years ago — cooking. As a teen, I almost chopped off my finger trying to slice ham. I still remember walking to my room with blood dripping all over the floor where I walked.
My first attempt at cooking was roasting carrots and potatoes in the oven last August 10, 2016. I was lucky our super nice neighbor The Hungry Chef gave us some really yummy lechon from Manilachon. All I had to prepare was a side dish. I've progressed to cooking full meals. I started from zero and I'm so thankful we now have Google. Google is my teacher. I'd Google everything from how to clean vegetables to how to cook steak. I even Google what I should do with leftover ingredients. I wouldn't be where I am now in this whole cooking journey without Google.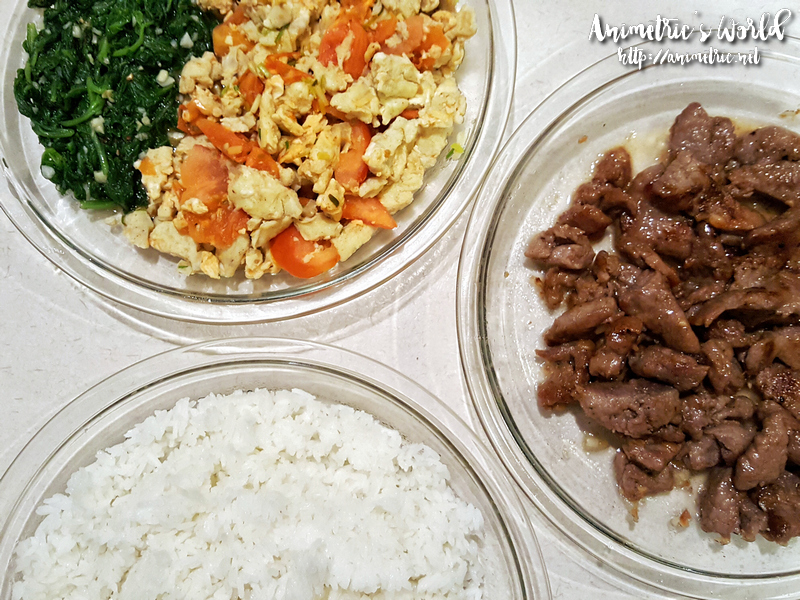 When I don't have much time (sometimes we get home later than usual), I have stuff like homemade tapa which I order from purveyors like Garlic and Lemon. I also have ready-to-cook supermarket fare like Pampanga's Best Tocino.  Then I just cook rice and simple side dishes like Korean-style spinach or Taiwan-style tomato egg.
Pasta is another option when I'm pressed for time. I discovered my kids never really liked the sweet pinoy style spaghetti our cook used to prepare. I've made sauce using bottled San Remo Bolognese Sauce with tomato chunks and Contadina diced tomatoes on separate occasions. They said they liked both better than the sweeter sauces we used to have.
When we want to indulge, we'd buy Meltique steaks from S&R. They're pretty pricey and I was cooking them for the first time so I googled how to cook steak. The results led me to Jamie Oliver's website. His technique involved rubbing the steak all over with olive oil, sea salt, and black pepper. It came out yummy thank goodness, I just need to work on getting the doneness right. I cooked ribeye steaks and one was perfectly medium, one was medium rare, and one was rare lol. The rare ones went into my pre-heated oven (because I roasted potatoes) for 5 minutes and they were okay.
I try my best to come up with balanced meals. When I cook just one viand, I make sure it has both meat and vegetables.
One of the yummiest dishes I've cooked is Japchae / Chapchae. It was kind of tedious though — I didn't know I had to marinate and cook each of the components (veggies, meat, noodles) separately! You just mix them all together in the end. Took me over two hours to finish this one dish but the taste was worth it!
In the past month that I've been cooking, I realized a lot of things:
Our former cook and helper was really wasteful. She'd go through approximately 4 liters of cooking oil a month. I haven't even finished one liter and it's been over a month.
We had a lot of leftovers stuffed in the refrigerator when she was around. She would cook so much every meal, even if I'd tell her to cut down the amount of food.
She wasn't careful with cookware. How the hell do you remove the entire pan's nonstick surface???
She was kinda bad at menu planning. Many nights we'd have 2 meat dishes and rice for dinner. It was something like fried chicken, pork adobo, and rice for dinner. We'd grin and bear it.
She liked to hoard. I used to be totally hands off the kitchen and I'd just go buy what she listed at the supermarket. I found something like 8 tetra packs of all purpose cream, 8 cans of button mushrooms, packs of tablea marked 2004, and a whole lot of other things in the cupboards and fridge.
You know what? I don't want to hire a cook anymore. To be fair, our ex-helper was trustworthy in that she never stole and I have pretty much everything lying around. She was also good to the kids.
Nowadays I buy everything from the supermarket. It's pricier but it's also more convenient. Plus well, I need the labels because I get confused… like I can't tell a tomato from a persimmon and so forth lol. I also upgraded all our ingredients. We went from regular iodized salt to sea salt, and more recently Himalayan pink salt I bought from Malaysia. I replaced regular soy sauce with Kikkoman. White sugar is now muscovado sugar. I trashed canola oil in favor of olive oil. White vinegar became apple cider vinegar. Instead of MSG I have an array of spices like cracked pepper, oregano, rosemary, tarragon, cumin, etc. We can have steak, salmon, gindara… etc.
My grandma, mom, and aunt are all really really good cooks. My lola is the type who makes ube from scratch. They said they aren't surprised I'm taking to this fast. Like from a total zero I'm cooking complete meals in just a few days. I didn't go for lessons too, I just googled everything.
We are actually eating better and spending less because I'm 100% in control. My kids don't order pizza and other foods for midnight snack anymore. They used to do so at least 2x a week because they weren't eating well during mealtimes.
If I can do this, anyone who has never cooked can!
Like this post? Subscribe to this blog by clicking HERE.
Let's stay connected: