I got The Sexy Chef Eat Clean Detox Meal Plan last May in an effort to well… detoxify and hopefully lose a little bit of weight. It was the first time I had subscribed to a meal delivery service and it was darned expensive — P7,500 for 7 days and they were on sale at that. I would've been okay with paying that much had I gotten the results I was expecting, but no, it was a big disappointment. I was always hungry and I was not detoxified in any way, in fact I was eating SPAM Tocino the very next day after the meal plan ended.
Anyhow, I was given the chance to try another meal delivery service. This time it's The Good Box. They're not as fancy as The Sexy Chef. There aren't really any complicated programs that promise the moon and stars. The Good Box philosophy is simple — choose the number of calories you want to consume per day (1,200 / 1,500 / 1,800 / 2,100 / 2,400 / 2,700) and they will deliver 5 healthy meals for you to consume for an entire day. One plan is 5 days long. You want to lose weight? Gain weight? Or just plain eat healthier? It's up to you.
So anyhow, since I'm overweight, I of course chose to try the 1,200 calorie meal plan. Oh, they have special diets for diabetics, gout / hypertension sufferers, etc. Just add P250 to the price of the calorie plan you choose. Anyhow, the 1,200 calorie plan (5 meals a day for 5 days) costs P2,750. That's just P550 a day. It sure is a lot more affordable compared to The Sexy Chef.  I was kind of perturbed that The Good Box delivered my meals at 10:30pm the night before. I mean, it's kind of an ungodly hour to be ringing the doorbell and delivering stuff.
So what I was going to eat the whole day was all inside the pink ecobag. My first thought was wow… that's it??? Then I started to worry about going hungry, lol.
My breakfast was comprised of 2 Banana Oat Bars, a small Apple, and Calamansi Juice with Honey. This meal is 340 kcal. The bars tasted fine, my problem was one of them was kind of impossible to bite so my breakfast was incomplete. The apple and the juice were both good. I guess I ate less than 340 kcal.
My AM snack was Macaroni Salad — elbow macaroni, celery, pepper, and mayonnaise (at least those were what I tasted). I liked it a lot and it was very filling plus it was only 120 kcal! It more than made up for my incomplete breakfast and I wasn't even hungry come lunch time.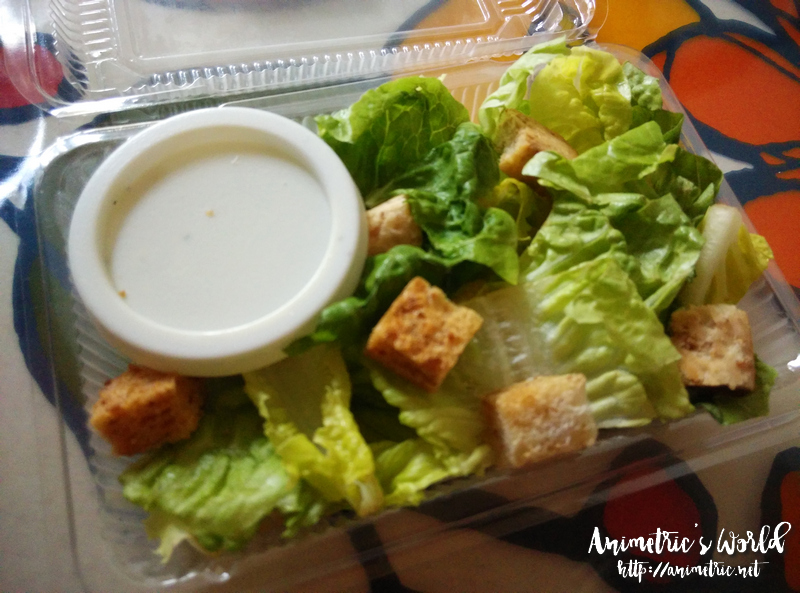 For lunch, I had Salad. It was comprised of lettuce and croutons, plus a bit of dressing on the side.
Chargrilled Chicken with Mint and Currant Couscous went with the Salad. I liked the chicken, it's my favorite part — chicken breast! It was grilled and it had a savory-slightly sweet flavor. It wasn't greasy too! The couscous did taste of mint and currant. The chicken and couscous went well together. Delicious! My entire lunch was 320 kcal.
My PM snack was Fruit and Cheese Roll-Up. It's basically soft and chewy crepe filled with cheese and a bit of fruit cocktail inside. I want the recipe for the crepe. It was really yummy — chewy, only slightly sweet, and it was just the right thickness. My PM snack weighed in at 150 kcal.
Dinner came in the form of Vegetable Gumbo and Brown Rice — 258 kcal. My hubby said it looked unappetizing but wow, I finished everything because the veggies were surprisingly good!
I only had one day to sample The Good Box, but I thought it was pretty good. Here are the reasons why:
I did not go hungry at any time during the entire day.
Each meal is delicious and satisfying, I never felt deprived or bitin.
I like how everything is either grilled, baked, boiled, stewed, or steamed. There wasn't a greasy or fried dish in sight!
I can tell they don't use MSG and other artificial flavorings.
It's very reasonably priced! P2,750 for 5 days of 1200 calorie meals is a lot more affordable compared to the 7,500 for 7 days I paid for at The Sexy Chef.
They have custom meals for diabetics, hypertension sufferers, etc. for an additional P250.
My recommended daily calorie intake at Marie France is set at 1200 calories so this actually fits the bill.
I did find the 10:30PM delivery time kind of off and well, had I paid for a week's worth I definitely would have complained about the Banana Oat Bar I couldn't bite. Other than those minor snags, it was all okay.
For more information, orders, and/or inquiries, log on to http://thegoodboxph.com/.
Like this post? Subscribe to this blog by clicking HERE.
Let's stay connected: