Before I received our Meralco bill this month, I had already seen, heard, and read the horror stories of my friends and fellow bloggers. Almost everyone's bill doubled even if their consumption did not.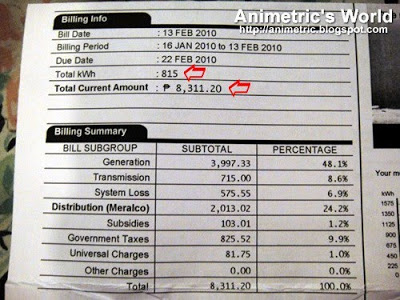 Our Meralco bill averages to P8,000+ monthly. We have one (1) refrigerator, two (2) air-conditioners (2hp and 2.5hp respectively), and two (2) multi-point water heaters. Two aircons are used nightly, one aircon for about 3 hours in the afternoon. We hardly use the water heaters these days since it's so hot.
Since everyone was getting riled up over their latest electric bill, I was somewhat prepared to see double the amount of our usual bill.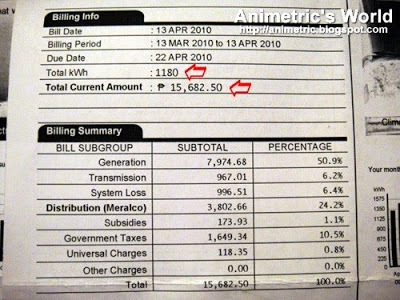 When I got home today, the dreaded Meralco bill was on our table. It was almost double the amount of our usual bill, a whopping P15,000+. Our consumption, however, did not double. At 815kwh, our bill was P8,311.20 — so why is it P15,682.50 at 1180kwh?
If our 815kwh ballooned to 1630kwh, which is double the usual usage, then our bill should theoretically become P16,622.40 which is also double the amount. Why the hell are we being charged an additional P7,371.30 for 365kwh more than our usual usage? It's too much. Can Meralco just double the rate when they feel like it? A price hike in electric rates is something, but to double it? Excuse me, but this is way overboard.
What is the government's stand on this? Is this going to be permanent? How can families afford to pay double their usual electric bill month after month?
How's your latest electric bill from Meralco?
Like this post? Subscribe to this blog by clicking
HERE
.