I remember Cine Europa as a yearly event at the Shangri-la Plaza Mall. Films from various European countries would be shown in their movie theaters for free — you just have to catch the schedule of the titles you're interested in. I'm so happy to share that the pandemic hasn't stopped this annual tradition. You can now enjoy the Cine Europa 24 experience online… for FREE! I've never really been fond of going to movie theaters so this is perfect for me.
There are 17 critically-acclaimed European films on the roster this year. They hail from countries like France, Sweden, Italy, Finland, Germany… and more. So far I've seen the French film "Les Parfums" and I'll be watching Poland's "The Lure" next. In order to gain full access to all these films, just register at the Cine Europa 24 website. All films will be streaming on demand from today till Sept. 29, 2021.
After registration, you can log in and choose to watch any film on their list. As I mentioned earlier, I watched "Les Parfums". It's about a perfumer named Anne Walberg. She's very talented and has created fragrances for brands like Dior. Guillaume is her new chauffer. Anne has quite a reputation as a diva but she somehow warms up to Guillaume, who eventually ends up doing more than just drive her around.
Anne and Guillaume have a very unique, platonic relationship. They start out as employer-employee and eventually become friends. Anne recognizes Guillaume's gift for scents and ends up taking him to business meetings and such.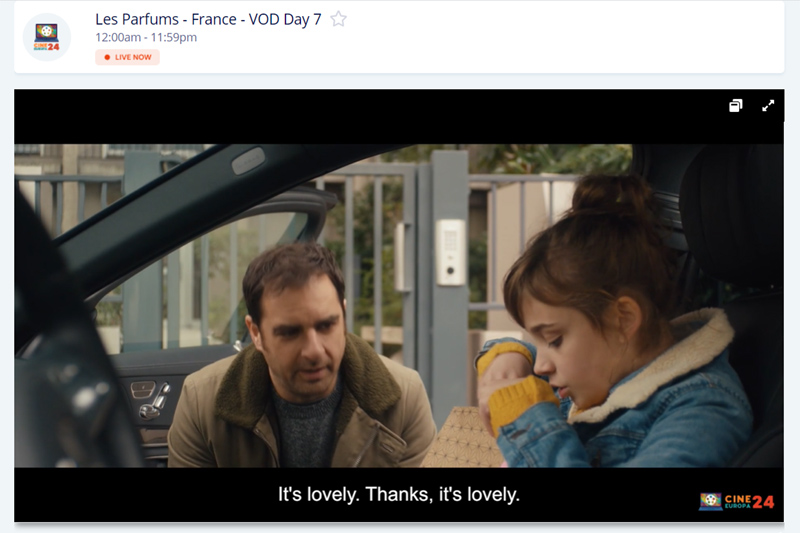 Meanwhile, Guillaume is willing to take on any job if it means he can somehow support his daughter who is staying with his ex-wife. Despite Guillaume's not-s0-good financial standing, he has a close and loving relationship with his daughter.
I really enjoyed watching "Les Parfums". It's a lot more subtle than the usual Hollywood films and it takes its sweet time telling its story. If you go along for the ride however, it's very much worth it. I loved how the film ended. It's just perfect — no loose ends and very fitting given the situation. The acting is remarkable as well. I didn't feel like I was watching a move — I felt like I was being given a glimpse into the characters' lives.
The cinematography is lovely. They don't show you the Eiffel Tower or the usual French tourist spots but you get a feel of real life in France. It's stylized yet raw. I haven't been to Europe but after watching this I feel more interested to visit someday. There's a quiet charm that I find more attractive than photos of crowded tourist spots.
The video and audio quality are excellent. The English subtitles are also very clear and concise. I watched on my iPad but I would love to stream it on our smart TV.
I highly recommend watching at least a few films at Cine Europa 24. It's free and it's a good way to experience European culture at home while we aren't ready to travel.
Like this post? Subscribe to this blog by clicking HERE.
Let's stay connected: