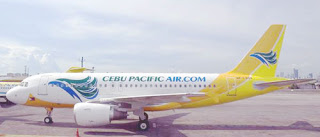 Flying via Cebu Pacific? You may want to read up first…
We decided to avail of Cebu Pacific's super low fares for our family vacation. For just 45k pesos my hubby, two kids, and I were able to secure roundtrip tickets to Osaka, Japan. This is a steal compared to normal fares. A roundtrip ticket to Tokyo via PAL, Northwest, or Cathay Pacific will set you back at least US$500 per adult and 75% fare for kids.
It was our first time to fly via Cebu Pacific. We were supposed to depart at 2pm but our flight was delayed and it was 3:30pm before we finally left NAIA Terminal 3.
Things you have to know about Cebu Pacific's international flights:
You will have to pay the travel tax at the airport, it's about 1.6k per adult. Children get a lower tax rate. You will also pay an airport usage fee of P750 if flying from NAIA Terminal 3. Bring cash — they don't accept credit cards.
There is no other class except Economy Class. Everyone is equal.
Cebu Pacific flights won't provide you with food and drinks. You will have to buy everything from the attendants including drinking water. Food costs ridiculously high — P100 for Nissin's Cup Noodles, P50 for a bag of Chippy, P50 for bottled water, and so forth. There is nothing below P50 on the menu.
Cebu Pacific flights do not have inflight entertainment. There's no TV, music player, or anything to keep you occupied except for a copy of SMILE magazine — their official publication. Our 3.5 hour flight to Osaka felt like FOREVER. Had I not brought the Nintendo DS I think my kids would've gone crazy with boredom. If you have an Ipod, portable gaming console, or a good book make sure that you bring it with you.
There's a trivia game the attendants will play with the passengers mid-flight. They'll give away three (3) tote bags worth P60 each to 3 passengers who can answer correctly.
I heard that Cebu Pacific flights are often delayed, so be prepared.
Cebu Pacific allows only 15kg of baggage per passenger. If you are say, a group of four (4) like we were, you're allowed 60kg of baggage total. You can distribute this weight between 1-4 suitcases. Carry-on baggage limit is one carry-on with a maximum weight of 7kg per person — you can't combine this limit, it's strictly 7kg per person.
Despite all of the above, I think it's still very much worth it since the price of going to Japan is almost 50% off compared to other airlines. It could be tough to be on such a flight during long hauls though…
Like this post? Subscribe to this blog by clicking HERE.