I've always wanted to see what the fuss is about over City of Dreams. I finally got the chance to while my mom was here. She and my stepdad wanted to try their luck at the casino so my sister dropped them off in the morning. Hubby and I were scheduled to meet them in the evening with a couple of friends for dinner at The Cafe Hyatt at City of Dreams, their 24/7 buffet restaurant.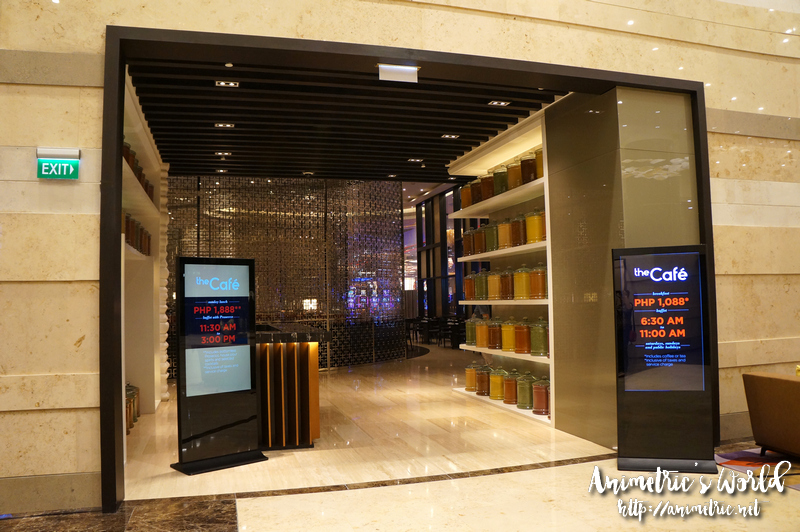 The Cafe Hyatt at City of Dreams' entrance looks like a hole in the wall.
The interiors are quite impressive though. It's very classy and spacious.
The Cafe Hyatt at City of Dreams offers a wide variety of dishes ranging from Italian, Japanese, American, and Chinese. I didn't see any Filipino dishes. This is the pasta station where you can have a custom-made pasta dish.
I super loved these roasted fresh veggies at the Italian section.
The freshly made pizzas were divine too! 😀
I totally forgot to try the roast beef at the Carving Station. They also have lamb and a couple of other meats.
You can have freshly grilled meat with your desired doneness.
I tried the grilled pork belly which reminded me a lot of the Korean Samgyupsal — how I wanted some doenjang (Korean soybean paste) to go with it but I had to settle for barbecue sauce lol!
Wow… hot and freshly cooked okonomiyaki (Japanese savory pancake)!
I had a piece and it was very good!
Cold cuts, nuts, and cheeses — the selection is a bit limited but I did get to eat some good cheeses.
I really liked their tuna sashimi — excellent quality! I was wishing for salmon but this was all they had.
The Chirashi was one of my favorites. Sticky Japanese rice, kewpie mayo, edamame, etc…. so so so good!
There's a Salad Station where you can get ready-made salads or make your own. They will even toss it for you.
The Roasting Station offers chicken, duck, and pork asado.
I love how most of the stations offer hot and freshly cooked food. Yes, the tempura is piping hot and perfectly crunchy when you get it!
When I went to get some Sour Cream Chicken it was literally smoking hot! I normally dislike chicken but this is boneless, crunchy, thoroughly cooked and flavorful just the way I like it! Yum!
I think this is the first time I've seen Truffle Fries offered in unlimited amounts! They certainly didn't skimp on the truffle oil. I was definitely impressed!
Noodles? You can have a custom made bowl at the Noodle Station.
There are lots of fresh fruits too.
This is how I like my fruit salad — made of all fresh fruits with no syrup, just the natural goodness of fruits.
Chocolate fountains for some DIY fondue.
Calamansi and Chocolate Tarts! Loved the zesty Calamansi.
They have an entire chiller full of cakes you can ask them to slice for you for dessert.
There's a Halo-Halo Station too!
There are actually a lot more dishes which I didn't take photos of like Green Curry Salmon (sorry I can't remember the others' names). While admittedly this buffet is not as big as Sofitel's Spiral or Makati Shangri-la's Circles, they use only the highest quality ingredients and they don't skimp — Philadelphia Cream Cheese, Kikkoman Soy Sauce, Kewpie Mayo, Truffle Oil… etc. I could taste the difference. The buffet rates are very very reasonable too considering the place is so posh:
Breakfast P1,088
Lunch P1,288
Dinner P1,688
The Cafe Hyatt at City of Dreams' ambience is very serene, relaxed, and casual — you can easily bond over good food and good conversations with friends and family. We really enjoyed dinner. Service is efficient too.
With mom, stepdad, hubby, and friends at The Cafe Hyatt City of Dreams.
I highly recommend The Cafe at Hyatt City of Dreams Manila — it's a great place to entertain guests and it's definitely very good value for money!
The Cafe at Hyatt City of Dreams
City of Dreams Manila
Asean Ave. cor. Roxas Blvd.,
Entertainment City, Paranaque City
691-1234
Like this post? Subscribe to this blog by clicking HERE.
Let's stay connected: