I've been hearing a lot about The Boiling Crab from my friend and fellow blogger Frannywanny. She was also in Los Angeles a couple of months ago and had the chance to have a meal there.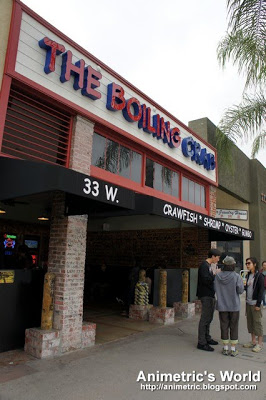 When my stepbrother invited us for a get-together at The Boiling Crab, I remembered Fran's recommendation and agreed right away. We went to the main branch located in Alhambra, California.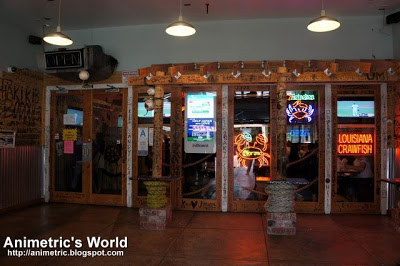 We sat and waited on the benches located outside the restaurant. You can't reserve and there's always a line at The Boiling Crab. There were 21 of us in the group and we had to wait for an hour to be seated.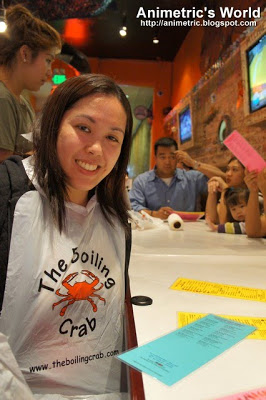 Upon being seated, each person is given a big plastic bib to wear. The table is covered with thick wax paper because you're not going to be eating off plates. You'll be eating with your hands off the table. :p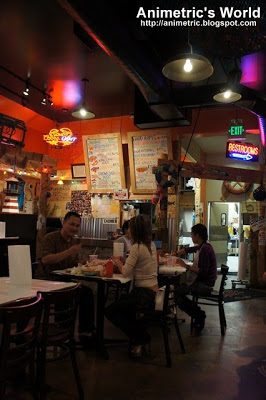 The Boiling Crab's interiors are very simple — walls are adorned with neon lights. It's actually reminiscent of a sports bar.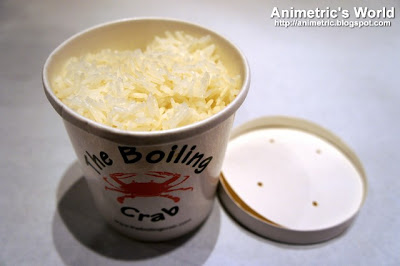 We were asked if we wanted to have Steamed Rice (US$3.99 or about P175, pictured above). I said yes I would share a serving with my daughter. It came in this big covered paper cup.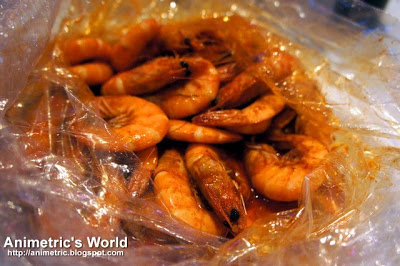 Then we ordered lots and lots of Shrimp (US$8.99 per lb or about P400, pictured above). They were served in plastic bags laid out in front of us. The steamed shrimps were completely soaked in The Boiling Crab's sauce called The Whole Sha-Bang! which combines their Rajun Cajun, Lemon Pepper, and Garlic Butter sauces into one super yummy concoction. The shrimp were fresh, juicy, and flavorful. The sauce is just wow… I wanted to take home the plastic bags with leftover sauce afterwards, hehe. We were supposed to order crabs but the market rate was US$20 per lb at the time and there were 21 of us eating so that would've cost a fortune.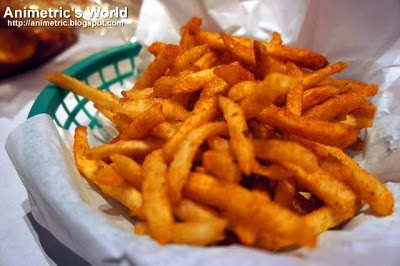 We had Cajun Fries (US$2.99 or P135, pictured above) on the side. They're crispy and slightly spicy.
We also had several orders of Fried Catfish Basket (US$8.99 or about P400, pictured above). Crunchy outside and soft inside, my daughter had two whole fillets, hehe. I had mine sprinkled with lemon and dipped in the tartar sauce it's served with.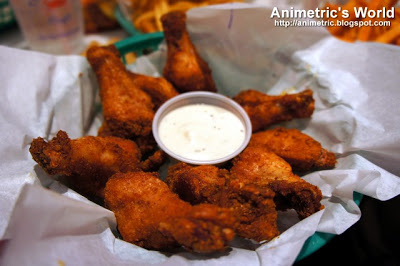 Cajun Hot Wings (US$6.99 or about P300) were great too!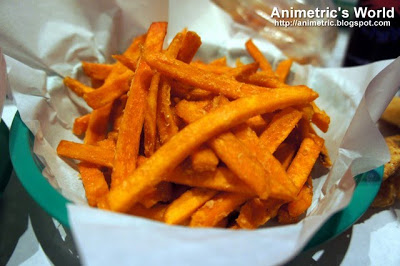 Sweet Potato Fries (US$3.99 or about P175, pictured above) is definitely in vogue in most American dining establishments. Almost everyone offers this as an alternative to regular potato fries. The Boiling Crab's Sweet Potato Fries are crunchy and kind of sweet, as the name suggests. They're surprisingly not greasy too.
If ever you find yourself in the US, you can find The Boiling Crab nearest you by logging on to http://www.theboilingcrab.com
Like this post? Subscribe to this blog by clicking HERE.
Let's stay connected: