When I was in high school, The Body Shop was my go-to store for gifts. The Body Shop has something for every budget level. Everything is exceptionally festive during the holidays too. They're packaged, boxed, and tagged already so that means less work for me.
I love the holiday edition of The Body Shop's Body Butters! Did you know that you can do something special with these? Check out the three seasonal variants: Vanilla Chai, Spiced Apple, and Frosted Berries.
If you buy a Body Butter, you can make a personalized label for free! The Body Shop has 3 of these label machines going around their stores all over the metro. You can track where they are via the The Body Shop Philippines Facebook Page.
Anyway, I made a personalized label for my Body Butter. I should've been a tiger because that's my Chinese zodiac sign but I went for the panda bear instead. I've always had a soft spot for pandas.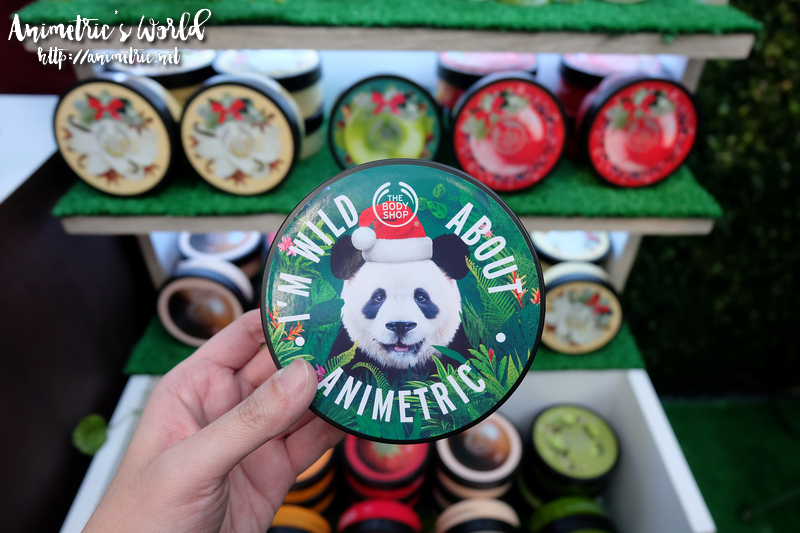 You can give this as a gift straight away — no need to wrap it or put a tag on it! Convenient and eco-friendly, right?
I chose Frosted Berries as my Body Butter variant. I love the fresh and cool fruity scent.
Here's another good reason why you should shop at The Body Shop this holiday season. For every purchase of a specially selected gift, you save 1 square meter of rainforest. This is a global effort by The Body Shop.
One square meter is about this size. Imagine if you buy 5 gift sets, you save a significant sized portion of the rainforest! I love it!
The Body Shop has gift sets under P200, P300, P400 and so forth. But if you want to splurge, they have gift sets that go all the way up to P6,000+ too. Everything is beautifully packaged and ready for Christmas day, like this Fuji Green Tea Gift Set.
This Rose Your Glow Gift Set costs P3,295.
This Trio Body Butter Gift Set is P1,095.
Holiday offerings at The Body Shop are never complete without makeup.
The Matte Lip Liquid Lipsticks immediately caught my eye. They cost a very reasonable P495 each. If it's anything like my Kylie Lip Kit I'm sold.
Now this is my kind of shade, Taipei Orchid.
They're highly pigmented as you can see from the swatches. Thank you Jackie for lending me your arm!
For more information and a complete list of stores, log on to http://thebodyshop.com.ph/.
Like this post? Subscribe to this blog by clicking HERE.
Let's stay connected: