It may sound like a cliche but really, I believe that a good education is the best gift you can give your children. It's something you can pass on that can't be stolen or lost.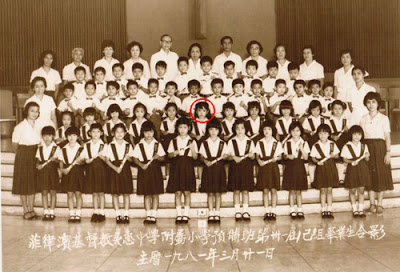 My 6th Grade Graduation Picture from 1981
Because I didn't really grow up with both parents, I knew what my priorities were as a child and it was to finish my studies. Even if I was living comfortably in my paternal grandparents' house, my existence had always been tinged with insecurity. My parents were not there, my aunts and uncles were… along with my cousins, but who was going to ensure my future? Me? But I was only 10 when my parents separated! With those kind of thoughts running in my head, I figured finishing school, getting into a good college, and then graduating was the only way that I could have a chance at guaranteeing my own future. I felt jubilant with every year of school that I finished. Come college entrance exam time, I got into UP, Ateneo, and La Salle (I chose to go to Ateneo). I graduated with an AB Communication degree. Companies were asking me to join them after I graduated.
No matter what your status in life, for me finishing school is non-negotiable. You may be born into wealth but who knows how long that will last? When the money runs out (and believe me there is always a chance that it will), would you be able to support yourself? Will you be able to go out there and actually get not just any job, but a good one which can give you a comfortable life? It's always good to have something to fall back on.
I have two children of my own now. I'd like to believe I've enrolled them in the best schools that can equip them with what they need as they make their way through life. Good education isn't cheap. Tuition fees are getting higher and higher every year. But this will always be a priority when it comes to family spending.
A few months ago, Manulife launched the Manulife Education Builder. It's an investment-linked product which helps parents build education funds for their children from investments in professionally-managed funds. It also offers life insurance coverage which helps parents secure their children's future even in the event of unfortunate circumstances like disability or death.

You get the following benefits with the Manulife Education Builder:
Annual Education Benefit – The policy holder has the flexibility to choose the amount and duration of payment. This ensures that the amount provided by the plan is enough to address the education funding needed. This is turned over once your children reach 18 years of age.
Education Rider – Through the Education Rider, the Annual Education Benefit is guaranteed in the event of death and disability.
Total Disability Waiver – In the event of disability, the Total Disability Waiver Rider allows a parent suffering from total disability continue with the fund and allow it to accumulate in value. This can be used as a graduation or start–up fund when your child finishes school. It can also be used for other financial needs.
With the Manulife Education Builder, you can build an education fund over time while ensuring your children will be cared for should the unexpected happen. The assurance that you will be able to provide for your children no matter what happens — I think that's reason enough to consider. 🙂
To learn more about Manulife Education Builder, call Manulife Customer Care at (02) 884-7000 (for Metro Manila), or visit http://www.manulife.com.ph. You may also contact a Manulife insurance advisor at any Manulife branch nationwide or e-mail phcustomercare@manulife.com.

Like this post? Subscribe to this blog by clicking HERE.
Let's stay connected: