One way to spoil yourself to the extreme is to get a signature or club type of room in a hotel when you check-in for a staycation, one that gives you access to an exclusive lounge like The Bellevue Signature Club.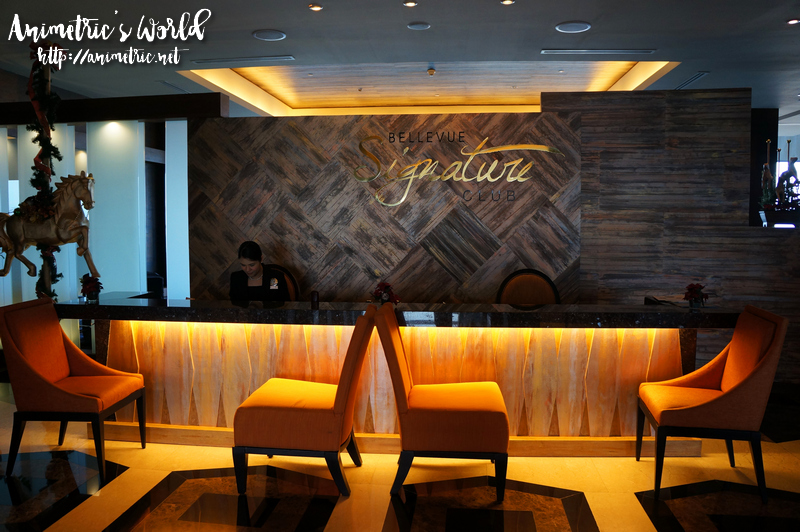 So yes, since we were checked in a Bellevue Signature Room, we had access to The Bellevue Signature Club, an exclusive lounge located on the 21st floor.
Whoa, it's very plush and elegant! You can watch TV while having snacks. There's a selection of magazines and newspapers for you to read too.
Everything looks and feels so brand-spanking new I could've sworn the hotel just opened yesterday. Some hotels exude an old-ish ambiance, this one doesn't! The Bellevue Manila is really doing a stellar job maintaining the entire place.
So anyhow, if you walk in any time at The Bellevue Signature Club, you can enjoy refreshments like softdrinks, juices, coffee, tea, water…
There are always pastries and cookies you can match them with. They are replenished on a regular basis so if you think there's too little of them just say the word.
I got an ube marble cupcake, a danish, and a mini ensaymada to go with my cappuccino. My hubby and kids got their own refreshments… daughter was even able to order a hot chocolate. They actually serve heavier cocktail fare and fancier drinks from 6pm-8pm but we were unable to check them out as we had a lauriat dinner scheduled at 6pm.
The next morning, we went back to The Bellevue Signature Club for breakfast!
There was a bustling breakfast buffet spread. They had all the basics covered like DIY fresh garden salad…
…and piping hot congee with a ton of condiments like preserved vegetables, pork floss, bonito flakes, seaweed, boiled peanuts, etc. I couldn't resist having a bowl.
There were fresh fruits, juices, and yogurt too.
If cold cereals are your thing, check!
Assorted pastries too, much like the ones offered during tea time.
Breakfast isn't complete without bread…
Meats? They have tocino, sausage links…
…potato wedges, and lots of bacon!
Cheese and dried fruits, my favorite!
Cold cuts are also offered.
Yup, more fresh fruits! I loved their pineapples.
This was my breakfast plate. You can order eggs cooked the way you want, I had mine poached but they served it on a separate plate.
You can ask them to whip up some pancakes too, just like this! Daughter attacked them with gusto, lol.
You can check-in and check-out of the hotel via The Bellevue Signature Club too! It's much more convenient compared to queuing up at the lobby reception area. Like I mentioned in my earlier post, access to The Bellevue Signature Club makes getting a Bellevue Signature Room well worth the additional cost! 😀
The Bellevue Manila
North Bridgeway, Filinvest City,
Alabang, Muntinlupa, Philippines 1781
771-8181
http://www.thebellevue.com
Like this post? Subscribe to this blog by clicking HERE.
Let's stay connected: