After around a couple of hours drive from Manila, we finally reached Ultimart in San Pablo, Laguna. It was my first time there. Ultimart was structured like a US-based shopping complex — single level with lots of outdoor spaces. We walked around a bit and then decided to have lunch at The Aristocrat Ultimart.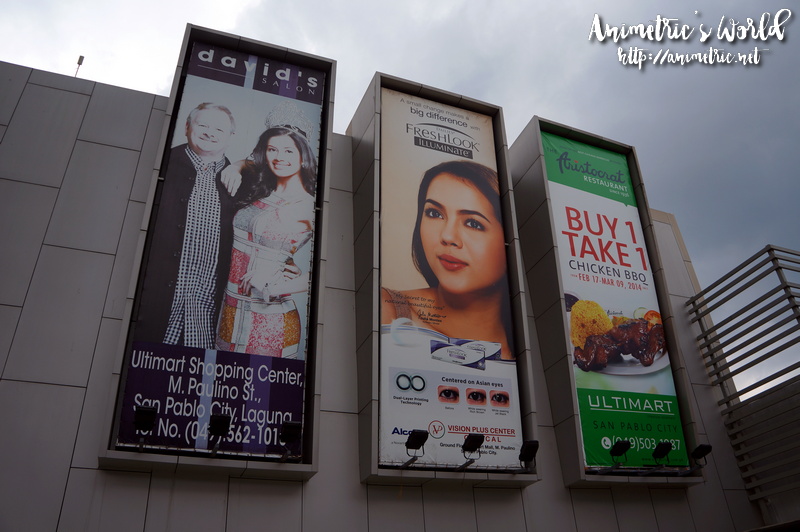 I immediately saw The Aristocrat Restaurant billboard.
I asked if the menu and prices in The Aristocrat Ultimart are the same as those in Metro Manila branches and I was told that yes they're the same.
We were welcomed by Ms. Nancy's standee! 😀
It was a hot summer day so I decided to try Aristocrat Iced Tea (P70). It's lemon-flavored and it's served like a shake blended with ice. It's refreshing and not too sweet.
I ordered my favorite Pork Barbecue (P175). I've been ordering this practically forever since I don't like chicken. I love how Aristocrat's signature barbecue marinade combines with the java rice and atchara (pickled vegetables). Aristocrat's Pork Barbecue is made up of tender lean meat, I actually finished everything on the sticks! (I always do, haha!)
No barbecue meal at Aristocrat is complete without their trademark Java Sauce. It's peanut-based and it's the perfect combination of savory and sweet. My mom loves this. She would always ask me to buy her bottles and bottles of it which she would take to the States.
I was very happy with my barbecue but we were there to try Aristocrat's other offerings, starting with Laing (P160). Laing is a Filipino dish of taro leaves cooked in coconut milk and chili peppers. I liked Aristocrat's version. It's not overwhelming and well, I think it's a nice kind of Laing to introduce to someone who is having it for the first time.
Then we ordered Seafood Kare Kare (P420). I'm not a fan of ox tail and so I always opt for the other types of Kare Kare (Kare Kare is a Filipino stew that uses creamy peanut butter as its sauce base) when dining out — vegetable, tuna, beef (the normal meat parts of the beef that is). Seafood Kare Kare is a nice deviation since it's filled with clams, squid, fish, shrimp, mussels… I felt the entire ocean's bounty (plus veggies) was all packed into one bowl. It's served with bagoong (Filipino shrimp paste) on the side. Yummy!
We had Crispy Pata (P695) too. Oh my, the combination of tender fall-off-the-bone pork and crispy flavorful skin is just impossible to resist. This was the first dish that was wiped out completely even if it wasn't the one that was served first.

Here with a couple of my delightful companions Ms. Nancy Reyes-Lumen and fellow blogger Ajay.
I decided to have Halo-Halo Regular (P90) for dessert since I've never tried Aristocrat's Halo-Halo. There is a special version for P125, the difference being it comes with a big scoop of ube (purple yam) ice cream. Ms. Nancy told us she doesn't mix her halo-halo but eats it in layers because it's less sweet that way. It was okay but I forgot to tell them not to put jackfruit and there was a really huge piece of it in the glass. The jackfruit kind of detracted from my experience but I'm sure I'm in the minority, lol.
All in all I had a great lunch at The Aristocrat Ultimart! If ever you find yourself in San Pablo, Laguna, it's definitely an option for one of your meals there.
The Aristocrat Restaurant
Ultimart Shopping Plaza
M. Paulino St., San Pablo, Laguna
(049)503-1987 to 88
Like this post? Subscribe to this blog by clicking HERE.
Let's stay connected: