My hubby and I had dinner with our high school friends at Thaipan, a small Thai restaurant hidden in one of Tomas Morato's side streets. I wasn't even aware of this establishment until my friend suggested it for our annual Christmas get-together.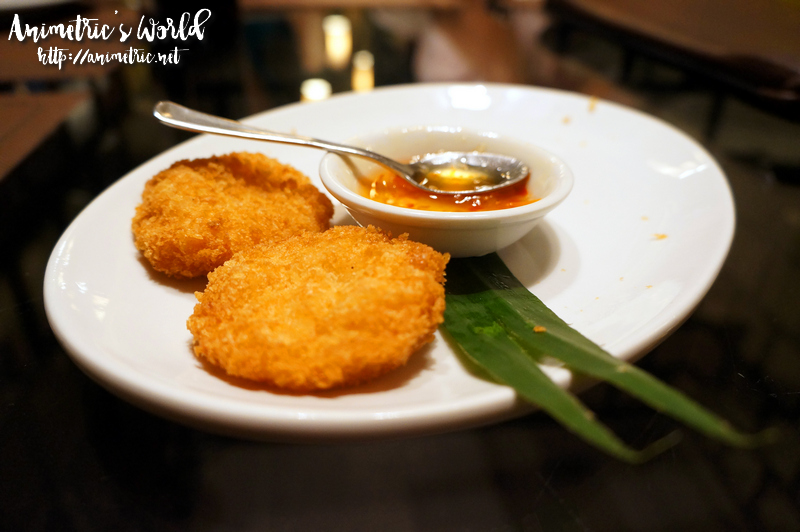 When we got there our friends were having Tod Man Kung (P290 for 6 pcs), which are deep fried Thai shrimp cakes served with sweet chili sauce. I tried a piece and it was crunchy outside and juicy inside — pretty good! 😀
For some reason all of us got complimentary glasses of cold Pandan juice. I don't know if it's the usual practice but free is good, right? Haha! It was mildly sweet and nice.
I ordered Yam Plaa Dook Foo (P290) which is crispy catfish with julienned green mangoes served with a spicy sweet lime sauce. It's topped with peanuts and chopped onions too. I liked it a lot. Hubby didn't care for it since he's not a fan of sour food. The crispy catfish seemed more like crunchy meat floss. I normally don't eat catfish but this is yummy!
Then I ordered a bowl of Tom Yum Kung (P130) which is one of my favorite soups — hot, sour, and slightly sweet broth flavored with lemongrass with lots of juicy straw mushrooms and prawns. I find Tom Yum very delicious and comforting (this one was no exception). I usually order it whenever I go to a Thai restaurant. The serving is really small though so it's not for sharing.
Hubby chose to order Panang Pla Kapong Yang Bai Tong (P340), cream dory fillet char-grilled in a banana leaf and smothered with perfumed Thai curry. I just had a little piece since I don't care for cream dory. It was okay. Take note that all their fish fillet dishes (there are several) use cream dory.
I opted for See Khrong Moo Yaang (P245) — cinnamon and lemon marinated barbecued pork ribs. The pork was tender and flavorful. Hubby and I had all the dishes with steamed jasmine rice.
For dessert, Ta Koh Sakooh (P160), which is steamed tapioca pearl cake.
The white portion is soft and kind of gooey-sticky while underneath it is a cluster of tiny chewy tapioca pearls. It's a very interesting and yummy dessert that is served warm.
Service is good but serving portions are small considering the price. Food is pretty okay. Thaipan is actually the sister restaurant of Simply Thai in Makati.
Thaipan
120 Sct. Dr. Lazcano St.,
Tomas Morato, Quezon City
352-4926
Like this post? Subscribe to this blog by clicking HERE.
Let's stay connected: