It was the last day of May. I was already counting down to the dreaded school opening. My son was slated to go back to school on June 6. That said, I agreed to meet up with a few blogger friends at Thai Temple Spa in San Juan. Yes I know, I'm the spa hater. But most of my friends love spas so I figured it was a good time to catch up.
I liked the cozy wooden interiors accented by greens.
I opted for a Thai Foot Massage (P300 for 60 mins / P450 for 90 mins). If there's one type of massage I actually kind of like, it's foot massage. Thus I was led to this rather impressive looking corner where my feet would get a bath.
Prior to the Thai Foot Massage, your feet are washed and scrubbed (as in they use a creamy grainy foot scrub).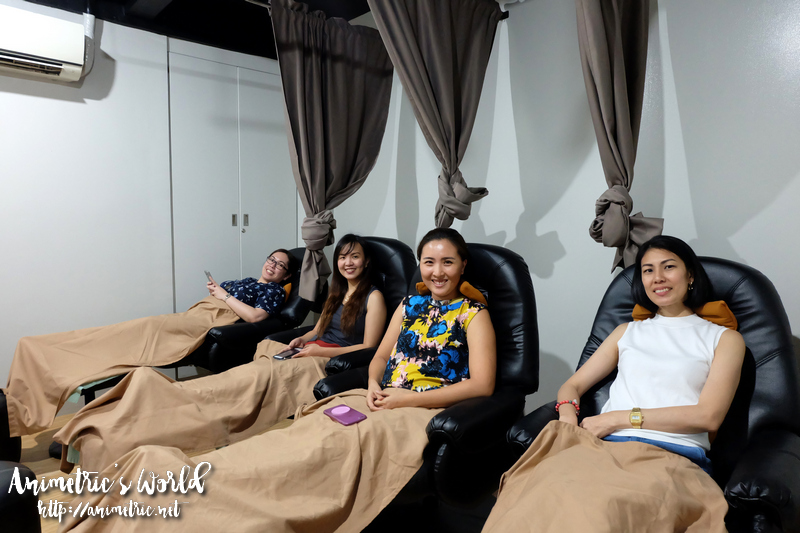 After the foot bath you're ushered into a room with comfy recliners. You're given a blanket too (it's more like a sheet but it's cozy). This is one of the nice things about getting a foot massage — you can sit together with your friends and talk while it's happening.
Anyhow they dim the lights before starting the massage. You can sleep if you want, the entire setup is very conducive to catching a few zzz's. The Thai Foot Massage is very soothing. I felt so light on my feet afterwards, like I was floating instead of walking. This is the perfect massage to get if you come home from traveling abroad, especially of you did a lot of walking. An hour is just about right. My main problem with this place is the lack of proper parking spaces… although it's probably easier at night when there are less cars around the area.
Thai Temple Spa also offers different types of full body massage. Rates start at P300 to P350 an hour. For more information, log on to the Thai Temple Spa Facebook Page.
Thai Temple Spa
J. Abad Santos cor. Lopez Jaena St.,
Little Baguio, San Juan City
576-7043
Like this post? Subscribe to this blog by clicking HERE.
Let's stay connected: