I've known Chef Cecille Chang for some time now. She had a Thai restaurant in Robinsons Magnolia before. We ate there a lot. I think we tried most of the dishes in the menu before it closed. Everything was really good and reasonably priced.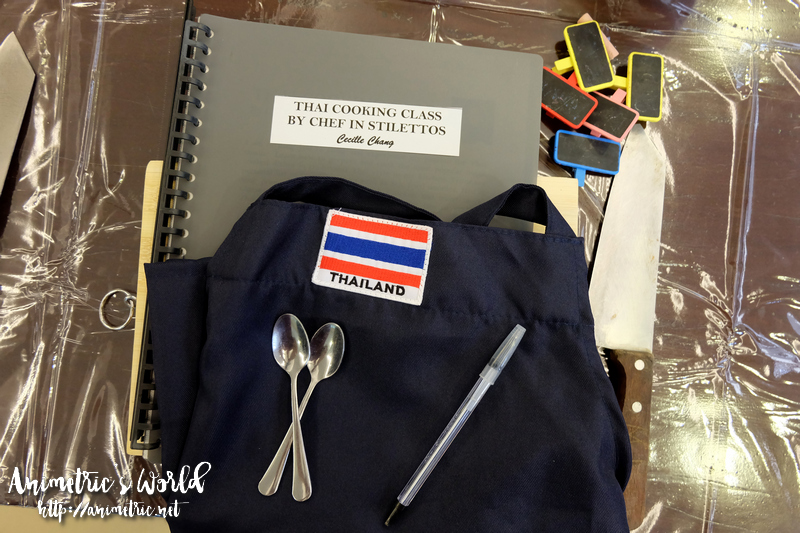 Sometime last November, Chef Cecille invited a few bloggers for a private hands-on Thai cooking class. As most of you know by now, I cook dinner everyday. I was actually quite excited about this session because I knew I would learn a lot from Chef Cecille.
I brought my daughter along so she could also try her hand at it.
I'll be the first to tell you that this is no ordinary cooking class. You know the usual type — they give out recipe sheets and you follow what it says. Then the facilitators make sure you're doing it right. With Chef Cecille, you learn more than just following recipes. Let's just say that in the 2-3 hours I spent with her, one of the things I learned is how to get double the juice from all citrus fruits. She really shares what she knows — no secrets!
My daughter and I cooked side by side. We were supposed to do 5 dishes but since the class started late, we were only able to do 2. I had to pick up my son from school so we had to go before 5pm.
Chef Cecille explained everything from the ingredients, the amount to use, and the way to cook them. She taught us the difference between coconut milk and coconut cream. She showed us the best way to squeeze citrus fruits. All the past cooking lessons I've participated in can't even begin to compare.
We did Spring Rolls first. This is my unwrapped version. It was soooo good! This and rice would be a complete meal already.
Chef Cecille even taught us how to slice vegetables properly.
The second dish we did was mind-blowing — Green Curry with Chicken. Chef Cecille went as far as to tell us which Thai brand of curry and palm sugar to use for the best results. My daughter ate all of the curry she cooked by herself lol. I couldn't believe we were able to come up with something so exotic and delicious in just a few minutes!
Want to learn how to make authentic Thai dishes like Pad Thai, Tom Yum, Green Curry with Chicken, and more? Call or text +(63)956-3789129 to inquire or register. Only P2,500 per session and it's inclusive of all the ingredients! Classes are held in Chef Cecille's private kitchen in BGC. You get to take home everything you make too. I'm actually thinking of re-enrolling so I can complete the entire session.
Like this post? Subscribe to this blog by clicking HERE.
Let's stay connected: