Now that my kids are on their summer vacation, cooking is proving to be more of a challenge. When they're in school, I only have to cook dinner. They eat in the school canteen while hubby and I have a simple packed lunch at the office. Now that the kids are home, I have to plan for both lunch and dinner. That means double the time an effort devoted to meal planning and cooking. I need to find shortcuts… but I don't want to sacrifice quality, health, and safety. Thank goodness I discovered TFH Premium Meat.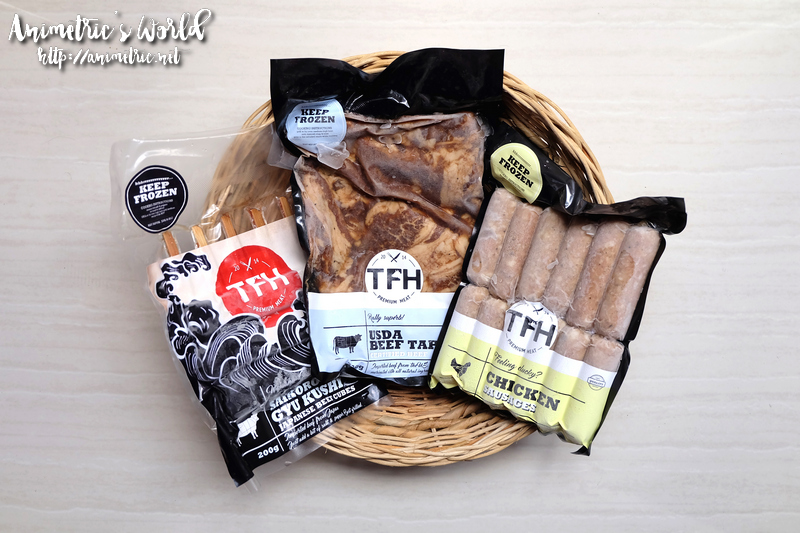 TFH Premium Meat has a full range of ready-to-cook meat products that make life so much easier for working moms like me. I was able to try 3 different TFH Premium Meat products recently: Saikoro Gyu Kushi Japanese Beef Cubes (P400+), USDA Beef Tapa (P200+), and Chicken Sausages (P200+). I'll update this portion with the exact prices but what I'm sure of is this — the above products amount to around P1k.
One weekday lunch, I prepared TFH Premium Meat USDA Beef Tapa with sauteed salt and pepper carrots on the side. It was really quick and easy. I just defrosted the tapa, fried it, and served it with julienned carrots I sauteed in the same pan after the tapa. Done in 10 minutes, maybe a little less. Everyone loved it too! The tapa is tender and flavorful.
We tried the Saikoro Gyu Kyushi Japanese Beef Cubes and Chicken Sausages on another occasion. Well, more specifically another weekday lunch. This time I instructed our helper to fry some of the frozen fries I bought to serve as a side dish. OMG, the Beef Cubes practically melt in your mouth with a big burst of flavor. It's like a dream! The Chicken Sausages were very tasty too. All I had to do was fry these.
What I like about TFH Premium Meat:
All the products contain no nitrites, preservatives, and coloring.
Everything is ready to cook. Just defrost and fry (or grill, bake, roast, etc).
The meats I've tried are all of excellent quality.
Prices are reasonable.
Downside? Availability is a bit of an issue because at the moment, you can only buy TFH Premium Meat from Landers Superstore. You can also e-mail tfhmeat@gmail.com or call 880-9044 / 0939-9021429 for orders or inquiries.
Like this post? Subscribe to this blog by clicking HERE.
Let's stay connected: