Yesterday after dinner, I stopped by TenRen's Tea in Greenhills Promenade with my kids, my brother, and his girlfriend. We had just finished watching my daughter's concert performance earlier that afternoon for School of Rock. We wanted to chill.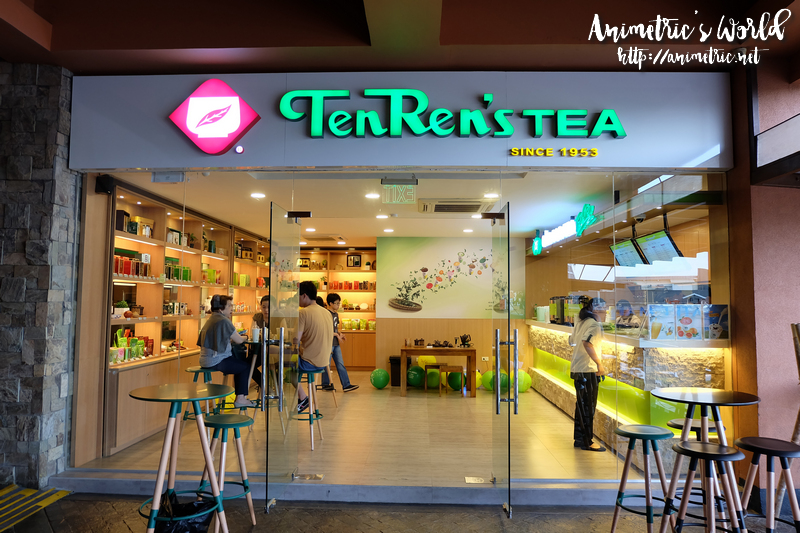 Established in 1953, TenRen's Tea originated from Taiwan. They've expanded to become over 100 stores strong all over the world. TenRen's Tea opened its first outlet in the Philippines just this month. It's located on the second floor of Greenhills Promenade, in the area above California Pizza Kitchen.
The store is bright and spacious. You order and pay at the counter.
TenRen's Tea has an extensive menu for Iced Tea concoctions.
They have a substantial Hot Tea selection too. All the drinks come in only one size and they only offer one kind of sinker — Pearls for an additional P10.
Apart from drinks, TenRen's Tea carries an assortment of gift items for tea aficionados.
They have an assortment of elegantly packaged teas you can enjoy at home or give away as gifts.
They have tea-based snack items like this Green Tea Mochi too.
Whoa, these teas must really be of superior quality — they cost almost P5k per box!
Before ordering we sampled TenRen Tea's star product and the base tea used for most of their drinks — 913 King's Oolong Tea. It's surprisingly light and refreshing. My 11-year old daughter actually commented that it had a good aftertaste.
It prompted me to order the Iced 913 King's Oolong Tea Latte (P120) with Pearls (+P10). At TenRen's, there are two types of milk-based drinks — Milk Teas which combine tea + milk powder and Tea Lattes which combine tea + fresh milk.
My brother ordered the Iced Green Tea Mango Slush (P140). OMG! They really don't scrimp on the fresh ripe mangoes so this drink tasted like delicious mango sago!
My son opted for the Iced Taro Green Tea Latte (P130) with Pearls (+P10). Wow, they use real taro! I had a taste and this drink is really yummy although it gets a bit cloying towards the end because it's milk-rich.
Check out the Peanuts with Green Tea & Wasabi (P99 for 60g / P279 for 180g).
We tried them and they're good! They taste like real wasabi. I didn't find them overly spicy, besides they go well with the milky drinks.
My daughter and I agreed that our favorite drink was the Hot 913 King's Oolong Tea (P80). We had it with 30% sugar. We both found it so refreshing, even if it's hot (you can actually order it iced).
Tea enthusiasts will definitely love TenRen's brews and concoctions. We'll definitely be back for more! I want to try Green Tea with Fresh Fruits or maybe Matcha Latte next time.
TenRen's Tea
Upper Level, Greenhills Promenade
Greenhills Shopping Center, San Juan City
728-4678
Like this post? Subscribe to this blog by clicking HERE.
Let's stay connected: