The first job I landed after graduating from college taught me the art of eating alone. I was in sales. I spent most days presenting to potential customers in Makati. Come lunch time, I'd go to Glorietta and pick a fast food joint to have a quick lunch in. It was the '90s and we didn't have smartphones then. There was no game-filled or internet-enabled phone to fiddle with. But I got used to eating by myself pretty quickly.
These days, I consider eating by myself precious me-time. It's a form of relaxation. I pick a place and settle down one of the spacious tables or booths. Then I order what I want… after all there's only me to worry about. Anyhow, yesterday I did just that at Tenya SM Megamall. It was my first time at Tenya SM Megamall. I've only been to their Market! Market! and Akihabara branches prior.
I tried their new drink, Cold Brew. It's not yet in the menu. Coffee is frozen into cubes and then served with fresh milk on the side. It's surprisingly good — I daresay much better than most coffee chain creations. Sweet and milky but smooth and not at all cloying.
Since I had to pick up my kids from school, I wasted no time and ordered Tenya's newest offering, the TempuRamen (P295). It's actually a set meal of ramen and mixed tempura. There's also Japanese spicy garlic sauce on the side to enhance the ramen's flavor. I've always had a penchant for set meals because I feel they always give me very good value for money.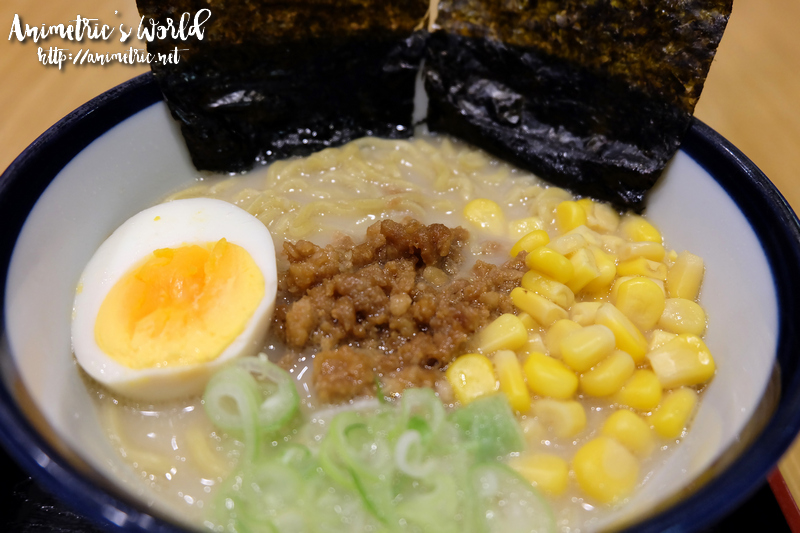 Okay so let's take a look at Tenya's ramen. It's interesting to note that this is not available in Japan. Tenya is purely a tempura place there. Due to popular Pinoy demand however, Tenya Philippines whipped this up. So what do we have here? Chewy wheat flour noodles in tonkotsu broth topped with soft-boiled egg, ground pork, corn, and spring onions.
Of course it's served with tempura on the side consisting of black tiger prawn, eggplant, and green beans. I love Tenya's tempura. It's always perfectly crispy with just the right batter consistency — not too thick, not too thin. What's more, the tempura they serve here in Manila is exactly like what they serve in Japan! I actually pointed this out and I was told that their batter is imported from Japan. For P365, you can upgrade this set meal with 2 pieces of black tiger prawn tempura.
I was surprised by how chewy and perfect the ramen noodles were in terms of texture. They told me that the noodles are imported from Japan too. I'd like to try their other noodle dish next time — the Niku Soba.
So far for me Tenya still serves the best tempura, I just hope they open somewhere in Quezon City soon!
Tenya Tempura Tendon
4/F SM Megamall Bldg. A
Dona Julia Vargas Ave.,
Ortigas Center, Mandaluyong City
696-5996
Like this post? Subscribe to this blog by clicking HERE.
Let's stay connected: