We walked all the way uphill to get a peek of the Seoul Tower one cool day while in South Korea. In order to gain access, we also had take an elevator, ride a cable car, and climb lots of stairs. I didn't think it was THAT tedious trying to get there. Thank goodness it wasn't hot. It made the entire traverse a lot more bearable.
By the time we got to where Seoul Tower stood, our feet were killing us.
We went inside in order to visit the Teddy Bear Museum.
Teddy bears of all shapes and sizes were displayed in the museum.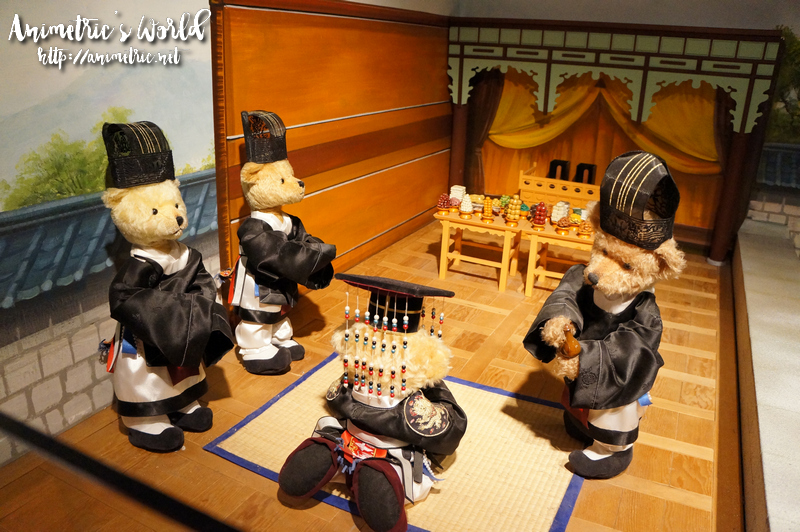 There were elaborate dioramas depicting South Korea's rich history. These displays are special because they are equipped with sensors that detect your presence. If you're close enough, the teddy bears actually move.
I could've sworn the exhibits were pages off Chinese history…
Why did ancient Korea look so… Chinese? I was too lazy to read the accompanying loong write-ups which accompanied each scene so I guess I'll just Google it.
How cute is that? Teddy bears riding horses! XD
The kids had a blast checking out all the bears.
There was a whole pavilion devoted to Korean history.
At the second pavilion, the bears are shown in a more contemporary setting…
Yes, they even have a depiction of Rodeo Drive among other modern day scenarios, haha!
There was even a grand teddy bear wedding!
Teddy Bear Museum is just what it is — a place full of teddy bears! Interesting for a first time visit but I don't foresee us going back there in the future. Fortunately, ticket prices are pretty inexpensive… 8,000 won (about P304) for adults and 5,000 won (about P190) for kids.
For more information including exact location and operating hours, log on to http://www.teddybearmuseum.co.kr/Etc/English.asp
Like this post? Subscribe to this blog by clicking HERE.
Let's stay connected: