I was invited to a cooking demo by the renowned Chef Alexandra Cacho at Tapella by Gaudi last May 16, 2011.
The cooking demo was held at the al fresco area of Tapella by Gaudi. It was a hot and humid night but there was no choice as Chef Xandra (as she likes to be called) would not be able to conduct the cooking demo inside the restaurant.
How I longed to sit inside the comfortably air-conditioned restaurant along with the other diners, haha.
Anyhow, that night Chef Xandra would show us how to whip up three dishes: Paella, Sangria, and an appetizer called Cojonudos.
I asked Chef Xandra if she was cooking the usual Paella Valenciana. She said no, she was showcasing the Paella Manchego, which is her own creation. Manchego is a kind of cheese from Spain which is made from the milk of Manchega sheep. Note all the grated cheese that tops the paella while it's still cooking. 😀
Chef Xandra shared a little something about Paella:
Paella is cooked in a thematic way, meaning if you're preparing chicken paella then you use chicken stock and then garnish it with chicken and assorted vegetables. If it's a seafood paella then you use seafood broth and various seafood like fish, clams, shrimp, etc.
The use of sticky rice is not advisable for paella. Long grains like Jasmine and regular rice are fine.
You use uncooked rice for paella, you boil it in the sauce and the broth that you've prepared.
How good a paella is is determined by how the rice tastes.
Chef Xandra uses powdered saffron from Spain for her Paella. She told us that powdered saffron is hard to source here in Manila so if she doesn't have it on hand she uses atchuete in its place. The taste isn't the same and so now she makes it a point to bring in her own powdered saffron from Spain.
Chef Xandra also showed us how to prepare an appetizer called Cojonudos. It's basically melba toast topped with jamon serrano slices and fried quail eggs. I didn't know that you could fry quail eggs sunny side up they look so cute and tiny, he he! Cojonudos are bite-sized and yummy too! 😀
Chef Xandra also concocted some Sangria for us to drink. Sangria is a Spanish punch which is made of fruits, juice, wine, and liquor. It was kind of bitter because of the alcohol content but it was fruity and nice at the same time.
After the cooking demo, I went in front and got a bit of Chef Xandra's Paella Manchego. It was sooo good. I could taste the melted cheese along with the chicken broth in the rice. The rice, asparagus, and chicken chunks were cooked just right. An order of Manchego Cheese, Chicken, and Asparagus Paella normally costs P500 for a pan the size of what Chef Xandra prepared.
By this time we were already seated and we were served White Garlic and Almond Soup Shooters (P70). It's savory but it's taken cold. I liked it. 🙂
I loved the Camembert with Caramelized Onions on Fluted Bread (P190). The combination of melted cheese and caramelized onions in the middle of crisp and hot bread was just delicious.
Chorizo Stewed in Red Wine (P245) went very well with the Sangria since it was savory and spicy at the same time. I quite enjoyed its garlicky and chili-based flavors.
A unique dish presented was the Calamari with Black Ink Batter (P255). The black color makes it look unappetizing but it's actually crunchy. There isn't really much of a taste difference versus ordinary calamari though…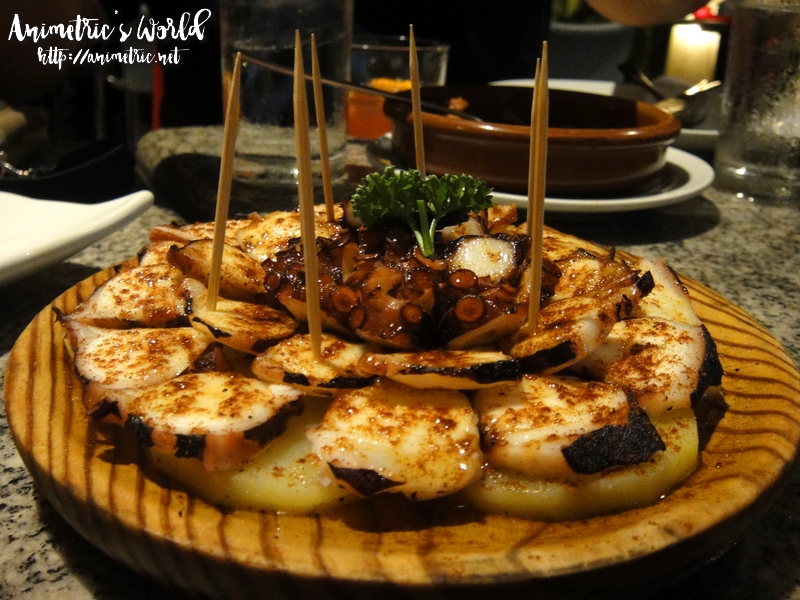 Another exotic offering at Tapella by Gaudi is Octopus (P280). Sliced octopus tentacles seasoned with paprika, salt, and virgin olive oil are laid out on top of potato slices. It's tasty and it's just like eating squid, hehe.
Then we were served another shooter, Beef Tenderloin Salpicado with White Beans (P380). Like the soup, it came in a drinking glass.
For dessert, we were served a platter of various sweets but I settled for a spoonful of Arroz Con Leche. It's rice cooked in milk and sugar then topped with cinnamon powder. I love milk-based food so I loved it. :p
If you're ever hankering for some authentic Spanish cuisine, Tapella by Gaudi at Greenbelt 5 is a good restaurant to try. 🙂
Tapella by Gaudi
G/F Greenbelt 5, Legaspi St.,
Legaspi Village, Makati City
757-2710
Like this post? Subscribe to this blog by clicking HERE.
Let's stay connected: