These days, I treat every occasion our helper takes the day off as an opportunity to try a new restaurant. So last Sunday, we went to SM The Block and had lunch at Tamarind Taste of Thai. I booked our table via the BigDish app so I could avail of 20% discount (that's their Sunday 11am discount for Tamarind). Tamarind Taste of Thai is actually the higher-end sister restaurant of Jatujak.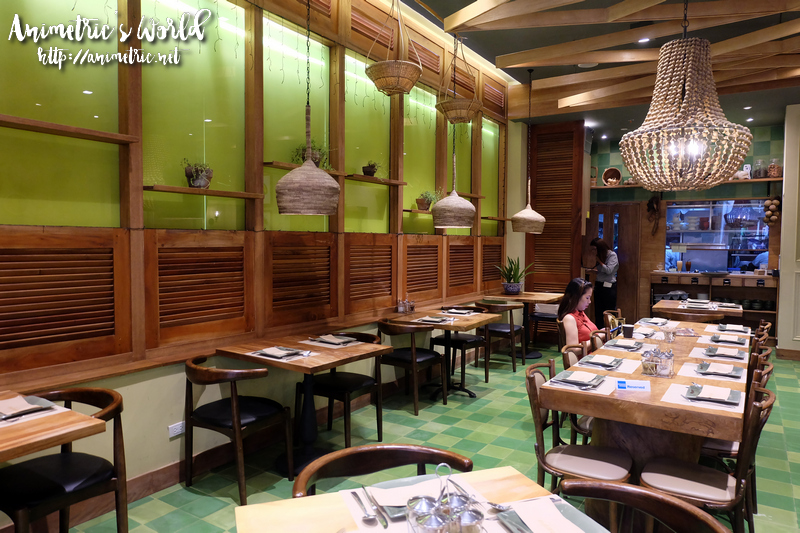 Tamarind Taste of Thai is located on the ground floor of SM The Block, near the supermarket area. It's right beside Gringo. I immediately liked the bright and nicely coordinated interiors. These days, I always check for interesting restaurants to try on BigDish. I love how I can book a table and get a discount at the same time.
We ordered Kao Kluk Kapi or Bagoong Rice (P220). I was expecting a small-ish serving similar to Jatujak's but Tamarind's Bagoong Rice can actually be shared by 3 people. Jatujak's Bagoong Rice was good but this is even better!
I try my best to keep our diet balanced even when eating out, so I ordered Phaeneang Taoho (P220) from the Vegetables section of the menu, It's deep fried tofu cubes in thick sweet curry. It was surprisingly good. The sweet curry flavor of Phaeneang Taoho went very well with the the Bagoong Rice.
For seafood, we had Goong Yang (P370) which is Grilled Marinated Prawns. OMG I don't know what they marinated these in but wow, the smoky grilled flavor is mind-blowingly awesome. I can eat the entire dish myself, it's THAT good.
We also had the kids' favorite Mixed Sate (P250) which is grilled chicken and pork on skewers. It's topped with peanut sauce and served with Thai style vinaigrette on the side. Yummy!
I ordered Kao Pad Ob Saparod (P200) or Pineapple Fried Rice as back-up in case the Bagoong Rice wasn't enough. It had a mild curry flavor which was okay but we all agreed we liked the Bagoong Rice better.
Kor Moo Yang (P320) or Grilled Bacon Belly with Garlic Cilantro, was surprisingly delicious.  It's both smoky and tasty. It like a more flavorful version of Korean samgyeopsal. It was served with lettuce leaves so you can wrap the meat and dip in the vinaigrette before eating.
For dessert, I ordered Tab Tim Grob (P135) which is water chestnuts in coconut cream. My daughter and I loved this. The coconut cream was delightfully creamy yet light as a cloud. The water chestnuts were chewy and crunchy at the same time. It's pretty big so it's good for sharing. Definitely the best dessert of the bunch for me.
Hubby and son shared an order of Ruamit (P140) or Thai Halo Halo. It was even bigger than the Tab Tim Grob. It had the same light coconut cream garnished with sweet corn kernels, jellies, coconut meat, kaong, macapuno, and beans.
We had Kao Niew Mamuang (P140), which is Sticky Rice with Mango. I liked that it wasn't overly sweet.
All in all we had a pretty awesome Sunday lunch at Tamarind Taste of Thai. We absolutely loved everything we ordered. Prices are reasonable too, with most dishes being in the P200+ to 300+ range. My top picks are the grilled prawns, tofu curry, and pork belly. It was pretty cool and comfy in the restaurant despite the sweltering summer heat outside. Service is efficient, even if there was initially just 1 woman manning the entire dining area. The restaurant was full by the time our orders started coming out so I thought she did a fabulous job.
Do drop by if you have a hankering for Thai food. Don't forget to reserve a table via the BigDish app so you can enjoy a discount! 😀
Tamarind Taste of Thai
G/F SM The Block,
SM City North EDSA, Quezon City
Like this post? Subscribe to this blog by clicking HERE.
Let's stay connected: