We made a long drive to Antipolo one Sunday evening to try out Tamagoya Noodle House. It's an authentic Japanese-owned ramen place that we had been hearing much about. The sign outside the restaurant says Home Grown Taste From Hokkaido and that was enough to get me excited.
The restaurant's look is very Japanese. I mean, ramen places in Japan actually do look like this. They're just as small too.
We ordered Karaage (P148) which is Japanese Fried Chicken. It's kind of like chicken lollipop except without the bone. It was quite soft to the bite and well, kind of slippery inside. The breading also had a slight ginger flavor. It's served with a lemon wedge and a side salad of shredded lettuce with Japanese mayonnaise and sesame dressing. Not bad, but I don't particularly like slippery chicken. I finished the salad though.
We also had Yaki Gyoza (P98 for 6 pcs), Japanese pan-fried dumpling that is typically filled with pork and leeks. It's actually quite popular here in the Philippines as almost all Japanese restaurants have it on the menu. This one tastes exactly like what we had in Japan. Crisp and toasted outside, juicy inside. Delicious!
I ordered Miso Ramen (P158) for myself. I was surprised at the large serving portion. It's noodles in soybean paste-based soup topped with a perfectly cooked hard-boiled egg, a sheet of nori (seaweed), sweet corn kernels, and leeks. The soup had a smooth, clean taste and you can tell it's free from MSG and artificial flavorings BUT it's a bit on the bland side. Still, to be getting a home-cooked meal for that uber cheap price makes it a pretty good deal.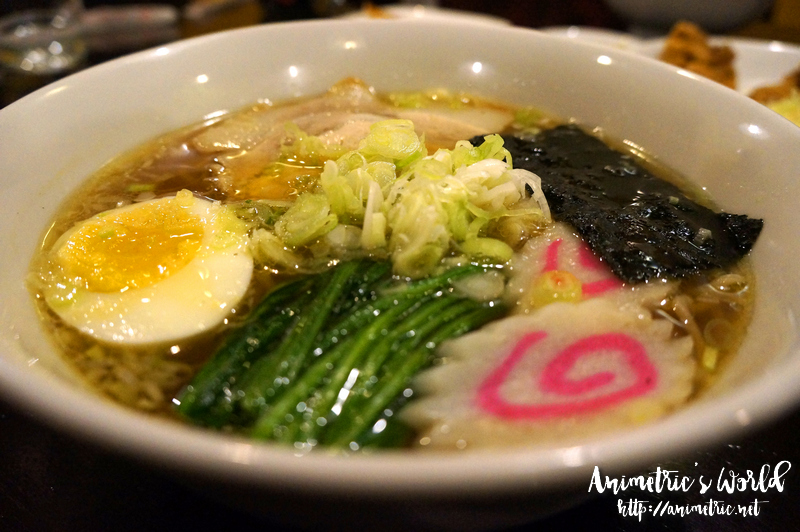 Hubby had Chuka Soba (P148). It's their version of the Shoyu Ramen (soy-sauce based noodles). Like my bowl of ramen it had leeks, seaweed, and a perfectly cooked hard-boiled egg — no corn though, but a veggie I couldn't identify and patterned fish cake. It also had some pieces of thinly sliced pork. Hubby had the same opinion — smooth, natural, and on the bland side.
Tamagoya Noodle House has some nice home-cooked offerings and really affordable prices. Unfortunately, it's not good enough to merit more future trips from us since it's so far from where we live. If you do find yourself hungry in the area, it's worth checking out though. Personally, I like the noodles better at Ukokkei Ramen Ron and Ramen Bar but this is half the price of those two places.
Tamagoya Noodle House is closed on Mondays. Restaurant hours are from 11am – 2pm and 5pm – 9pm.
Tamagoya Noodle House
#2 Soliven Ave., Mayamot,
Antipolo, Rizal
861-8631
Like this post? Subscribe to this blog by clicking HERE.
Let's stay connected: