One Sunday (again when our cook took the day off), my father-in-law called to say he wanted to eat out for lunch. My sister-in-law suggested that we go to Takashi at Pioneer Center in Kapitolyo. Perfect! I first heard of this place from Chef Ernest Reynoso-Gala and I've been wanting to pay a visit since. He co-owns it with a youthful Japanese chef named well… Takashi.
It's a cozy and straightforward no-frills place.
You can ask for a spoon and fork if that's what you prefer.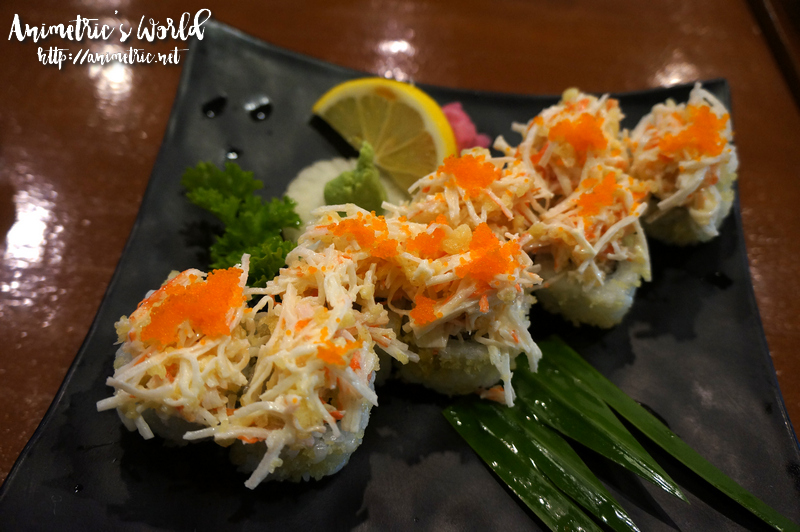 I started off with an appetizer, Crazy Maki Sushi (P160). It's kani salad over kani sushi and wow, it's so cheap because you get 8 super loaded delicious pieces for only P160. This is the genuine article, they even use Japanese mayo.
Since there were 9 of us, we also ordered California Maki Sushi (P160). Also good but I liked the Crazy Maki Sushi better.
My hubby and son each opted for Gyudon (P220), thinly sliced beef cooked in yummy sauce with onions on top of rice. Each even came with half a ramen egg! Judging from how they finished their food so quickly I think it's safe to say it's delicious.
My daughter ordered Beef Curry (P220), which to our surprise came topped with cheese! Again, wiped out in minutes with our daughter's seal of approval.
We had a couple of Takoyaki (P180 for 6 pcs) orders for everyone to try. Piping hot and perfectly cooked, it's just like what I had in Japan. Yum!
As for me, I decided to have Chahan, also known as Takashi Style Fried Rice (P75). I love it. It's got eggs, ground beef, and veggies… I should've taken some home so our cook can copy it because it's so good!
Then I ordered a Sizzling Beef Teppanyaki (P280) to go with my Chahan. For me this dish has the best value for money because the beef is tender and of good quality plus there are a lot of chunks. They're cooked in butter and served with sweet corn and bean sprouts on the side. Highly recommended!
Our bill came out to around P3+k for 9 people so on average it's about P300+ per head. Not bad, considering we thoroughly enjoyed each dish. I like the place because it's very casual and unpretentious, you can go in your house clothes and still be able to dine comfortably lol. Service is prompt and efficient too. They serve good, reasonably priced food and that's it.
Takashi Japanese Cuisine
Pioneer Center, Pioneer St.,
Bgy. Kapitolyo, Pasig City
0905-5109554
Like this post? Subscribe to this blog by clicking HERE.
Let's stay connected: