Fact: My friends and I are always looking for delicious new treats to give out during Christmas. Personally I don't think I've ever stuck with giving the same thing (especially when it comes to food items) year after year. That said, I need to discover new things to eat every holiday season hahahaha good luck to my waistline!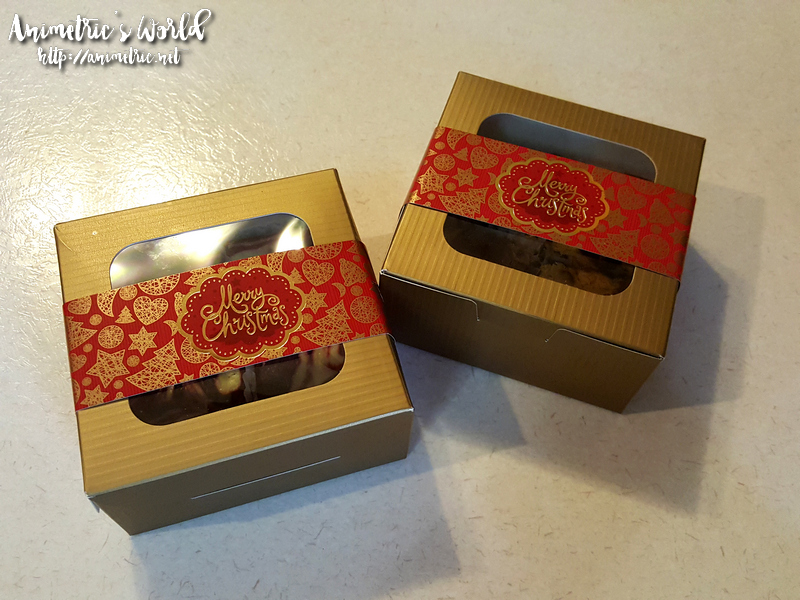 One of this year's delicious discoveries is a home-based baker who goes by the name Symphony of Flavors.
Red Velvet Brownies (P75 for a box of 4 / P200 for a box of 12 / P280 for a box of 18 / P460 for a box of 30) — they're not just chocolatey, they have creamy cheesecake swirls! I can't believe a box of 4 costs only P75.
Choco Walnut Bar (P75 for a box of 4 / P200 for a box of 12 / P280 for a box of 18 / P460 for a box of 30) also known as Revel Bars elsewhere, are made with oats, walnuts, and chocolate chips.
But what blew my mind was the Cookie Sandwich (P120 for a box of 4 / P280 for a box of 10).
The Cookie Sandwich comes in 3 flavors: Red Velvet Crinkles (filled with cream cheese frosting), Chocolate Chip (filled with chocolate chip cookie dough — my fave!), and Oreo Cheesecake (filled with Oreo creme cookie dough). These are sooooo good and so unique they're the perfect gift if you want to be remembered, lol!
The bestseller in our household was the Banana Bread (P300 per loaf).
Everyone loved the moist banana bread topped with caramelized bananas. Plus it has chocolate chips! My kids finished half of it in one sitting. Everything was gone by the next morning. It's really really good! Too good. We could probably finish a loaf in less than 10 minutes lol.
If you prefer savory treats, they have Baked Empanada (P400 for a box of 8).
Baked Empanadas are available in 4 flavors: Classic Chicken, Ham and Cheese, Tuna Ala King, and Creamy Caldereta. These are buttery outside and meaty inside — they don't skimp on the filling. These are really great for merienda — I'd pop a few in the oven and then serve them to my kids hot and fresh.
Delicious and affordable, these are definitely great for gift-giving this holiday season!
For orders, call 343-1488 or 0922-8518880. You can also check out the Symphony of Flavors Bakeshop Facebook Page.
Like this post? Subscribe to this blog by clicking HERE.
Let's stay connected: