When someone says Swiss, what foods come to mind? For me it's chocolates and cheese! Truth be told, I have no idea what savory Swiss food is all about.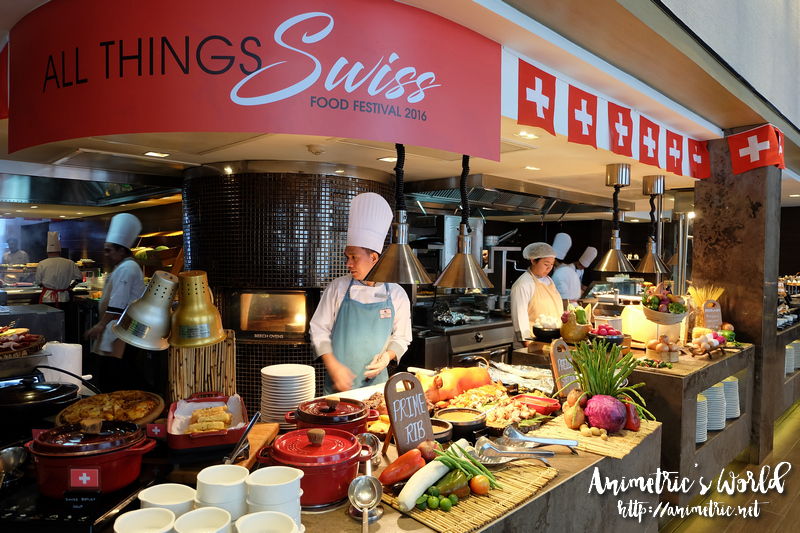 From now until Sept. 4, 2016, you can experience Swiss cuisine in its full glory at the Swiss Food Festival at Cucina in Marco Polo Ortigas.
Swiss dishes from left to right: Beef Salad with Gherkins, Onions, and Peppers / Swiss Sausage with Cheese / Macaroni Salad with Chicken Liver
A good number of Swiss dishes (at least a dozen or so on last count) will be incorporated into the buffet spread. You can identify them via the little Swiss flags on the labels.
The star of the show for me is the Raclette Station. Chef Rolf Jaeggi was working it that day. He was teaching the local chefs how to work the raclette grill. Chef Rolf Jaeggi is Swiss and he's the Executive Chef of Marco Polo Hong Kong Hotel.
Raclette is semi-hard cheese made from cow's milk and then shaped into a wheel. The surface is melted using the raclette grill.
Then the chef scrapes off all the gooey melty cheese and transfers it onto a plate with some baby potatoes, pearl onions, and pickles.
The melted cheese is then seasoned with a bit of salt, pepper, and paprika. You eat them all together. Yum! I can have this all day my goodness. I would totally go to the Swiss Food Festival again if just to feast on unlimited amounts of raclette.
Anyway, we had plated versions of some of the Swiss dishes featured in the buffet starting with Beef Carpaccio with Beef Tartare, Quail Egg, Mache Leaves, and Lemon Pepper Marinade. I consider this the red meat version of sashimi. It's a very light yet flavorful appetizer.
Then we had Swiss Barley Soup. It was topped with a slice of ham. It lent a dose of flavor into an otherwise creamy yet mild-tasting soup.
The main dish was Veal Zurichoise with Roesti Potatoes. I'm not really a fan of veal because I don't like meats with gamey scents (it's not nearly as bad as lamb though) but the roesti potatoes were yummy.
I didn't see any Swiss desserts in the buffet spread so I felt the Plum Tart with Vanilla Schnapps and Whipped Cream we were served was really special. I love how it's not overly sweet! It's soooo good!
You can experience the Swiss Food Festival at Cucina in Marco Polo Ortigas until Sept. 4, 2016. Buffet rates are as follows:
P1,500 (Mon to Thurs Lunch)
P2,300 (Fri to Sun Lunch)
P1,800 (Mon to Thurs Dinner)
P2,650 (Fri to Sun Dinner)
Cucina @ Marco Polo Ortigas
24/F Sky Lobby Marco Polo Ortigas
Meralco Ave. cor. Sapphire St.,
Ortigas Center, Pasig City
720-7720
Like this post? Subscribe to this blog by clicking HERE.
Let's stay connected: