Holy week is here. Most establishments are closed and we don't want to drive out into the traffic-jammed north and south expressways. Our kids want to swim. Hubby and I want some relaxation. The solution? Ace Water Spa!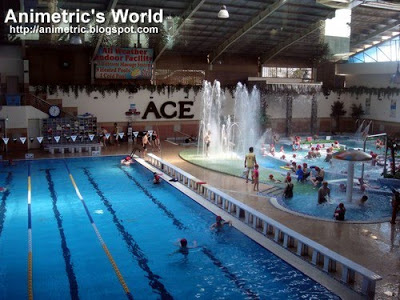 Ace Water Spa is an indoor facility with pools and pools of water equipped with state-of-the-art hydrotherapy stations. These stations are equipped with nozzles which use air and water pressure to target specific parts of the body. You activate the massages by pushing a button. They also have a sizable lap pool if you want to get some exercise and a kiddie pool for smaller children.
Since Ace Water Spa is business as usual the entire Holy Week, we woke up at 6:30am today so we could beat the crowd. We got there a little past 7am. We had the place almost all to ourselves for the next couple of hours.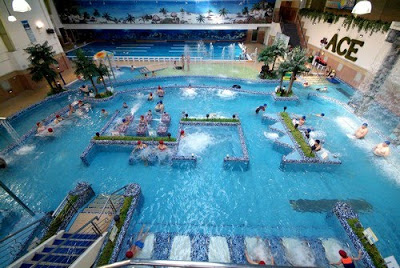 There's a hydrotherapy station for every body part, with massage pressure ranging from soft to moderate to hard. Upper body, lower body, back, head, and even your waist and buttocks all have dedicated sections in this facility. Health benefits are also detailed by waterproof signs along the stations. They also provide floaters so you can simply enjoy flowing with the current of the Lazy River. Hubby and I got to cool off while getting our massages while the kids had a blast swimming and playing in the water.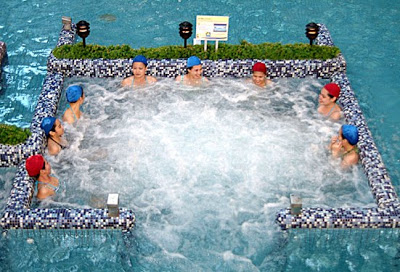 Kids will love the Bubble Pool (pictured above). The water is actually not deep, it's a little above my waist plus my 5-year old can actually walk around the whole massage area. The water goes up to her shoulders.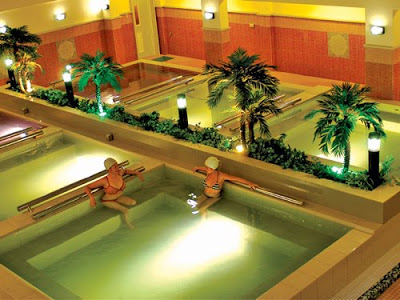 There are also Hot Herbal Pools with temperatures ranging from 36°C to 40°C with separate sections for men and women. I took a dip in the 36°C Mint Herbal Pool earlier, and it felt good especially when I rest the back of my neck against the cold pillow. Cold pillow here would actually refer to that horizontal steel bar which is maintained at an icy cold temperature as to prevent high blood pressure. The recommended dipping time is only 3 minutes though.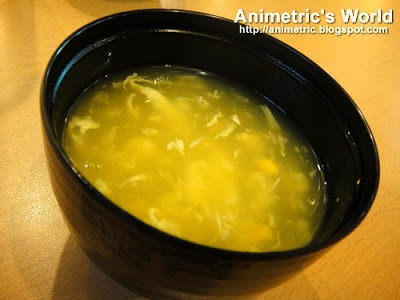 After your hydrotherapy session, you'll be given a voucher for a free bowl of hot corn soup. It really hits the spot!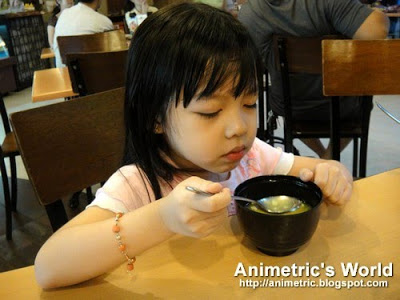 We all finished our soup because it feels so good after spending the last few hours in the water.
Entrance fees cost P550 for adults and P250 for kids below 4 ft. tall. Ace Water Spa is open from 6am to 11pm everyday including holidays — yes, they are open the entire Holy Week!
If you are going to Ace Water Spa here are a few things to remember:
Wear a snug-fitting swimsuit. One-piece suits are recommended for ladies because the water pressure can literally take your top off. Board shorts are not allowed for men, swimming trunks only.
Bring your own towel. Ace will only provide slippers and swimming caps. Yes, everyone is required to wear a swimming cap and you can actually bring your own.
Photography is not allowed on the wet floor areas.
You will be provided with a locker where you can store your things.
Soap, shampoo, a hair dryer, and plastic sando bags for your wet things are available at the shower area.
Ace Water Spa
399 Del Monte Avenue (near cor. Banaue St.)
SFDM, Quezon City
367-8040 to 41 / 367-8061 to 62 / 415-0164
http://www.acewaterspa.com.ph
Like this post? Subscribe to this blog by clicking
HERE
.