I don't attend too many events these days because I can't stand the traffic going to and fro. It takes at least 1 hour of travel time to get anywhere, unless the venue is really near… like Pio's Kitchen in Quezon City. It's maybe 3km away from home? Anyhow, it's one of the reasons I said yes to Swift Premium Corned Beef's invitation.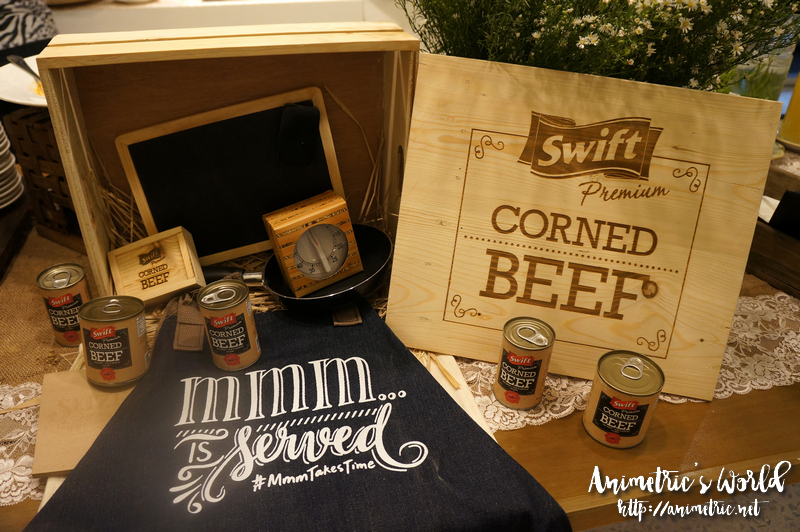 I usually buy Delimondo Corned Beef whenever I go to the supermarket simply because it's the best one we've tried so far. It's pricey at around P150 for a big can but everyone here enjoys it so we buy it anyway. Swift Premium Corned Beef was new to me, I haven't really seen it around but checking online, it's promising because a 210g can costs around P80 which is a far cry from what we're buying now. If it's as good as the slogan promises, I'm sold!
It was my first time at Pio's Kitchen. It was so quaint! You can't just walk in and dine here any time you please, it's more of an intimate events venue with a minimum no. of people required. You have to reserve the place and order their delicious home-cooked food in advance.
The food was set-up buffet style, with a salad and dessert bar located at one side of the room.
I was excited about the freshly concocted drinks.
Of course the first thing we all got to try was the one and only dish made with Swift Premium Corned Beef — Swift "Pulled" Corned Beef with Jicama Salsa on Wheat Pita Chips. Yes, you read right. That night this was the ONLY dish made with Swift Premium Corned Beef… which is good I guess, because I imagine I'd go into corned beef withdrawal had they served several courses made with corned beef. And yes, I found the corned beef delicious and comparable if not at par with Delimondo. Definitely buying more when I go to the supermarket.
What followed was a feast of heirloom dishes like this Tarragon Pork Belly which I FORGOT to taste what the heck! I could kick myself because I remember passing it by when I was taking photos and making a mental note to get some but nooooooo I forgot. Jeez! I did however get to taste everything else below:
Baked Salmon with Lemon Butter Caper Sauce
Roast Chicken Iberico
Paella Valenciana
Paella Negra (This I didn't have, don't really care for squid ink)
Leche Flan and Fresh Fruits in Season
Needless to say I loved everything, most especially the salmon and the paella. I went around the buffet area once and I was totally stuffed. I didn't even have dessert anymore lol.
After our hearty dinner, we had a lettering exercise with Abbey Sy, a task which the other bloggers attacked with gusto. I'm not really into lettering and calligraphy (I find it extremely boring, sorry!).
Thank you Swift Premium Corned Beef for having us over! Love the mild, natural taste and the high quality beef inside this easy open can! I'm all about convenience so this is a winner for me. A big 210g can of Swift Premium costs about P80. It's also available in a smaller 150g can. You can get it at leading supermarkets nationwide.
Like this post? Subscribe to this blog by clicking HERE.
Let's stay connected: