I was recently introduced to Sun Soft, a brand of cleaning products available at Marikina Shoe Exchange (MSE). The brand lineup currently consists of 3 products: laundry detergent, fabric conditioner, and dishwashing liquid. MSE is a direct sales company with several partner brands on its roster. You can buy via their catalog (kind of like how you buy Tupperware or Avon products) or you can sign up with MSE and earn additional income as a reseller.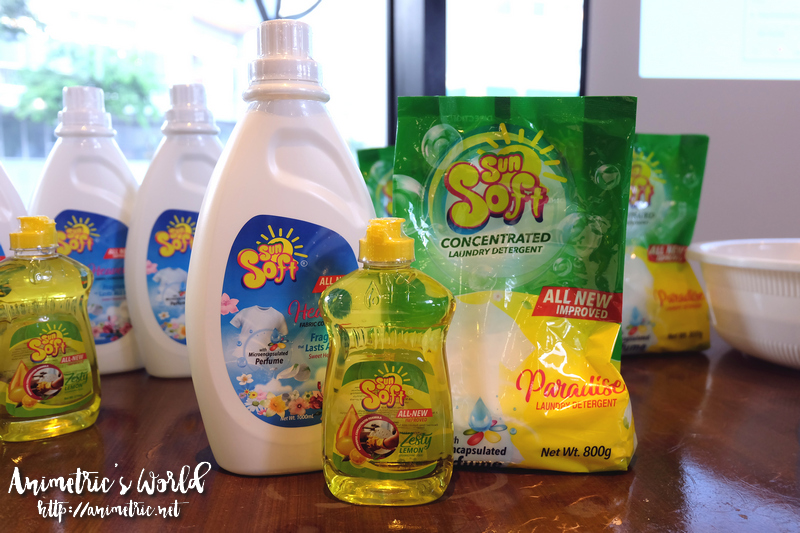 The Sun Soft brand currently has 3 products:
Sun Soft Paradise Powder Detergent (P185 for 800g) – This detergent has brightness enhancers to make clothes significantly whiter and more vibrant. Its power deodorizers remove and keep away unpleasant odors too. What's more, it's easy to rinse off and leaves no chalky residue.
Sun Soft Heavenly Fabric Conditioner (P280 for 1000ml) – This fabric conditioner promises softer clothes that are easier to iron. It also contains 3x the micro-encapsulated perfumes of other brands for a longer lasting fresh scent.
Sun Soft Zesty Lemon Dishwashing Liquid (P125 for 270ml) – This dishwashing liquid has a highly concentrated formula which can clean up to 5x more dishes compared to other brands. It's powerful enough to cut through tough grease but is easy to rinse and leaves no soapy residue.
Sun Soft is endorsed by the father-son trio of basketball legend Benjie Paras, Andre Paras, and Kobe Paras. The brand and the trio have been dubbed as "Idol Sa Linis". Benjie has always made it a point to teach his kids how to do house chores. This has helped them become independent.
Sun Soft products are available from your nearest MSE Dealer. They will also be available at the MSE Flagship Store in Lazada by November. Use my voucher code MSEzc2rp8 at Lazada to avail of special deals and discounts on ALL MSE products.
Like this post? Subscribe to this blog by clicking HERE.
Let's stay connected: