Warm summer nights, a good group of friends, and a little effort are all that's needed for fantastic outdoor party! Summer is the right time to organize a party that everyone will remember. Does dancing to the sounds of summer, sipping your favorite drinks, and enjoying delicious bites under the open sky sound good? These are just a few of the things that make a great outdoor party. Here are a few ideas for planning an exciting summer evening!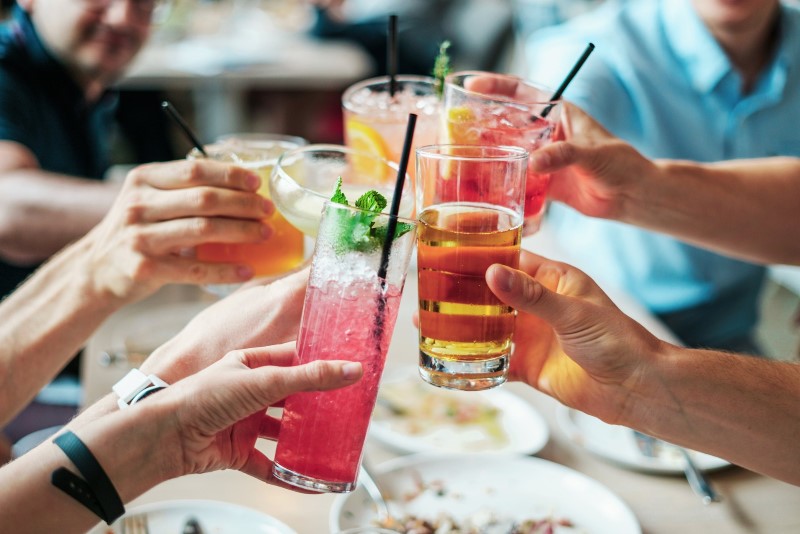 Improvised cocktail bar
While it's not easy to mix cocktails like a skilled bartender, we're almost certain that you can whip up a mojito or a margarita. Why not make a "cocktail bar" in one corner of the living room, terrace, or yard, depending on where you're having the party? You don't need a real bar, just a bunch of glasses, shakers, and everything else that cocktail masters use. Stack several wooden crates one on top of the other, and on the last, arrange ceramic containers with fresh mint and chopped fruit, sugar, etc. Arrange drink bottles, glasses, and straws. You can also add decors in the form of a vase with flowers or a ceramic figurine. Flower wreaths hanging from a makeshift bar are a great refreshment that will give your cocktail corner a tropical touch. You can make cocktails for your guests yourself or organize a competition to prepare the most delicious cocktail. And if you have spare money, building a cocktail bar just near the pool or maybe on your veranda isn't such a bad idea after all. If anything, it will add value to your house.
BBQ party in the backyard
Throw a conventional backyard BBQ party for members of the family, complete with traditional picnic food. This is a simple motif that will make visitors feel at ease and at home. Although the food is the main attraction at a BBQ, you may go all out with country-inspired décor with farmhouse-themed surroundings to provide rustic comfort. Everything from daisies and glass jars to floral patterns and plaid tablecloths can be used for this. Of course, a BBQ party just screams for a backyard kitchen, something that has become extremely popular lately. There are many creative ideas for backyard kitchens. Of course, besides throwing BBQ parties, they are perfect for almost every other occasion you can think of. Summer kitchens have a long tradition and have been around for quite some time. It's practical and more than convenient for most celebrations. Besides, who wouldn't want a nice outdoor party with drinks and food at an arm's length?
Piñata
Lovely, hanging piñatas of all shapes and sizes are often associated with entertainment, at least in media. Who wouldn't want to rain candy on themselves with one swing of the stick? Again, think back to when you were at a house party where you had a piñata knockdown competition.  They may seem like something that's easier to order and buy than to make, but in reality all you need is cardboard, decorative paper, crepe paper, and, of course, various sweets to fill the piñata with. Once you have chosen the shape of the piñata, you will need to make a box of the given shape out of cardboard, e.g., hearts or ice cream in a cone. Don't forget to prepare a plastic or wooden stick and a blindfold, and let the games can begin!
Photo corner
A clean wall and some empty space are the basics which you can further decorate as you wish. Spread garlands, strung pom-poms, or small candles; paste retro posters; hang a fringed curtain;… You can apply colorful carpets of different designs and prints and tapestries, and you can also buy a square of artificial grass to cover the floor. The floor will also look great if you simply sprinkle it with confetti, small stones, shells, or flower petals. The possibilities are endless.
Lemonade Stand
Summertime is synonymous with drinking lemonade. With lemonade-inspired food and yellow decor, you can convert this  drink into a summer party theme for your birthday. Consider making a fashionable lemonade stand that can also serve as a drink station and a photo booth for everyone to enjoy. To add a flash of color, make pink, blue, and green lemonade.
Decorative garlands
We're used to classic paper tassels and balloons strung on a decorative string. Why not do something innovative and string together heads of fresh roses or other flowers you like? You can even string pretzels, foam or gummy candies, and soft chocolate bars. You can stretch the string with treats between two table lamps and organize a limbo dance competition by crawling under the candy garland. Whoever gets through without touching the string can claim their sweet prize from the garland!
Here's hoping your party will be more than memorable, and you'll find some of the above ideas fun and inspiring.
Like this post? Subscribe to this blog by clicking HERE.
Let's stay connected: