My dad's side (Lim) of the family had a reunion last Sunday at Summer Palace in EDSA Shangri-la Hotel. I'm always excited whenever we have a get-together because it meant spending time with my aunts, uncles, and cousins… all of whom I grew up with (most of us lived in my paternal grandparents' house for a good many years). It also meant lots of delicious food.
Whenever we have a get-together like this my eldest uncle (he's next after my dad because my dad was the oldest child) would always order the most unique Chinese dishes. Ever since I was a child, we've always had Chinese lauriat parties with more or less the same fare. There's always the cold cuts platter, steamed garoupa (lapu-lapu) in soy sauce, roast pigeon (ew, I don't eat this), steamed crabs, birthday noodles, fish maw soup, abalone mushroom with broccoli and sea cucumber, and chilled mango sago. I've had them so often I've memorized the entire drill and a lot of the lauriat parties we attend actually still serve all of those same things. I'm so glad my uncle makes it a point to deviate from the usual.
Avocado Salad Roll, Soft Shell Crab with Pork Floss, Prawns in Wasabi Sauce
This particular gathering was no different. My uncle ordered food that people don't usually have during a lauriat party and it was splendid! I had no idea you could do a lauriat lunch semi-degustation style but wow, that was what happened. Check out our first three dishes above — all portioned into single servings and plated nicely! The Avocado Salad Roll tasted like California Maki and the prawn had way too much mayo for my tastes but the Soft Shell Crab with Pork Floss… OMG. The crab is both crunchy and soft at the same time then covered with really tasty pork floss, similar to the kind BreadTalk uses on their Pork Floss Buns. Okay so I could feel the oil with every bite because crab is deep fried but who cares hahaha. Soooo good!
Braised Four Treasure Soup "Chef's Style"
Next we were each served a bowl of Braised Four Treasure Soup. Thick and hearty, it tastes a lot like the usual Fish Maw Soup — but I'm sure it's a lot more expensive judging from the fancy name hahaha! Hot and Sour Soup would've done it for me, I wonder why they don't usually serve that during lauriats.
Baked Fresh Scallop Topped on Homemade Tofu in Special Sauce
This was another delicious and unique dish which in my opinion had a tad too much mayo on top. I'm not very fond of mayo because it makes everything greasy and cloying.
Money Bags
These are soft wonton pouches filled with ground meat and served with steamed broccoli. Pretty okay but the kids thought the Money Bags tasted weird.
Pan-fried Beef Steak in Black Pepper Sauce
The Pan-fried Beef Steak was surprisingly tender. You could eat it with a spoon. I liked the peppery flavor too. We were served individual portions.
Waxed Meat Fried Rice
Next up was Waxed Meat Fried Rice, which reminded me of Kiampong. It was very flavorful and it had a lot of tasty chopped meat like chorizo. The kids liked it a lot and ate it with the Pan-fried Beef Steak.
Lamien Noodles with Seafood
Silly me, I forgot to taste this dish. Looks a lot better than the usual Birthday Noodles at least.
Pan-fried Codfish Fillet in Apple Fruit Sauce
This was another exceptional dish. The julienned fruits are actually green apples mixed with tiny cubes of sweet ripe mangoes. I love how the sweet-tart fruity flavor complements the crunchy deep fried codfish fillets. I think I'm in love with codfish. It tastes so good and it has none of the yucky fish stench other types of fish have.
Chilled Lemongrass Jelly with Sherbet
Finally we were served dessert! Dessert is one of my favorite courses and I was happy to see a familiar favorite — Chilled Lemongrass Jelly. We had this during our Christmas dinner with high school friends (also in Summer Palace) but this one had a twist — it had milky buco sherbet on top! I mixed it up and used the thick fat straw to slurp it up. It's so crazy good… creamy and refreshingly citrusy at the same time!
Egg Custard Bun
Last but not least was the Egg Custard Bun. It's basically a custard-filled steamed mantou with a chocolate stripe. But here's the surprise — the egg custard is made of salted egg! It worked because it was a mix of sweet and salty instead of just pure sweet. Delicious!
We had a similar menu when we had Christmas dinner with our high school friends last December at Summer Palace and it cost around P18k for 10 people. If you use your Metrobank Mastercard to pay, you get 50% off your bill. This promo is valid until January 30, 2015. Check out the promo details HERE.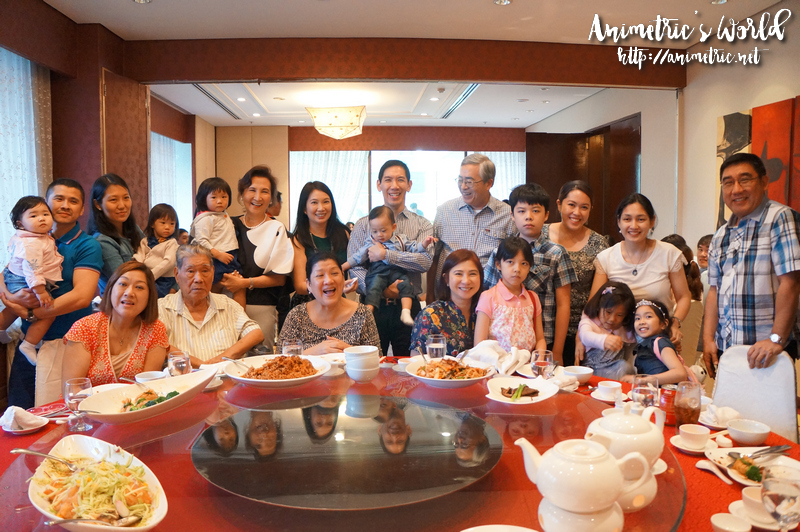 Yay for happy times with family! My paternal grandfather is 90+ yrs old already. His birthday is coming up — it's the same date as Chinese New Year.
If you've always wanted to try Summer Palace and you have a Metrobank Mastercard, now's the perfect time to do so! 😀
Summer Palace
2/F Tower Wing EDSA Shangri-la Hotel,
1 Garden Way Ortigas Center, Mandaluyong City
633-8888 loc. 2927
Like this post? Subscribe to this blog by clicking HERE.
Let's stay connected: