I hate it when people touch my face. That said, I'm not fond of facials or anything that requires people to do just that. No to facial massages, pricking, and all that other jazz. Would you believe that in my 43 years of existence I've probably visited a dermatologist less than 8x? Once was as a teenager. I had a HUGE cystic pimple on my nose that just wouldn't go away. Somehow I ended up getting it cauterized by a dermatologist. The other 2x were when I tried some treatments at the House of Obagi. The last couple of times was when I tried getting a laser treatment and undereye fillers at Luminisce.
All that said, I'm always iffy when people want to do stuff to my face, haha! I only have one and I take care of really really well. Anyhow, I was invited by Strip to try out Strip White, an innovative procedure which rejuvenates and whitens the skin.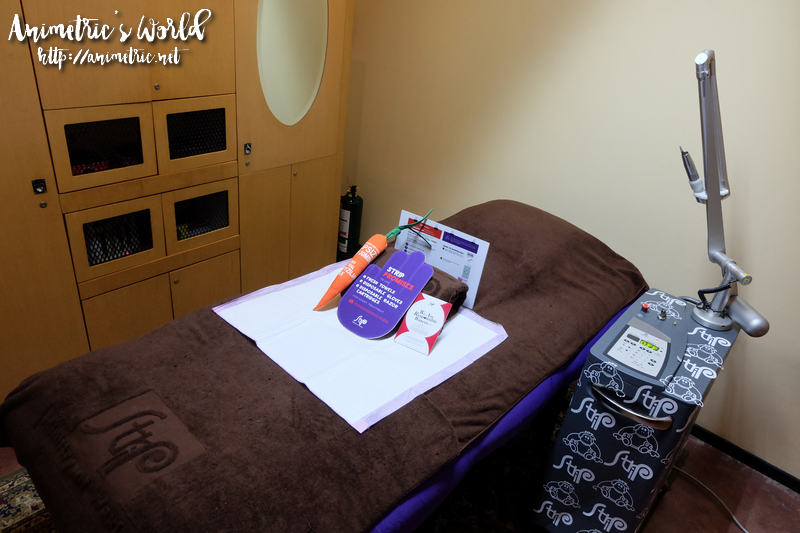 Strip White is a non-invasive laser procedure which can be done on the face, underarms, kneecaps, elbows, buttocks, neck, stomach, bikini line, inner thighs… and pretty much wherever else the laser can reach. The machine does 3 things:
Revitalizes – It improves vascular activity by feeding oxygen to the tissues, stimulating collagen production. This rejuvenates the skin, making it more soft, firm, and younger-looking. Think of it as a process that wakes up the skin.
Whitens – It suppresses melanin formation, thereby lightening brown spots and pigmentation. This evens out the skintone. Hence you can use it on areas that usually darken — elbows, underarms, kneecaps, etc. It helps lighten freckles too.
Firms – It reduces the appearance of fine lines and pores. Collagen production is increased so skin is instantly firmer and younger-looking.
Meet the Strip White machine that's going to make all these wonderful effects possible.
This is where the laser light will come from. The laser is also capable of removing super fine baby hairs.
So which body part did I choose to get treated? The face, of course! For most part, it's the laser that's going to do the work so there is minimal touching of the face. I'm no spring chicken and I'm forever obsessed with looking young so of course it's my face. The first thing they do is cover your eyes with goggles to protect them from the laser. Then they cleanse your face. After that, I felt some prickly needlepoint shots on my face. It's like someone is welding something and the sparks touch your skin a bit. That's the feeling. No pain. The entire process took 15 minutes.
This is my face right after the Strip White treatment. There is some slight reddening from the laser but considering that my skins reddens very easily, it's not bad at all. Any reddening will disappear in 10 minutes (or a bit more for some people) so there is virtually no down time.
Wow, I'm so amazed that all the redness was gone in 10 minutes! I have absolutely nothing on my face — no BB Cream, CC Cream, or foundation. I felt confident enough to go makeup-free right after the Strip White treatment. I'm going back for a few more sessions since the optimum results can be seen after 6 treatments. They recommend you do this every 3 weeks. There is an immediate effect though — I noticed my forehead was a lot smoother and flatter than usual. My skin was incredibly smooth afterwards too. I will update this post after I complete my treatments.
Nothing like a beautifying treatment to get the girls together! Here with my awesome blogger friends My Mom Friday and Marj Sia.
Strip White is currently available at Strip SM Megamall. Treatment costs vary depending on the body part but rates start at around P19,000+ for 6 sessions.
Strip
5th Level Building D, Mega Fashion Hall
SM Megamall, EDSA cor. Dona Julia Vargas Avenue,
Mandaluyong City
531-4083
Like this post? Subscribe to this blog by clicking HERE.
Let's stay connected: