The one food item that I'm sure is in almost ALL Filipino households is rice. The question is, where do you store your rice? I have a big tower-type rice dispenser where I keep white rice since it's the preferred bigas here at home. But I also have a few kgs of red rice, black rice, and brown rice since I want to test which one we'll like best. Solution? Get a smaller, cheaper airtight container so that the few kgs I have won't just be lying around in plastic bags.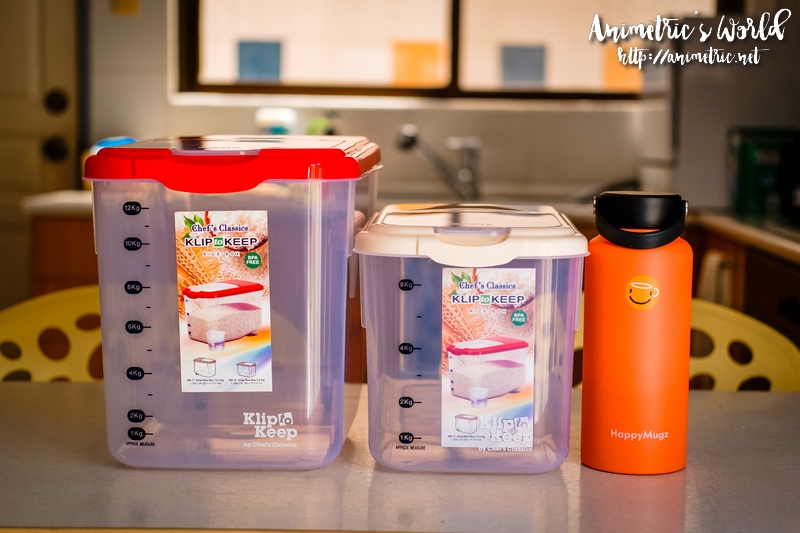 My choice of storage is the Chef's Classics Klip to Keep Airtight Rice Storage Container. It comes in a 12kg model and a 6kg model. The bigger 12kg model has small wheels at the back to make it easier to move around. The 6kg model however is perfect for us when we want to buy just a few kgs of rice grains for sampling purposes.
All the Chef's Classics Klip to Keep Airtight Rice Storage Containers come with measuring cups to help you determine how much rice you need to cook.
Since we're home a lot of the time now, we've also been using insulated water bottles to keep ourselves hydrated while working / studying in front of the computer. Insulated water bottles keep our drinks hot or cold so it's very convenient. Plus, we don't need to keep getting up for refills. Chef's Classics also has such water bottles like their Happy Mugz series.
Chef's Classics is having an 8.8 Mega Flash Sale on Shopee plus free shipping. You can get additional 15% off the already disounted prices by using the voucher code MALLBRANDS15OFF. They also have cookware, bakeware, and other kitchen tools aside from storage items. You can check out their store HERE.
Like this post? Subscribe to this blog by clicking HERE.
Let's stay connected: