We've been having cable TV woes ever since we got a Digibox from Skycable. It got so bad that we'd get to watch anything maybe 2-3x a week. We were always calling their hotline until I discovered messaging them on FB was much easier. Eventually, we grew tired of this cycle and started to watch less cable and more Netflix. We're actually considering getting an ABS-CBN TV Plus instead of paying for cable service monthly.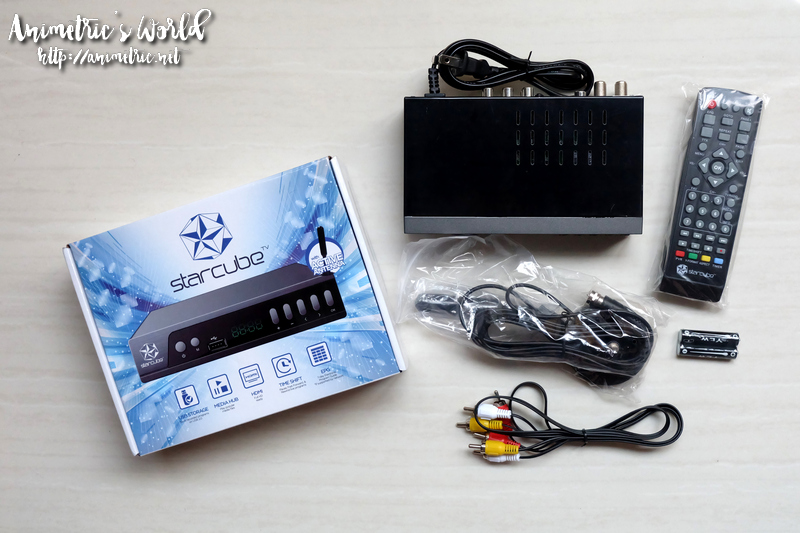 The arrival of the Starmobile Starcube on our doorstep couldn't have been more timely. I've always been curious about this gadget ever since I saw it online. It seemed a lot like the ABS-CBN TV Plus. Anyhow I unboxed the Starmobile Starcube right away. The Starmobile Starcube comes with AV connectors, an separate active antenna with amplifier, remote control, and even batteries!
This is the Starmobile Starcube. It kinda looks like the Skycable Digibox.
We wasted no time in doing a test run. It's completely plug and play, no complicated set-up procedures required.
You can place the antenna wherever there is better signal reception. My hubby said it's not easy to find this kind of antenna with booster being sold on its own. It's really useful if you want better quality free TV.
We were good to go after a few minutes.
We let the Starmobile Starcube do an automatic search for channels. It got even the ABS-CBN TV Plus channels on the list.
Wow, free TV's reception has never been so clear! Seriously, the clarity trumps the video quality of our cable TV channels.
Even if it was able to detect the ABS-CBN TV Plus channels, it indicated that the signals were scrambled and therefore unplayable. There's also a $ sign to indicate it's a pay channel. This is understandable since ABS-CBN wants you to buy their box for access to their exclusive channels.
What I like about the Starmobile Starcube:
It's full HD capable. This means once our local free TV channels upgrade their broadcasts to HD, we'll be ready! It has an HDMI port, yay!
There's a USB slot in front so you can play music, photos, and videos saved on your USB.
You can record your favorite shows. For example, if I was going to appear on TV, now I can have a good quality recording. I wouldn't have to use my phone or digicam to record lol.
There's a "Time Shift" feature which lets you pause, fast forward, or rewind your favorite programs. Didn't quite catch a line that was said? Now you can rewind and listen to it again.
It's reasonably priced at P1,290.
Downside? Well you're limited to free channels when it comes to TV viewing. Then there are also channels with weaker signals. They don't come across as clear as ABS-CBN or GMA Network, the two free TV channels with the strongest signals.
The Starmobile Starcube will be available second half of February 17 at leading appliance and electronics stores nationwide. You can also purchase at https://www.facebook.com/starcubetvPH/.
Like this post? Subscribe to this blog by clicking HERE.
Let's stay connected: