I've come to the point in my life where all our kids need cellphones. Need? Yes, need. There are now instances when they have engage in school-related activities off campus. They need to be able to call us so we can pick them up when they're done.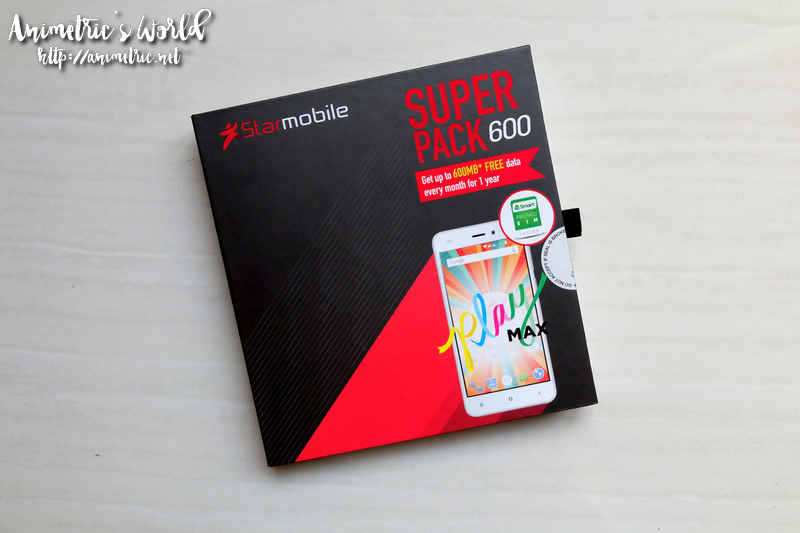 Don't get me wrong, we don't hand out cellphones to kids for fun. In fact, we don't believe in giving them expensive models which could get lost. That said, the Starmobile Play Max seemed to be just what we needed. Imagine, for only P3,290 you already get a big screen smartphone and SUPER PACK 600 which is basically a SMART LTE Prepaid Sim.
My kids were skeptical when we first got the phone. When I opened the box, hubby immediately observed that the phone looked like an iPhone. Our daughter commented it actually looks okay.
The Starmobile Play Max came with all the bells and whistles. The package included a Smart LTE Prepaid Sim which was triple cut. It can serve as a regular, micro, or nano sim. They even threw in a pair of earphones and a clear protective case for the phone.
The Starmobile Play Max's claim to fame is its BIG 4000mAh battery. It boasts of up to 22 hours of talk time and 16 days of standby time. I'll tell you now that this battery is really something else. I full-charged the phone, played around with it for a bit, and then left it on standby in our room. Five days later, the battery is still over the halfway mark.
I'm digging the big screen. It's got a bright and clear display.
The Starmobile Play Max is available in three (3) colors:  Space Gray, Rose Gold, and Champagne. We got Champagne. The phone is surprisingly lightweight given its bigger-than-usual size.
The protective case fits perfectly.
This phone runs on Android 6.0 Marshmallow. It's got an 8MP rear cam and a 5MP front cam for selfies. It's dual sim. Both slots can accommodate a micro sim.
The phone's name suggests that it can be used for play and that's what I did. If I was going to test its gaming capabilities, I wasn't doing it with weenie games like Candy Crush. I downloaded the 1GB heavy resource-hogger Hearthstone. I wasn't sure the 8GB phone space could accommodate it but it did! The phone did alert me that the game required higher specs but it still let me play. I admit the game ran slowly on this phone but I was able to finish a couple of rounds. So yeah, if I can play Hearthstone on this, most other games (the usual like Candy Crush, Clash of Clans, and Pokemon Go) are a piece of cake.
Now let's test the 8MP rear camera. I took this photo in broad daylight, around 9am in the morning. A bit dark for my tastes but hey, you can use it to take photos of plate numbers and car collisions if the need arises.
Of course I also tested the 5MP front camera and took a selfie. I find it a tad grainy but at least it does the job.
What I like about Starmobile Play Max:
The price! P3,290 is a real steal for everything this phone is.
You get 1 year free data with the SMART LTE Prepaid Sim bundled with this phone.
OMG you can play Hearthstone (albeit a bit slow) on this!!!
The cameras are actually usable. I've tried using cheap phones with joketime cameras.
The battery lasts looooong.
It's super lightweight.
It comes with a protective case!
I love the way it looks.
The Starmobile Play Max does the basic stuff like call, text, chat, and surf the net flawlessly. That's pretty much all I need for it to do to qualify as our kid's phone. It's really nice that for P3,290 I get all that and a whole lot more.
You can purchase Starmobile phones at Starmobile Concept Stores — full list at http://www.starmobile.ph/. Don't want to go out? You can also purchase Starmobile phones online at Lazada.
Like this post? Subscribe to this blog by clicking HERE.
Let's stay connected: