BUY ONE GET ONE FREE on Starbucks Dark Mocha White Chocolate Pudding Frappuccino and Starbucks Green Tea White Chocolate Frappuccino on July 16, 2013 from 2pm – 5pm at ALL Starbucks stores!
This July 16, Starbucks Philippines is set to release two new drinks which will surely titillate your tastebuds — Starbucks Dark Mocha White Chocolate Pudding Frappuccino and Starbucks Green Tea White Chocolate Frappuccino.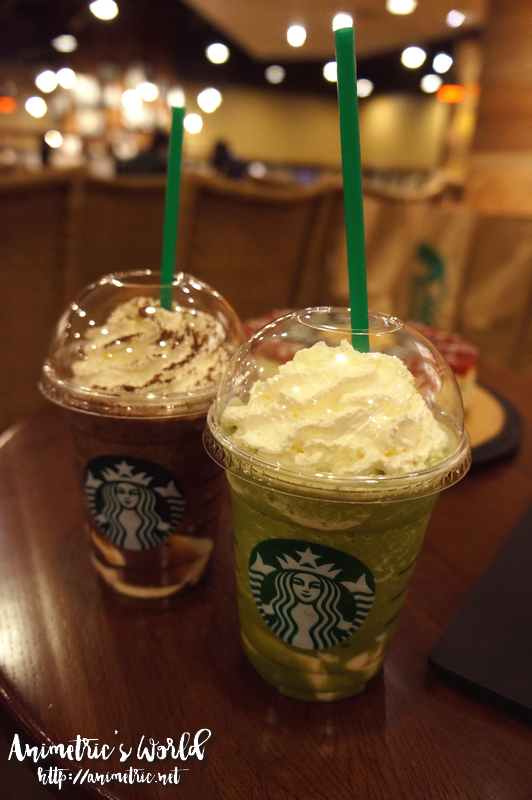 Need I say that what makes these drinks so special is the White Chocolate Pudding that's exclusive to Asian Starbucks stores? I had a taste of both a few days ago during the media preview and whoa… the white chocolate pudding is silky smooth, creamy, and not overly sweet. It will also be available as an add-on to ANY Starbucks blended beverage for a small fee. Which do I prefer? Green Tea White Chocolate Frappuccino. Starbucks Dark Mocha White Chocolate Pudding Frappuccino is priced at P190 Tall / P200 Grande / P210 Venti. Starbucks Green Tea White Chocolate Pudding Frappuccino is priced at P180 Tall / P190 Grande / P200 Venti.
With the new drinks come new food items, starting with Bacon and Cheese on Herbed Ciabatta Bread (P165). OMG, a whopping six (6) types of cheeses (Gruyere, Emmenthal, Provolone, Mozzarella, Feta, and Cheddar) are all grilled together with crispy bacon strips and pesto sauce for a mind-blowing sandwich experience.
The Salami and Cheese on Marbled Rye Bread (P165) was actually the first thing that caught my eye on the display table. It's a savory sandwich but the bread is actually marbled with chocolate then filled with sliced savory salami, provolone, and cheddar cheese. It's a simple and straightforward sandwich given a twist by the bread.
Tuna and Cheese on Dark Ciabatta Bread (P175) pairs classic tuna dill salad, slices of hardboiled egg and melted cheese. It's quite filling.
This is probably my favorite — Spinach Artichoke and Mushroom on Herbed Multi-Grain Bread (P160). Crusty, warm, and toasted multi-grain bread is stuffed with lots of gooey cheese, spinach, artichoke, mushrooms, garlic, and onions. This is my kind of sandwich, yum!
The heftiest sandwich introduced is probably The Clubhouse (P175). Three pieces of classic country bread is layered with roast chicken breast, pickle relish, sliced tomato, honey ham, bacon, cheese slices, and mayo mustard dressing in between. I don't think I can finish one whole serving, lol.
For dessert, Starbucks has the Outrageous Cheesecake (P130 per slice / P1,450 whole). Rich and creamy cheesecake is filled with bits of mangoes, blueberries, and strawberries and topped with fruit compote of the same three fruits. It's also topped with white chocolate snowflakes. On first glance, you'd think it was a Christmas cake but it's not.
My favorite sweet treat is the Chocolate Chip Cookie Sandwich (P80). Two big super chewy chocolate chip cookies with chunks of Belgian chocolate are filled with soft and springy marshmallow creme in between. It's surprisingly not too sweet. I love it! I'm sure my kids will love it too. This would go so well with a piping hot cup of coffee. 😀
All the above food items will be available starting July 16, 2013. But wait, there's more… in order to celebrate Starbucks new concoctions, there are two (2) contests you can join:
Facebook App: Snap of the Week – From July 16 – August 8, 2013 fans will be asked to upload photos based on a weekly theme via an FB app. Chosen photos will win Starbucks items and merchandise.
Instagram #StarbucksCoffeeJourney Photo Contest – Instagram followers will be asked to upload a photo of themselves with the featured beverages anywhere in the Philippines. Chosen photos will be awarded Starbucks items. This will run from August 15 – 31, 2013.
Four (4) more days till these drinks are released so get your cameras ready for a chance to win awesome Starbucks prizes! 😀
Like this post? Subscribe to this blog by clicking HERE.
Let's stay connected: