I'm sure by now you've heard of Starbucks Reserve. What is it exactly? It's a high-end version of your favorite Starbucks coffee shop where they serve all your favorite beverages like frappuccinos, lattes, and then some… by some, I'm referring to premium coffees from the most exotic locales like Cameroon and Burundi. There are over twenty different Starbucks Reserve blends, but for now, the Philippines is starting with four. Yes, I got to try them all!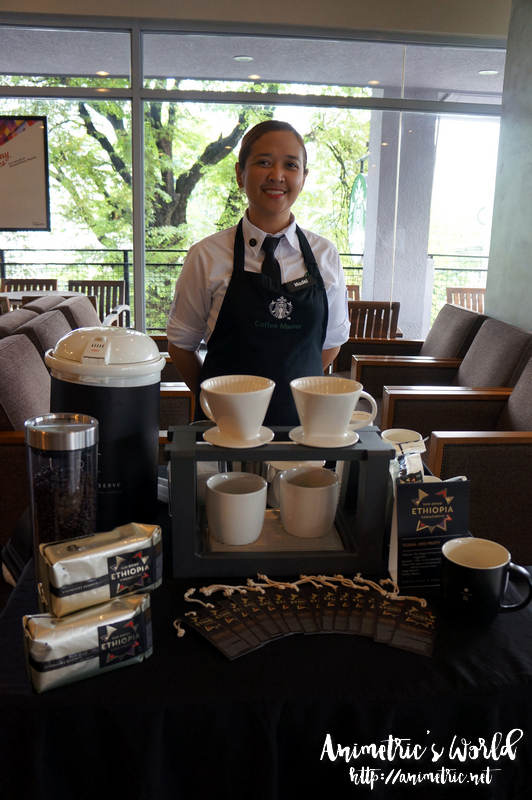 The Starbucks store along Tomas Morato has been converted into a Starbucks Reserve store and it's where I had my first taste of the new brews. Each cup was handcrafted in front of us — brewed via dripping then we were given time to savor the aroma before being poured a small cup of pure black coffee to taste. For the first brew, allow me to talk about the Sun-Dried Ethiopia Yirgacheffe.
The first thing that struck me was how fruity the aroma was. It smelled like berries. It's described as having rich layers of strawberry, bing cherry, and baking chocolate. I remember how distinctly fruity it was.
Each cup of coffee was prepared this way.
Then the freshly brewed black coffee was poured in small tasting cups like this one. We slurped and sniffed each variant in its pure black state, free from sweeteners and add-ons like milk and cream.
The next brew was Finca Nuevo Mexico. It's described as citrusy and sweet but it didn't strike me as either. It's pretty light though so it's good for some easy drinking.
The Sumatra Blue Batak was definitely the strongest coffee among the four I sampled. Earthy, woody, and well, quite bitter really, I think I liked it least.
The last coffee I sampled was the Peaberry Zambia Terranova Estate. It's also the most rare, as this is the last batch that this respected family estate has produced. Yes they are not going to make more so what we have here in the country now is the last of this coffee. I liked its light and refreshing taste, I imagine this would be perfect served over ice. It's described as having apple and vanilla notes as well as a cocoa mouthfeel. I finished my cup of this brew!
I got to try the four initial Starbucks Reserve brews in the country. A tall-sized serving of Starbucks Reserve coffee costs anywhere from P130 to P150 depending on the variant. A bag of Starbucks Reserve beans costs around P595.
But Starbucks Reserve doesn't just serve limited edition exotic coffees, it also has a roster of exclusive food items not available at regular Starbucks stores… starting with these Carrot Muffins (P95). Moist, chewy, and made with carrots, walnuts, and crushed pineapples then topped with rich cream cheese frosting, it's really lovely. I had one whole all to myself, lol.
Next is the Double Chocolate Muffin (P95). Yes, it tastes as good as it looks — moist, rich, and chewy with real chocolate chunks on top and inside the muffin. Yum!
I love that Starbucks Reserve offers scones! I love scones, especially if they're served with clotted cream. These are sample sizes of the Blueberry Scone (P90)…
…Apple Cinnamon Scone (P90)…
…and Black Pepper and Cheese Scone (P90).
My ultimate favorite among all the exclusive Starbucks Reserve food items was the Granola Muffin (P95). It's a super moist banana muffin (as in wow, every bite was full of real mashed bananas) topped with crunchy granola. It's soooo good. The above are just samplers, the actual muffin is much bigger.
At Starbucks Reserve with blogger friends Myke, Jane, Didi, Peachy, and Joan.
At the moment, there are two Starbucks Reserve stores open to serve you:
Starbucks Reserve (Tomas Morato)
Tomas Morato cor. Sct. Lazcano Ave., Quezon City
928-0833
Starbucks Reserve (Burgos Circle)
G/F Burgos Circle, 8 Forbestown,
Forbestown Center, Bonifacio Global City
Like this post? Subscribe to this blog by clicking HERE.
Let's stay connected: