The first ever high-end Starbucks store, Starbucks Reserve, opened in its first Philippine store last summer along Tomas Morato.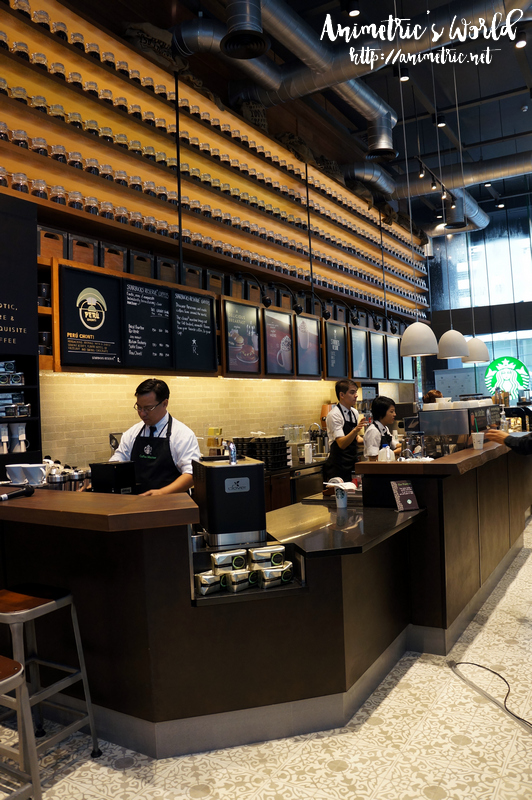 To date, there are 5 Starbucks Reserve stores in the Philippines and for now they are all in Metro Manila. The newest one to open its doors is located in Makati City, specifically the ground floor of the Signa Designer Residences on Valero cor. Rufino Streets. The first thing I noticed was the high ceiling — it made everything seem larger than life!
I was greeted by cheery baristas manning the ordering area.
Starbucks Reserve also introduced The Clover Brewing System, a coffee brewing system that uses innovative Vaccuum-Press technology to create your perfect cup right in front of you. Yes, ALL Starbucks Reserve stores are now using this.
We watched the coffee brew.
Impressive! He brewed two of Starbucks Reserve Featured Coffees, Malawi Peaberry Sable Farms and Peru Chonti for our coffee-tasting session.
We were all given small tasting cups. The Starbucks Reserve Malawi Peaberry Sable Farms coffee was served over ice while the Peru Chonti was served hot. I really enjoyed the light flavor of the Malawi coffee — very refreshing!
Starbucks Reserve Hazelnut Praline Eclair
Starbucks Reserve has expanded its menu and now offers more than their trademark muffins and scones. They now serve eclairs in 3 decadent flavors:
Hazelnut Praline
White Chocolate Vanilla
Salted Caramel
Starbucks Reserve Salted Caramel Eclair
I liked the Salted Caramel Eclair best as it was a good mix of salty and sweet! it's topped with rice krispies too. I skipped the hazelnut because I'm not a fan of Nutella and I was expecting something that tastes like Nutella.
Starbucks Reserve White Chocolate Vanilla Eclair
I tried the white chocolate eclair but found the coating a tad too sweet although I enjoyed the cream custard and vanilla bean filling.
Also got to try something savory — Italian Garlic Cream Cheese on Multi-Grain Bread!
I did however like the Cinnamon Cream Cheese on Raisin Walnut Bagel better. This is seriously so so so good!
They gave out bite-sized sampler portions of their new Chocolate Caramel Tart too. I like bite-sized sweets because I don't end up over-indulging. 🙂
Oh my my… just look at that rich buttery caramel oozing out! The tart shell is chocolate-flavored too. Very indulgent. It's so divine and it will definitely go well with a piping hot cup of Starbucks Reserve coffee!
Finally got to try one of Starbucks' newest handcrafted beverage, the French Vanilla Latte (P160 for Grande). Starbucks Espresso Roast combined with steamed milk and creamy French Vanilla sauce for a lovely hot drink that's not overly sweet. I loved how the dark chocolate curls on top would melt in my mouth as I sipped.  It was so perfect for that rainy afternoon. The other new beverage is Dark Caramel Latte — same base of Starbucks Espresso Roast combined with steamed milk but with dark caramel sauce. It's topped whipped cream and caramel flan drizzle. It's definitely the sweeter of the two. Since I'm averse to the overly sweet, French Vanilla Latte is my choice.
Pricing for the 2 new beverages are as follows:
Starbucks French Vanilla Latte – P145 Tall / P160 Grande / P170 Venti
Starbucks Dark Caramel Latte – P160 Tall / P180 Grande / P190 Venti
Here's a list of Starbucks Reserve stores:
Tomas Morato, Quezon City
Eight Forbestown, Burgos Circle, Taguig City
Keyland Centre, Makati City
Central Square, Bonifacio High Street, Taguig City
Signa Designer Residences, Makati City
Like this post? Subscribe to this blog by clicking HERE.
Let's stay connected: